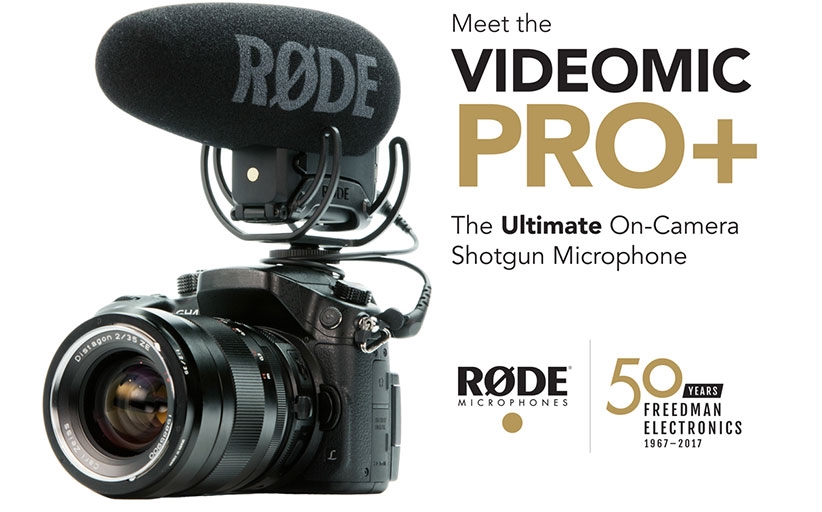 VideoMic Pro gets an upgrade
The most popular mic for DSLR and mirrorless cameras has been upgraded as Rode has launched the VideoMic Pro+. It now can be used with a lithium battery, has Digital Switching for clearer sound and lots more upgrades. It will cost £289. The official information says: 
Pro-audio brand RØDE Microphones is announcing an new addition to its best in market on-camera category – the VideoMic Pro+.
Announced at RØDEShow 2017, Freedman Electronics 50th anniversary celebration, the VideoMic Pro+ is set to prove that RØDE Microphones has yet again upped the game for the prosumer filmmaker.
Still with the best-in-class Rycote Lyre suspension system on board, the VideoMic Pro+ improves on the existing VideoMic Pro capsule/line tube and windshield, plus boasts a host of new features
Automatic Power Function (subject to plug-in power availability) is perfect for the run-and-gun shooter, automatically turning the microphone off when unplugged from the camera
Built-in Battery Door makes replacing the battery a breeze and far less cumbersome than previous VideoMic models – plus it won't get lost.
Power options – the VideoMic Pro+ can be powered by the all-new and included RØDE LB-1 Lithium-Ion Rechargeable Battery, 2 x AA Batteries or continuously via Micro USB
Digital Switching – will ensure the user has ultimate capture of the audio signal at the source, reducing post production and editing times. the Digital Switching includes:

3-Stage High Pass Filter to reduce low frequencies such as rumble from traffic or air conditioning 
3-Stage Gain Control, with +20dB function – designed to improve audio quality on DSLR or mirrorless cameras
High Frequency Boost will boost high frequencies enhancing detail and clarity in the recording 
Safety Channel to help ensure the signal does not clip when unexpected spikes occur
 "The VideoMic Pro+ is a new benchmark in on-camera microphones," comments Damien Wilson, RØDE and Freedman Group CEO. "We have listened to our customers  and are delivering the microphone they've asked for, with features such as the built-in battery door, automatic power function and included Lithium-Ion Battery."
 The VideoMic Pro+ ships with a 3.5mm TRS Cable, LB-1 Lithioum-Ion Rechargeable Battery and includes RØDE's 10-year warranty and is now available at authorised RØDE dealers. For more information please visit www.rode.com/microphones/videomicproplus
About RØDE Microphones:
RØDE Microphones (www.rode.com) designs and manufactures high-quality microphones and related accessories for studio, live and location use. Its products are designed and primarily manufactured in Sydney, Australia and exported to over 113 countries globally. Freedman Electronics is celebrating its 50th anniversary in 2017.