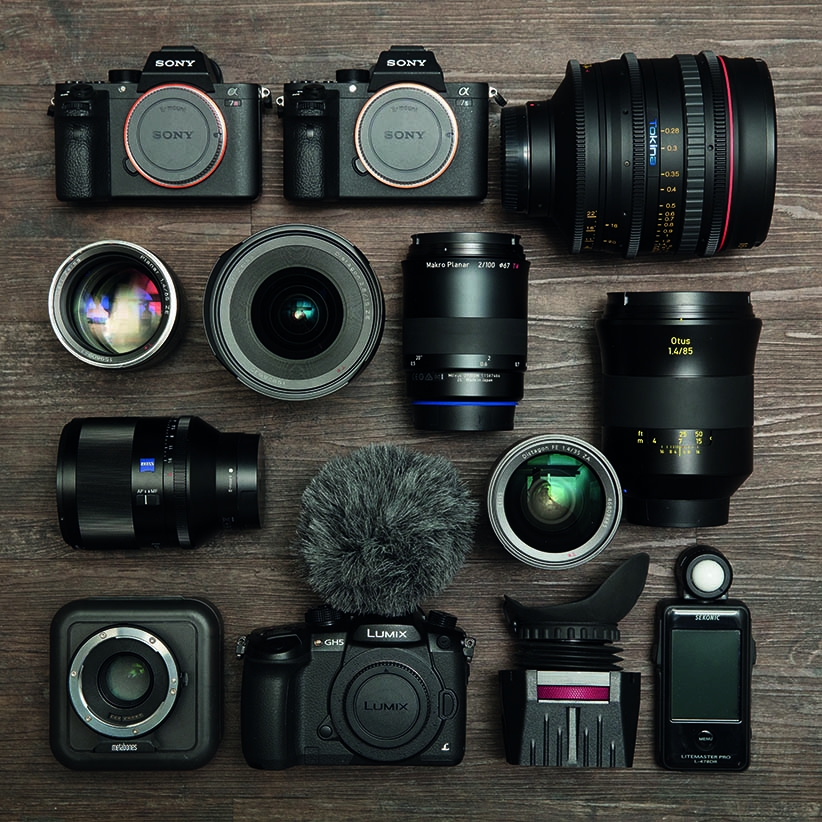 Save cash on kit: our money-saving guide
Cash flow is king in business, so check out our guide to saving money on essential hardware
If your filmmaking business is booming, cash is flowing and money is no object, then buying the latest kit brand new can seem like an obvious and very rewarding thing to do. You'll have the latest gear – from cameras and lenses to lights and grip – always on hand for any shoot, with the piece of mind of a full warranty in case anything goes wrong. And spending some of your income on kit means you're paying less tax, and can claim the sales tax back, too. Good times.
Whether you use an all-in-one camcorder or several types of cameras with a bagful of lenses, making good choices is key
However, it might not be as sensible as you think. Your business will be faced with the very large depreciation of what has been a chunk of capital expenditure. That's money you could invest elsewhere to drive even more business growth, or save it for a rainy day. Of course, your accountant is the best place for individual financial advice.
But in these difficult times of shrinking budgets from clients and ever-spiralling costs, many filmmakers are having to be significantly more frugal in the running of their businesses. And the large expense of necessary kit – from cameras and lenses to computers and more – can cripple the cash flow. Get it drastically wrong, and you could be out of business quickly.
There are an increasing number of options for running your business rather than splurging a large pile of money on new kit
There are an increasing number of options for running your business rather than splurging a large pile of money on brand-new equipment. Short-term rental is an option, as is longer-term leasing. And, of course, you can always save a lot of money by buying gear that has been previously owned. So with that in mind, we've taken a look at some of the best ways to save cash on kit, as well as some of the smart ways to avoid crippling your cash flow.
Buying used gear
Camera equipment that, not very long ago, was the latest in cutting-edge technology still has the ability to create great movies. By buying paws – usually a previous-generation model (although a second-hand version of the current camera is a sensible buy, too) – you will avoid the huge depreciation that affects all new equipment.
Some cameras have stood the test of time far better than others, and the lenses aren't replaced with a new version that often. So doing your research and buying the right gear is a sensible thing to do.
Always ask yourself if you really need a new 4K camera that outputs Raw, records at insane frame rates, can livestream and shoot in HDR. All that new tech costs extra, but if you don't actually need it, then it's a waste. Remember to factor in the cost of memory, in terms of cards or hard drive space, for 4K or Raw. And you might need to upgrade your computer to handle files, too. So do your research wisely, and then have a careful look at the condition of the camera which may have had a tough life at the hands of working filmmakers. Check the hour meter on a camcorder as well, to see how long it has been used for.
Of course, to really get things at a bargain you can go for a private sale from eBay, Craiglist or social media. But it will be 'sold as seen' and you might well have little comeback if you discover a fault. And for many professionals using cameras to make a living, that's too risky.
To make sure the camera comes as described, then a sensible option is to go with a reputable dealer who will offer some guarantee and will have checked the kit over for faults.
Camera retailers like Camera World, Park Cameras and Wilkinson Cameras often have lots of used DSLR and mirrorless cameras and lenses. Many of these will have been used by amateur stills photographers, so can be in remarkable condition.
Pro video firms like CVP and Wex have lots of used video cameras, specialist lenses and video accessories, but the leader in used video and stills kit is MPB, which has an easy-to-use website where you can not only buy kit, but also sell your old gear to help fund your purchase. It has bases in the UK and USA.
When you want some new kit, then quickly getting rid of your unwanted gear for a decent price is what you need. While many retailers don't take used gear in part exchange, MPB offers a worry-free way of disposing of your equipment without the hassle and risk of private buyers. With on of the biggest inventories of used equipment, MPB has used stock from Red, Blackmagic, Canon and all the bestselling cinema cameras to the latest mirrorless kit, along with a detailed description of its condition and what it includes.
MPB's website allows you to manage the whole transaction online, from buying your chosen item to getting a quote for your old kit in part exchange. All you have to do is fill out an online form, which lifts your gear and its condition, and you receive an instant quote. MPB then arranges the collection of the items, checks it over and then send the new gear out to you. It's simple and you can save a lot of money compared to new.
Some top UK used dealers:
No bidder aftertaste
If you fancy a really exotic bit of kit that's not only hard to find – such as a high-end cinema lens from a top maker like Cooke, Arri or Angénieux – then buying used means that you might actually be able to afford your dream purchase. And you won't be left with the remorse of having to remortgage your house to pay for it!
These incredible lenses are rare and are often sold in complete sets for huge amounts of money. Even used, these exotic optics hardly ever appear at dealers, but they do often come up at specialist auctions. One of the best-know specialists is British based SAS, which often has listings for some incredibly rare lenses that can go for prices that are relatively attainable. 
SAS director Hugo Marsh, the firm's specialist in photographic equipment has noticed a huge increase in the interest for high-end cinema lenses, and recently sold a set of Cooke Speed Panchro lenses, and recently sold a set of Cooke Speed Panchro lenses. Many of the older lenses are converted for use on the digital SLRs and mirrorless cameras, so will fit on the majority of cinema cameras, too.
Click here for more information on this.
Why not buy new kit from overseas?
A search on the internet often shows new camera and lenses can be bought more cheaply abroad. If you're based in the UK or Europe, then it often looks cheaper to buy from the US or Asian firms – which are usually selling non-official grey imports.
However, apart from the obvious communication issue and time difference between continents, you will find that you need to pay import duty and VAT, and this can add significantly to the purchase cost and slow down the import process.
When you want some new kit, then quickly getting rid of your unwanted gear for a decent price is what you need
Chances are, the kit also might not be UK-spec, so you won't have the right leads and there may well be warranty issues if anything goes wrong. And, of course, you are not supporting the UK importers or dealers who you might rely on in case of any problems in the future.
Above It can be tempting to buy gear abroad and carry it in a backpack, but you'll be breaking the law if you don't declare it
Consider renting
If you want some supplementary kit short term, or for something more exotic that is too expensive to invest in for the handful of times it might be used, then renting is a good option. And fast, reliable courier services nowadays mean you don't need to live near to a rental house in a big city any more. You might want to try out a Red Camera or an anamorphic lens for a special shoot. Then renting becomes a sensible option.
Many rental houses also stock more general video items such as mirrorless or DSLR camera bodies, as well as camcorders and cinema cameras at all prices. One of the benefits is that you know the kit will be serviced and ready to use. And if you need kit for a longer period rather than just a few days, rental houses will often do deals.
One of the UK's top rental houses is Hire a Camera, which stocks everything from GoPro action cameras to the latest Sony FX9 full-frame cinema cameras and Red Raven, plus all the lenses, grip, audio kit and lighting you could possibly need. There is even a loyalty scheme offering cash for regular renters. And there are different options for deposits, damage waivers and insurance.
However, there is a new breed of peer-to-peer rental options, where you can make your kit make money for you – even when it's not being used by your business – by renting it out to others. Or renting in kit you need from other filmmakers when you need it.
So it makes sense to rent it kit when you need it, and rent out gear you own to others who have a short-term need for it.
The move towards individuals renting out gear is exemplified by companies such as Kitmapper and Fat Llama, which specialise in simplifying the process and making it safer for both sides. A filmmaker with surplus gear can sign up to rent this out, backed by the promise that the hirer will be checked out and gear insured, while those looking to rent through this route have the chance to get a keen price and potentially a little more in the way of flexibility.
Above Renting a full-frame mirrorless camera and lens like this Sony can be a sensible option
Times are changing fast, renters at all levels are becoming more flexible and willing to offer good value weekend deals, and many filmmakers will also charge their clients for kit that might have to be hired in, eliminating the need to own more than the bare necessities.
Of course, hiring from established rental specialists does have its advantages, such as fully checked and calibrated kit that you know will work flawlessly every time and well-sorted delivery and return logistics. But now there is an option that could be more affordable.
This means, if you do prefer to own your own equipment, then there's now an option to monetise it.
Decide what works for you and take a fresh look to see if it's time to change your own views on renting. This is an area that is now very much coming of age and it could well constitute a part of a good modern business model for filmmakers.
More information:
Easy leasing
If you really want the latest kit, but don't want to shell out a huge lump of cash all none go, then leasing is a modern option that works for many businesses.
Companies like Photolease allow you to choose the video equipment you want from whichever company you want to buy it from, then it sorts out the monthly payments. As you can lease kit for three to five years. Then, at the end, you pay another monthly rental fee and you get to keep the gear.
It's not just about specific video equipment nowadays, as you need a decent computer. Buying brand-new desktop computers, monitors and laptop has always been the traditional way most small businesses operate. But the high upfront cost – along with constant hardware and software upgrades – can result in a cupboard full of old computers. It makes sense to buy new hardware, but spread the cost of it.
Paying monthly to lease equipment is a modern way of getting hold of the latest tech. Specialist firms like Hardsoft offer the latest Apple Macs, Surface laptops, iPads or any hardware you could need, and allow you to pay a monthly subscription, without a deposit. And there is a technical helpline to help with any issues.
Hardsoft's range of options includes a pure rental scheme, where you pay a fixed monthly fee for your computer for three years then hand it back, although you can buy it at the end if you like.
A Flexi-lease gives you more options to change your kit, send it back or continue with the plan during the three years, then you will own it at the end for a tiny payment – often just £1. Like a mobile phone renewal, you can even get a new machine while keeping the old one, so you are up to date with the latest tech. And, as it's leased, there is a three-year warranty and a loan computer to keep you working if your device ever needs to be repaired. It's a modern way of keeping cash flow out of the business to a minimum
More information: