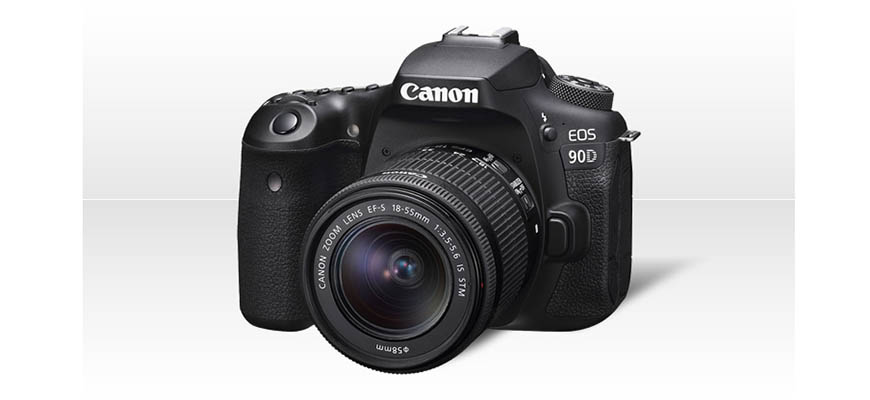 Canon awarded five 2020 TIPA World Awards
Posted on Apr 15, 2020 by Pro Moviemaker
Canon has been awarded five accolades from the Technical Image Press Association (TIPA) – from the  EOS-1DX Mark III, to the RF 85mm F1.2L USM DS lens
The following Canon products have received 2020 TIPA World Awards:
Best DSLR Advanced Camera: Canon EOS 90D
Best DSLR Professional Camera: Canon EOS-1DX Mark III
Best Mirrorless Telephoto Zoom Lens: Canon RF 70-200mm F2.8L IS USM
Best Professional Portrait Lens: Canon RF 85mm F1.2L USM / Canon RF 85mm F1.2 L USM DS
Best Vlogging Camera: Canon PowerShot G7 X Mark III
BEST DSLR ADVANCED CAMERA: Canon EOS 90D
With a high-resolution APS-C 32.5MP sensor, Dual Pixel AF, 10 fps burst shooting, and 4K/30p video capture, it's the perfect companion for the travel, family, sport or landscape enthusiast. The camera also has excellent in-camera Raw processing, very good battery life, and Wi-Fi and Bluetooth connectivity.
BEST DSLR PROFESSIONAL CAMERA: Canon EOS-1DX Mark III
The flagship EOS-1DX Mark III is the highest performing DSLR ever created by Canon. It brings new breakthroughs in focusing along with high level video capability. The sensor and imaging systems are new, allowing for benefits including fast shutter speed, high burst rates and quality recording in low-light. Wi-Fi, Bluetooth and GPS are on board, plus there's an optional wireless transmitter for even faster transmission speeds.
BEST MIRRORLESS TELEPHOTO ZOOM LENS: Canon RF 70-200mm F2.8L IS USM
The RF 70-200mm F2.8L IS USM brings a classic tele-zoom focal length into the Canon RF family line-up. The lens highlights the advantages of marrying new lens design with mirrorless camera bodies. It is both lighter and shorter than its EF counterpart with enhanced operational features, balance and portability. It incorporates 5-stop IS and two Nano USM motors for fast and quiet AF operation.
BEST PROFESSIONAL PORTRAIT LENS: Canon RF 85mm F1.2 L USM / Canon RF 85mm F1.2 L USM DS
Portrait, fashion, wedding and event photographers now have an exciting technology available for enhancing their work in a classic portrait focal length lens. Available in two versions, a standard and DS version incorporating Canon's new vapor-deposited coating applied on two lens elements, dubbed Defocus Smoothing, has the effect of smoothing the edges of out of focus areas.
BEST VLOGGING CAMERA: Canon PowerShot G7 X Mark III
The Canon PowerShot G7 X Mark III is a perfect step-up option for smartphone users who enjoy vlogging. It offers both Live Streaming services to YouTube and the capability to handle both standard and vertical format video, all made easy with a flip-up touch screen. 4K cinematic quality can now be made in both live action and studio environments with the 1.0-Type sensor, wide aperture lens, and external microphone input. Still image quality is equally impressive, with a 20.1MP resolution, 20 fps burst rate and a 4.2X zoom lens with optical image stabilization. The Tripod Grip HG-100TBR is the ideal vlogging companion to the PowerShot G7 X Mark III, making it even more convenient to create great looking content.
For more information on the 2020 TIPA World Awards, please visit: