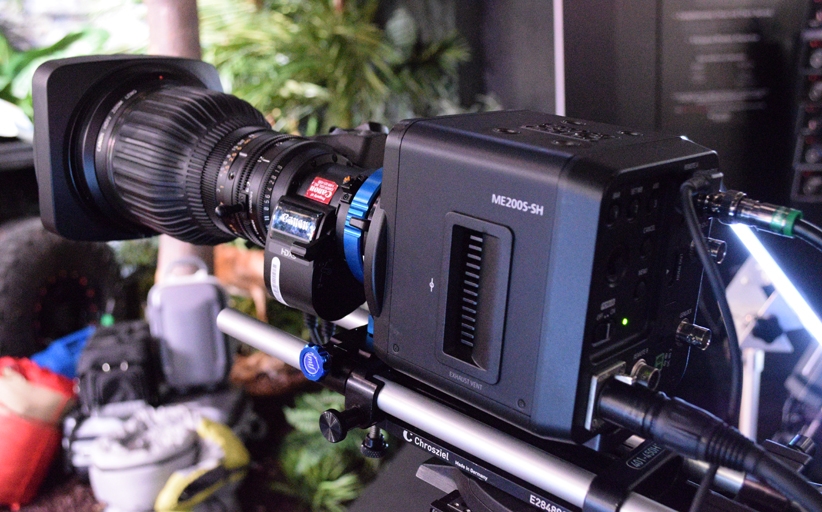 Canon expands low-light offering
Highlighted on the Canon stand at NAB was its latest multipurpose compact video camera, the ME200S-SH, which has been designed to tackle a wide range of applications from broadcast and cinematic productions, to scientific research and wildlife documentaries.
The new model is said to be capable of capturing professional, high-quality Full HD images even in low or difficult lighting conditions, and combines some of the most popular features from the Cinema EOS range, with the form factor, flexibility and operational characteristics of the popular low-light enabled ME20F-SH.
Inside there's a Super 35mm CMOS sensor with 8.29 megapixels that enables the recording of Full HD images up to 50p/59.94p. The ME200S-SH also supports Canon Log, which allows it to capture up to 12 stops of dynamic range and ensures detail is retained in the brightest areas through to shadows. As with Canon's Cinema EOS cameras, the ME200S-SH features Wide DR mode, enabling footage to be used directly from the camera with little or no grading, further speeding up post-production.
Equipped with the Canon EF with Cinema Lock mount, it can be used with a large range of compatible Canon EF, EF-S and cine-servo lenses. This includes the newly launched Canon CN-E18-80mm T4.4 L IS KAS S cine-servo lens, which is said to be the perfect partner for the ME200S-SH thanks to its compact size, light weight and the ability for its zoom and focus to be controlled via Canon's RC-V100 remote controller.
The camera's compact size means it can easily be placed high in sports stadiums, inside vehicles, on robotic heads or even attached to drones. The option to operate the ME200S-SH remotely and its ISO equivalent range of 320-204,800 mean that it can be used discreetly.
In addition, Canon also announced firmware updates for products including the EOS C300 Mark II, the XC10 and the DP-V2410 and DP-V3010 4K reference displays. Visit the Canon website to find out more.