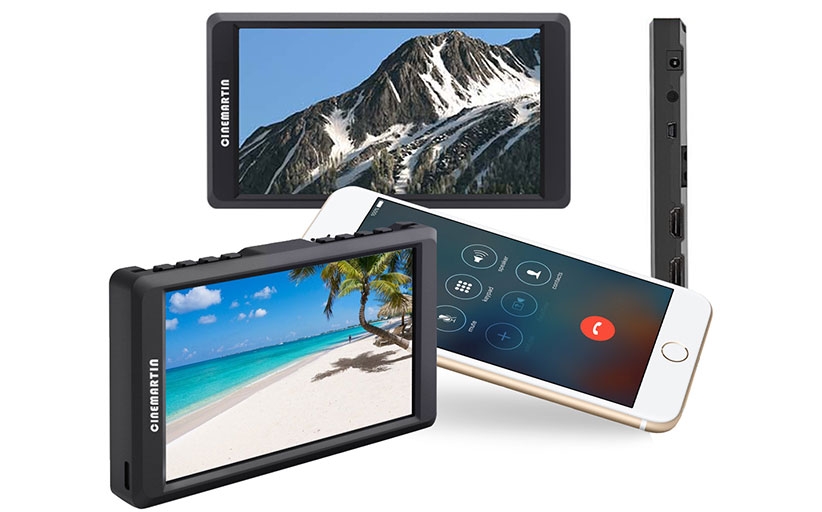 Cinemartin's superlight monitor bargain
Cinemartin's new Loyal LT 5.7 inch (AS), is a new ultra compact 4K HDMI Monitor as compact as a smartphone, consume less power and costs just 179€ – £159 or $214. The official information says: 
Available at 5.7″, Cinemartin is proud to introduce the new Loyal LT 5.7inch monitor, called Cinemartin (AS) as well, featuring a ultra compact size for maximum portability and lightness. In fact there are things like attachable mounting points that makes this device the most compact and smaller at 5 to 6 inches.
Supporting video up to 4K DCI 4096x2160p, featuring a 1080p native display with 550 NITS of luminance, a contrast ratio of 1000:1, this new unit provides HDMI in/out with loop.
Loyal LT (AS) 5.7 units comes with plenty of features for focus & exposure, called Assist Tools, suited for the day to day job, also nice for those cameras that lack that features. Assist tools include False color, Histogram, Peaking, Zoom and many more like Markers, Aspect ratios picture strech, as well as other tools like Audio Meters, Audio Gain, Color Bar, Image Flip as well as standard ones like Brightness, saturation, hue, etc.
Will be this unit a SmallHD focus killer ?
Loyal LT (AS) is more compact than Small HD, but Focus have resolution of 720p vs LT featuring 1080p true supporting 4K DCI as well. 550 NITS vs 800. LUTs vs no LUTS, but considering this new unit from Cinemartin supports up to 4K DCI or UHD with a native 1920×1080 resolution , at twice cheaper as Focus, Cinemartin gives users a trully affordable true 1080p native resolution compact monitor for about 200€. 
Cinemartin is now taking orders, deliveries in about 2 weeks starting from October. Introductory price of just 179€ for standalone unit (only monitor) as well as 199€ for complete Ready to shoot kit. Check the website for more info and ordering.