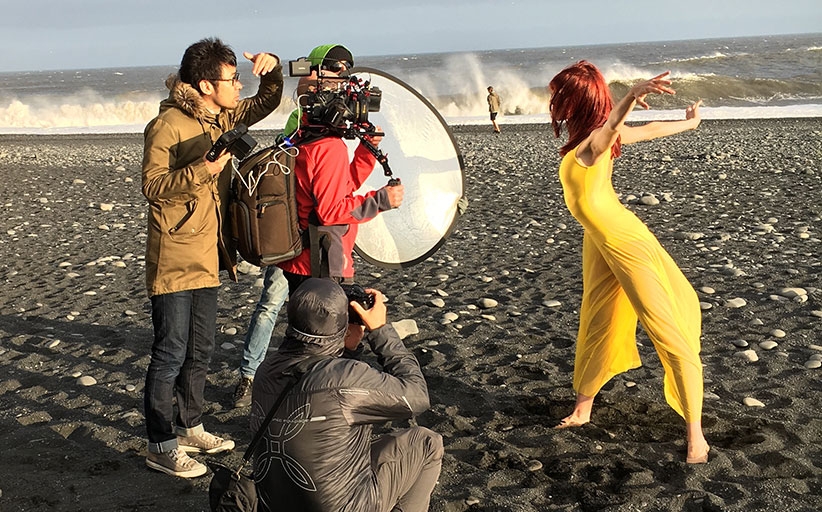 First footage from the Panasonic EVA1
Panasonic has revealed the first footage from its new EVA1 compact cinema camera. A series of behind-the-scenes footage and short films is now on their special YouTube Channel. And you can check out some footage, and read the official information, below.
The first footage from the new Panasonic AU-EVA1 5.7K handheld cinema camera has been released at IBC in Amsterdam, with the camera set to start shipping from the end of October 2017.
Shot and directed by Italian DOP Filippo Chiesa on location in Iceland, the sizzle reel showcases the newly-designed Super-35 sensor with 5.7K resolution, as well as the dual native ISOs of 800 and 2,500, which allowed the cinematographer to shoot in almost any lighting environment.
Aimed at indie filmmakers, EVA1 delivers 14-stops of dynamic range, enabling fine gradation in exposure from bright to dark and the ability to capture accurate colours and rich skin tones. The camera utilises a native EF-mount giving shooters access to the extensive EF lens range.
EVA1 also supports HDR production. The 14-stops on the V-Log curve more than meet HDR requirements, while the V-Gamut curve exceeds the REC.2020 colour space.
Filippo Chiesa, Director and Cinematographer, said, "It's not often that you get the opportunity to work with such a widely anticipated camera, and to be given that trust by Panasonic was a real privilege. The camera performed above and beyond my expectations, it's colour palette, it's rich imagery gave me so much to work with. It's every bit as exciting as the film making community thinks it is."
Nela Pertl, Marketing Manager EMEA for Panasonic, said, "We are delighted with the footage that Filippo has captured. Iceland provided a brilliant natural set, but he, and the camera, have enhanced it on film. The flexibility of EVA1 was truly tested and because of the compact nature of the camera we were able to utilise a number of different rigs including a drone."
Panasonic has launched a YouTube channel dedicated to footage from its range of digital cinema cameras including the VariCam range and EVA1. The new EVA sizzle reel is featured on the new channel:https://www.youtube.com/channel/UCiTi9owcTE9QbEnt5w2vkDA/featured