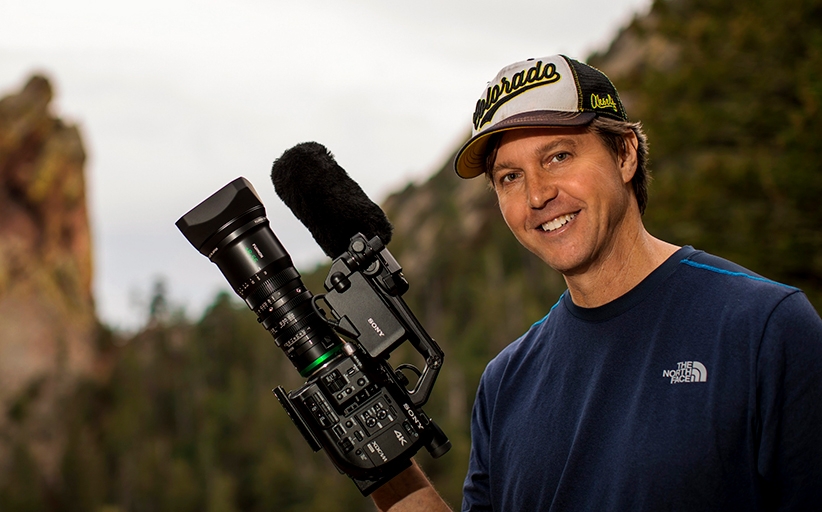 Fujifilm reveals zoom lens winner
Emmy award-winning filmmaker and photographer Lance Murphey is the lucky winner of a Fujifilm MK 18-5mm zoom lens in a competition run at the NAB show in Las Vegas recently. Fujifilm's information says: 
Sometimes it really does pay to smell the roses, even somewhere as loud and chaotic as the NAB convention in Las Vegas. Last month, award-winning photojournalist and cinematographer Lance Murphey, stopped in front of FUJIFILM's NAB booth, first impeded by the large crowd listening to noted DP Philip Bloom, then intrigued by the lightweight form factor of the FUJINON MK18-55mm zoom Bloom was holding, and finally rooted to his spot when he saw the imagery the lens produced.
Two days later, after entering a random drawing during Bloom's presentation, the three-time Emmy-award winning DP and two-time Scripps Howard photographer of the year, was the proud winner of an MK18-55mm T2.9 lens.
"No one was more surprised than me when I got back to Boulder and received a text that I'd won the single most exciting new product at NAB this year," said Murphey.
Primarily a one-man band and stills shooter who works with corporate clients, major media outlets and magazines, Murphey attributes his career as a newspaper photojournalist as shaping his shooting style: "I'm driven to create projects that open people's minds and that encourage positive actions to transform our world. The gift of this incredible lens felt like a sign that I should redouble my efforts telling the untold stories of struggle, economic inequality and environmental impact in this world. I'm incredibly grateful to FUJIFILM for this gift."
Murphey just finished a video on an aspiring female horse jockey for TIME magazine (http://time.com/4769248/kentucky-derby-jockey-amelia-hauschild/) and wrapped several shoots about diabetes for UNIVISION (http://www.univision.com/univision-news/health/univision-mini-doc-diabetes-plagues-the-rio-grande-valley). He's currently in development on projects about refugees, girl power and environmental issues.
"I'm beyond excited to have a wide to medium-range, parfocal Cine lens like the MK18-55," he added. "This will replace a set of heavy DSLR primes that I carry everywhere and constantly switch between, for different focal lengths, even on documentary shoots. It will also replace the convenient, but heavy breathing, kit lens. My initial tests with the lens have blown me away in terms of image quality, usability and weight. I've already determined I need to start saving for the MK 50-135mm to replace my other set of primes."
Murphey recently switched to a Sony PXW-FS5 Super 35 4K Camera. For his aerial cinematography work covering large music festivals and events, he uses DJI Inspire1 and Phantom4 Pro drones.
The FUJINON MK18-55mm T2.9 is designed for E-mount cameras and boasts advanced optical performance, ultra-compact and lightweight design, as well as superb cost performance. It's a standard zoom with an 18-55mm focal length and is currently available for $3,799.
Second in the "MK" Series, the FUJINON MK50-135mm T2.9 will be available this summer. With a combined focal length range of 18mm-135mm in the Super 35mm format, together the first two "MK" lenses cover the most frequently used range utilized by emerging cinematographers. The series offers fast lenses with T2.9 speed across the entire zoom range, enabling a shallow depth-of-field. The entire "MK" series is designed with the 'emerging' cinematographer in mind, whether shooting a live event, online programming, documentary, independent or short film production.