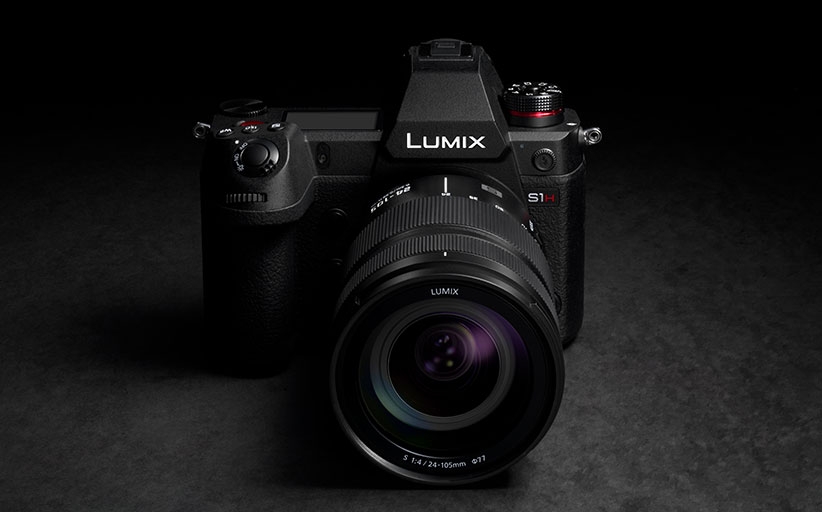 Full-frame Panasonic for filmmakers
Panasonic has revealed a new LUMIX S1H full-frame mirrorless camera with cinema-quality video and world's first 6k/24p recording capability from a camera of this type and 10-bit 60p at 4K/C4K. It comes hot on the heels of the S1 and S1R full-frame mirrorless cameras which are more geared towards stills shooters. The S1H is aimed squarely at filmmaking.
Panasonic says it's the world's first camera capable of video recording at 6K/24p (3:2 aspect ratio), 5.9K/30p (16:9 aspect ratio), and 10-bit 60p 4K/C4K and will release the LUMIX S1H in Autumn 2019. The LUMIX S1H prototype was unveiled today at Cine Gear Expo 2019 in California where Pro Moviemaker magazine staff got the check out the new camera first hand.
Since starting the development of video recording technologies for digital cinema in the 1990s, Panasonic has produced a host of innovative technologies for impressive cinematic imagery, such as 24p video recording, slow motion video using a variable frame rate, and the wide dynamic range and colour space of V-Log/V-Gamut. The LUMIX GH1 made its debut in 2009 as the world's first digital single lens mirrorless camera capable of Full-HD AVCHD video recording. The LUMIX GH4 was launched in 2014 as the world's first digital single lens mirrorless camera capable of 4K video recording. And in 2017, the LUMIX GH5 was released with the world's first 4K/60p, 4:2:2 10-bit 4K/30p recording capability*6, and is highly acclaimed by film-makers for its high performance, excellent mobility, and superb versatility in film production.
The new LUMIX S1H has been designed and developed by applying the vast expertise and technologies accumulated in the cinema cameras to the LUMIX S Series full-frame mirrorless cameras. It packs all of these technologies, especially in the field of digital signal processing and heat dissipation , into a compact, lightweight body to achieve both high performance and mobility. It opens the door to creative film production in ways that conventional, bulky camera systems simply could not do.
The S1H joins the S1 and S1R in the line-up of full-frame mirrorless Panasonic cameras
The main features of the new LUMIX S1H are as follows:
High resolution up to 6K for multiple formats
The LUMIX S1H has achieved 6K/24p (3:2 aspect ratio) or 5.9K/30p (16:9 aspect ratio) video recording for the first time and is also the world's first full-frame digital interchangeable lens system camera to enable 10-bit 60p 4K/C4K video recording. It accommodates a variety of recording formats, including 4:3 Anamorphic mode, to meet professional needs. Its high-resolution data can also be used for creating 4K videos with higher image quality or for cropping images in 4K.
Rich gradation and a wide colour space virtually equal to those of cinema cameras.
The LUMIX S1H features V-Log/V-Gamut with a wide dynamic range of over 14 stops, which is virtually the same as the Panasonic Cinema VariCam, to precisely capture everything from dark to bright areas. The colour and even the texture of human skin is faithfully reproduced. Designed under consistent colour management, the S1H's recorded footage is compatible with V-Log footage recorded by VariCam or V-Log L footage recorded by LUMIX GH5/GH5S.
High product reliability that allows unlimited video recording.
In every S1H recording mode, video can be recorded non-stop under the certified operating temperature so the user can concentrate on shooting.
Panasonic has also announced the full details of its software upgrade key DMW-SFU2 for its full-frame mirrorless camera, LUMIX S1, significantly enhancing its video performance.
Functions available within the upgrade programme include:
14+ stops of V-Log recording
World's first 4:2:2 10-bit 4K MOV 30p/25p internal video recording
World's first 4:2:2 10-bit 4K 60p/50p HDMI output
V-Log and V-Gamut compatible with Cinema VariCam Look
In-camera LUT (Look Up Table) application enabling playback of V-Log while or after recording (LUT Display with Custom Function)
A WFM (Waveform Monitor) displays brightness level while recording
High-res 48-kHz/24-bit or 96-kHz/24-bit sound can be recorded in MOV using the XLR Microphone Adaptor DMW-XLR1
The upgrade key will be available free of charge by redemption from 8th July 2019 for existing purchasers of the LUMIX S1, and new purchasers until 30th September 2019. From 1st October 2019 the key will be available to purchase at £179.00.
The new 2x converter
Panasonic has also introduced two new teleconverters for the LUMIX S Series telephoto zoom lenses – a 1.4x teleconverter (DMW-STC14) and a 2x teleconverter (DMW-STC20).
They can be attached to the LUMIX S PRO 70-200mm F4 O.I.S. (S-R70200) enabling use as a super telephoto lens with its extended zoom range up to a maximum of 400mm with high-speed, high-precision AF. The rugged dust/splash-resistant design withstands use under harsh conditions even in 10 degrees below zero for high mobility.
Both teleconverters DMW-STC14 and DMW-STC20 will also be compatible with the upcoming 70-200mm F2.8 S Series lens, which will be available later this year.
Available from June 2019, recommended retail prices are £489.99 (Ireland €569.99) for the 1.4x teleconverter DMW-STC14 and £579.99 (Ireland €669.99) for the 2.0x teleconverter DMW-STC20.
Specifications:
DMW-STC14
Lens Composition of 7 lenses including 2 UHR (Ultra High Refractive Index Lens) lenses in 4 groups.
DMW-STC20
Lens Composition of 8 lenses including 2 UHR (Ultra High Refractive Index Lens) lenses in 4 groups.