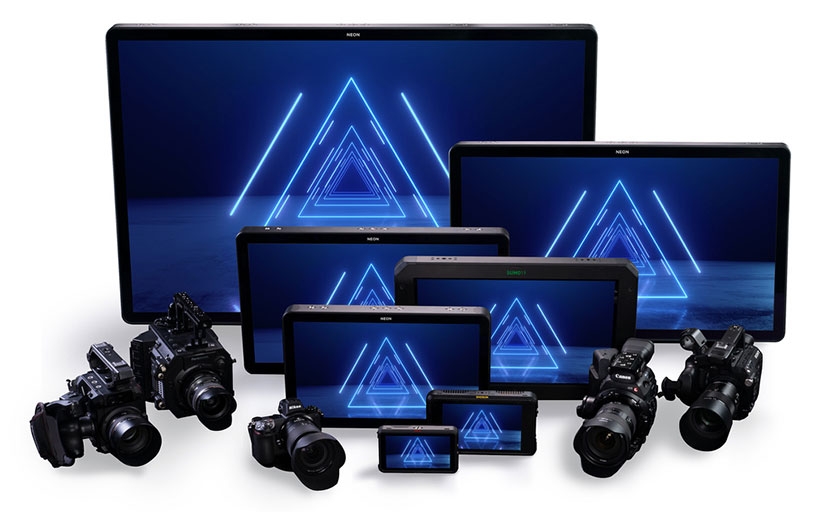 Atomos goes large with four HDR monitor recorders
Monitor giant Atomos has revealed its new range of 4K HDR monitor recorders in sizes up to 55 inches. More well known for its camera-top monitors, the Aussie firm has built 17, 24, 31 and 55-inch units for use on set or in studio production.
Called the Neon range, it is an ecosystem of HDR monitors that can be controlled via an App. This will control single and multi-camera on-set capture. Atomos claims the Neons will eliminate the current process of capturing footage then transferring to a separate monitor for editing. Using a Neon allows capture, edit, grade and export to most formats. Using the Neon means directors will know they have got the shot, cinematographers can ensure consistent exposure, focus pullers maintain sharpness and so editors and colour graders can lock down the creative intent from shot to shot.
Prices are $3,999 for the 17-inch, $6,499 for the 24-inch, $7,999 for the 31-inch and $16,999 for the 55 inch, and they will go on sale in September. UK prices have not yet been announced. The Neon line up of monitors and monitor recording displays do away with touchscreen operation and are Bluetooth controlled by the Atomos iOS App.
The App controls 4K recording, syncing and playback and real-time production tools like focus peaking, exposure, calibration, zoom, waveform monitor, RGB monitor, vectorscope and LUT selection. The App also shortens the time between capture and final edit by allowing Neons to display real-time playback of captured shots at up to 4K60p in ProRes RAW, ProRes, Avid DNx and Cinema DNG. Additionally, all Neons and any Atomos Ninja V monitor recorders with an AtomX Sync Module attached frame sync together making for easy importing of synced video and metadata at the end of filming. The metadata is embedded into the quicktime .mov file and is read downstream by computer applications, including Atomos desktop software.
With Neon, the Atomos and Dolby partnership continues with the ability to deliver Dolby Vision live on-set to any Dolby Vision capable TV or monitor. The units use zone backlight technology with daylight viewable anti-reflection 1000 nit displays. Neon is future-proofed because of the innovative Master Control Unit, a replaceable brain that allows the out-of-the-box 4K capture capability to be upgraded later as newer functionality and technology becomes mainstream.
Atomos has already revealed an 8K version will hit the market later in 2019. The Master Control Unit is also compatible with the AtomX expansion modules that provide SDI and NDI connectivity on top of the standard HDMI connectivity that comes with Neon. Capture is from any HDMI, SDI or Quad Link SDI source including cameras from Nikon, Canon, Panasonic, Sony, RED and ARRI.
Neons additionally come packed in their own custom designed high-performance crush-proof and water-tight road case. Mounting points include VESA mounts, feet for floor or desk viewing, and ARRI-standard edge mounting points.
For more information, check the Atomos website.