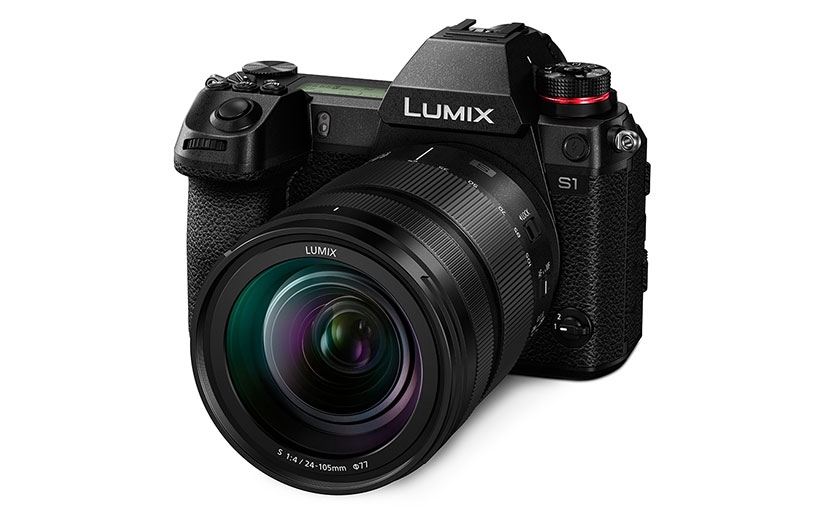 Panasonic reveals full spec for new full-frame cameras
Panasonic has revealed the final spec for its two new full-frame mirrorless cameras, the S1 and S1R. Both record 4K at 60p and offer blazing-fast 180fps frame rates in HD – the highest of any full frame camera. The lower-resolution S1 is ideal for filmmaker and will output full pro-spec V Log footage in 4:2:2 10-bit to an external recorder via a paid, forthcoming firmware update. Both use the Leica L-mount, so Panasonic's new S-series lenses or Leica SL lenses will fit.
The S1 has a 24.2 Megapixel full-frame sensor. A High Resolution Mode can be used to create still images with 96 million pixels and this option will prevent motion blur. Efficient pixel design, combined with the high-powered Venus Engine processor, allows standard ISO settings to reach ISO 51,200.
6-stop Dual Image Stabilisation for Still and Video Mode
Combined with the 2-axis Optical Image Stabiliser in the LUMIX S Series lenses, the S1 and S1R in-body image stabilisation increases the level of compensation to 6 stops, and works to eliminate the effects of a wide variety of camera movement in both stills and video.
Professional Features
4K video is offered at 60/50p with a 1.5x crop, while full pixel readout is achieved at 30p. The new Hybrid Log Gamma (HLG) profile allows recording in an even wider dynamic range with rich colours (Like2100). The shutter unit is designed to endure 400,000 actuations. It allows mechanically-driven exposure times as short as 1/8000th sec to ensure the capture of fast moving subjects even using open aperture settings of fast lenses in the bright sunshine. 
The camera can controlled remotely from a smartphone using the LUMIX Sync app or a PC with the LUMIX Tether software. WIFI and Bluetooth are also included to allow connectivity between cameras.
S1R has high resolution
The LUMIX S1R includes a 47.3-million-pixel CMOS-sensor and can produce 187-million-pixel images in the High Resolution Mode. It offers an ISO range of up to ISO 25,600.
Advanced Focusing
To achieve extremely fast and accurate focusing, the Venus Engine, CMOS sensor and the new LUMIX S lenses communicate at up to 480fps allowing the AF system to react in 0.08 seconds. The S1R shoots stills at up to 9fps in AFS or 6fps with continuous focusing. Eye-AF and animal recognition have also been added along with face detection.
High Resolution Viewfinder and High Quality Displays
Both cameras have a 5.76-million-dot OLED display and refresh rates of up to 120fps. The camera's 3.2-inch touchscreen features 2.1-million-dot resolution and is mounted on a triaxial tilt rear monitor that allows it to flip out for low or high angled viewing in both portrait and landscape orientation. Illuminated buttons help those working in dark conditions, and the camera's top plate offers a largest-in-class back-lit status LCD.
Video Quality
The LUMIX S1R is capable of advanced video recording in 4K resolution at up to 60/50p. High Speed Video allows 2x slow motion at 60fps in 4K, and settings down to 6x slow motion in Full HD with frame rates of up to 180fps. Advanced audio quality can be achieved using the DMW-XLR1 microphone adapter in the hot shoe with professional microphones and XLR input sources.
There are also three new LUMIX lenses:
LUMIX S PRO 50mm F1.4 (S-X50)
At the core of the LUMIX S lens series is the new LUMIX S PRO 50mm F1.4. A large-aperture lens with a focal length considered 'standard' for the full frame format, the LUMIX S PRO 50mm F1.4 boasts stunningly high resolution and incredible sharpness from centre to corner even when used wide open. The optical design and the use of an 11-bladed iris provide beautifully smooth focus transition and exceptionally attractive bokeh.
LUMIX S PRO 70-200mm F4 O.I.S. (S-R70200)
The LUMIX S PRO 70-200mm F4 O.I.S. telephoto zoom lens provides high-resolution, high-contrast images across the entire zoom range. Designed to be used in a wide range of situations, from portraits to sports, the lens is compatible with Panasonic's 5-Axis Dual I.S. 2 system and offers 6 stops of image stabilisation, which is a first for a full-frame mirrorless camera system. 9 aperture blades create a circular opening for attractive out-of-focus highlights. The optical performance of this LUMIX S PRO lens is outstanding to comply with stringent Leica standards.
 LUMIX S 24-105mm F4 MACRO O.I.S. (S-R24105)
The LUMIX S 24-105mm F4 MACRO O.I.S. is a versatile standard zoom lens covering wide-angle to medium-telephoto focal lengths. It assures excellent sharpness across the entire zoom range and is useful for many applications from landscapes to portraiture. It is also perfect for close-up and macro work, offering 0.5 x magnification and a closest focus distance of merely 0.3 m. Combining the Optical Image Stabilizer (O.I.S) with the Body Image Stabilization system of the LUMIX S1 and S1R cameras allows 5-Axis Dual I.S. 2 technology to offer up to 6 stops of compensation.
Cameras
S1R KIT (BODY + 24-105MM LENS) – DC-S1RME-K – £4199.99/ €4799.99/ $5495.77
S1R BODY ONLY – DC-S1RE-K – £3999.99/ €3799.99/ $5239.31
S1 KIT (BODY + 24-105MM) – DC-S1ME-K – £2999.99/ €3399.99/ $3927.92
S1 BODY ONLY – DC-S1E-K. – £2199.99/ €2499.99/ $2880.89
Lenses
50MM F1.4 – S-X50E – £2299.99/ €2599.99/ $3011.03
70-200MM F4 O.I.S. – S-R70200E – £1749.99/ €1999.99/ $2290.39
24-105MM MACRO F4 O.I.S. – S-R24105E – £1299.99/ €1399.99/ $1701.43
These products will be available from 18 March and for more information visit the website.