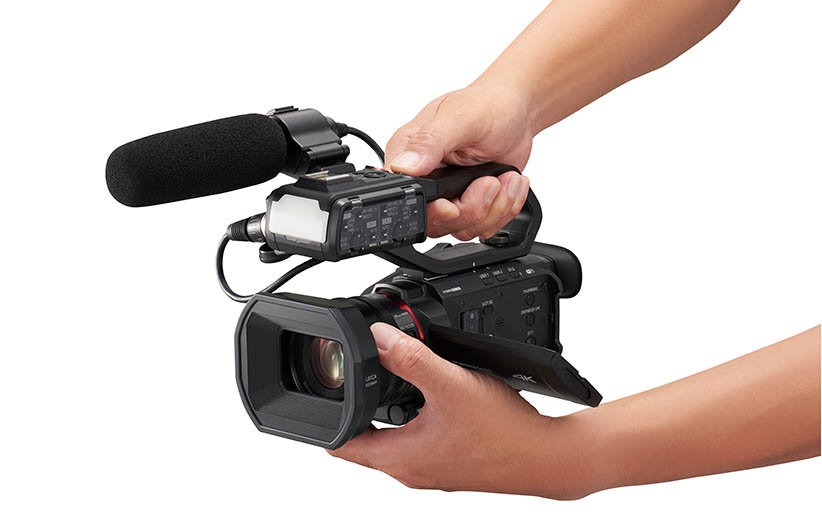 Panasonic announces three of the industry's smallest and lightest 4K 60p professional camcorders with wide-angle 25mm Lens and 24x optical zoom
Panasonic has launched three of the industry's smallest and lightest 4K 60p camcorders: HC-X1500, HC-X2000 and AG-CX10
Packed into a compact body to offer the mobility and portability demanded by professionals, the new models enable high-quality 4K 60p recording and achieve high-spec optical performance with a wide-angle 25mm lens and 4K recording.
The new models are packed with professional functions, such as two manual rings, an ND filter, a built-in LED video light, and 24-bit high resolution linear PCM Audio Recording. In addition, Panasonic's exclusive high-precision AF provides high-speed, accurate focusing for both 4K and Full-HD shooting. Various recording formats can also be selected, and built-in Wi-Fi supports HD Live Streaming using just the camcorder.
The AG-CX10 supports the broadcaster-targeted P2 MXF file format, including AVC-Intra100 and AVC-Intra50 which are due via a future update in Summer 2020. It is also equipped with connectivity provided for use as a live camera.
Panasonic continues to offer camcorders that meet a wide variety of needs, from directors recording on location and news gathering to high-amateurs recording 4K content.
Optical performance for precise shooting 
The integrated lens offers a powerful, optical 24x zoom that ranges from 25mm wide angle to 600mm tele. i.ZOOM achieves 32x at 4K resolution, and 48x at FHD. The 4-Drive Lens System drives the four lens groups independently, thus achieving the optical 24x zoom in a compact body size.
With a LEICA Dicomar Lens, stunningly beautiful images are produced while suppressing flaring and ghosts. Two manual rings are provided, one for focusing and the other for zoom or iris operation. The manual rings are designed with different sizes so the appropriate ring can be controlled without error. ND Filters can be selected, while glass is newly used as a countermeasure against scorching from sunlight condensation.
High-speed, high-precision autofocus
Superior focusing speed, stability and tracking performance for both 4K and Full-HD is achieved thanks to Face Detection AF/AE together with the precise focus lens drive. Face Detection AF/AE provides precise focusing and sufficient exposure for subjects. In addition, subject tracking with colour recognition can be activated by just touching the LCD panel.
Compact body with heat-dispersing design
A heat-dispersing design including a thin, newly-developed fan has enabled the design of the industry's smallest and lightest camcorder with integrated lens capable of 4K 60p recording. By pulling in air from the rear panel of the camera and efficiently dispersing heat from the front panel, reliable, extended shooting is achieved.
High-quality recording with versatile modes
The Venus Engine, which contains technologies accumulated with Lumix, is newly incorporated in these camcorders. This enables 4:2:2 10-bit internal recording with maximum 29.97p in UHD, and maximum 59.94p in FHD.
When set for 10-bit recording, the camcorder delivers 4K 60p 4:2:2 10-bit HDMI output, enabling high-quality image capture with an external recorder. New, highly-efficient HEVC recording is also supported for recording 59.97p at a high bit rate of 200 Mbps.
In FHD mode, slow-motion recording at 120 fps is possible. 10-bit recording is supported, and full-frame images with the image area uncropped are obtained even at high frame rates. Auto focus can also be used even during Super Slow-motion Recording.
Functional design to support professional work
For shooting in dim lighting, a bright video light controlled by an adjustable dimmer dial is built into the handle, allowing brightness to be adjusted from 30% to 100%. For shooting in even darker conditions, commercially available IR lights are supported for IR (Infrared) Shooting.
Also, to support fast, accurate manual focusing, Focus Assist functions are equipped, including Expand, Peaking and One-push AF.
The included battery does not protrude when attached and enables approximately 4.5 hours of continual operation, while a Handle Unit has been added as an optional accessory. It is easily detached and equipped with a 2-channel XLR Audio Input, audio control, and LED light. Operation of the zoom lever attached to the Handle Unit maintains a constant zoom speed, which can be set in 7 steps from the menu.
Versatile network functions expand workflow
A Wi-Fi module is built-in, so there is no need for a separate wireless LAN module, and Wi-Fi connection is possible with only the camcorder. Using a tablet application HC ROP, wireless remote control, including camera settings and lens control, can be set. RTSP/RTP/RTMP/RTMPS-Compatible HD Streaming allows direct connection and streaming over Facebook, YouTube, etc., of concerts, sports events, and news flashes.
The new models will be available to purchase at the following recommended retail prices (inc. VAT):
AG-CX10 at £2,299 RRP (available from April 2020). 
HC-X2000 at £1,849 RRP, and HC-X1500 at £1,449 RRP (both available from March 2020).
Click here to visit the Panasonic website.