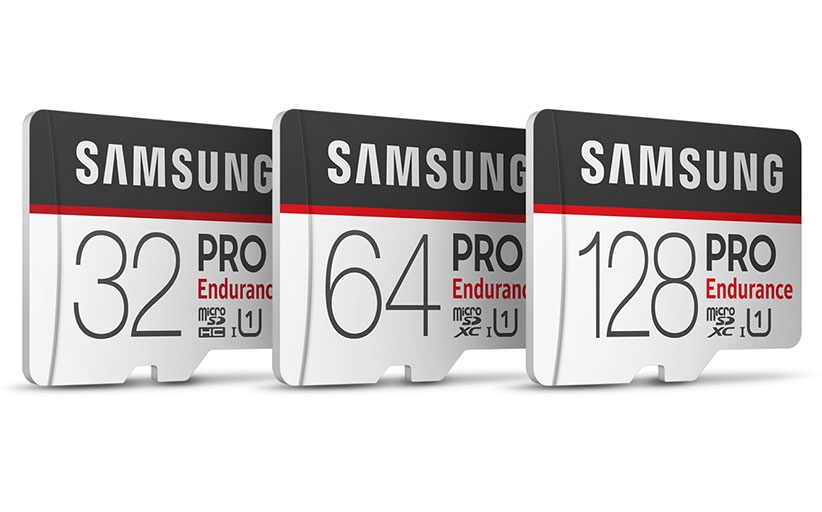 Samsung's pro-quality Micro memory cards
Memory cards for professional users have been revealed by Samsung, offering up to 43,000 hours of continuous video recording. The all-new PRO Endurance microSDHC/ microSDXC cards deliver read speeds of up to 100 MB/s and provide FHD recording and 4K support via write speeds of up to 30 MB/s. They are built for high-intensity use such as professional video recording, or surveillance and security cameras, body cameras and dash cams – for users that need continuous video monitoring that's both fast and stable.
"The need for longer-lasting, higher performing memory cards that can withstand extreme conditions and capture critical moments is at an all-time high," said Un-Soo Kim, senior vice president of Brand Product Marketing, Memory Business at Samsung Electronics. "Samsung is proud to again advance what is possible in memory card technology with the introduction of the PRO Endurance, which offers security-minded consumers the industry's highest levels of endurance and optimized read/write speeds for immediate access to critical surveillance content."
Samsung claims its PRO Endurance offers 25 times higher endurance than previous speed-focused cards, come with a warranty of up to five years and are available in sizes up to 128GB. The cards are also water, temperature, magnetic and x-ray-proof. 
The PRO Endurance memory cards are now available at £30.99 for 32GB, £58.99 for 64GB and £111.99 for 128GB. For more information, please visit www.samsung.com/memorycard.
Category

Samsung PRO Endurance

Capacity

128GB

64GB

32GB

FHD Recording

43,800 hours

26,280 hours

17,520 hours

Form Factor

microSDHC™ and microSDXC™

Read/Write Speeds

Sequential read speeds up to 100MB/s,
Sequential write speeds up to 30MB/s

Bus Speed Mode

UHS-I

4-Proof Features

Waterproof (IEC 60529, IPX7), Temperature proof, X-ray proof, Magnetic proof

Warranty

Five (5) Year Limited Warranty

Three (3) Year Limited Warranty

Two (2) Year Limited Warranty

Operating Temperatures

From -25ºC to 85ºC[1]
[1] Withstands -25°C to 85°C (-13°F to 185°F) operating, -40°C to 85°C (-40°F to 185°F) non-operating.