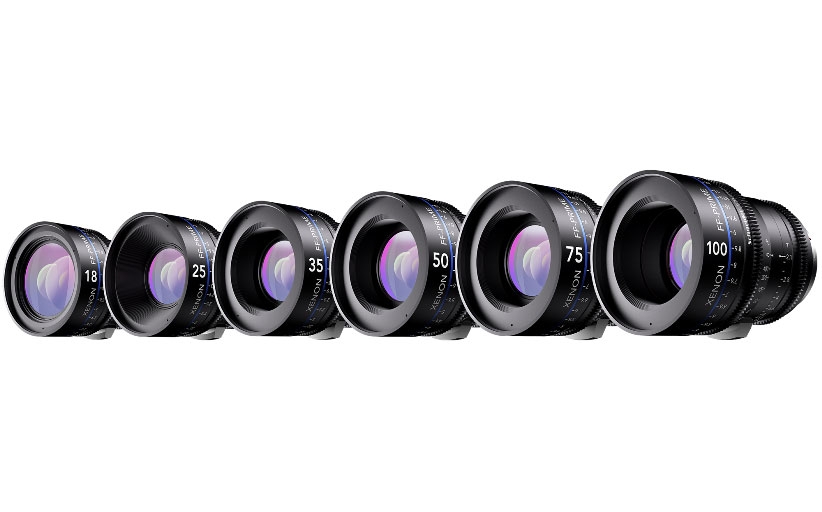 Schneider-Kreuznach Xenon Full Frame Primes
Sponsored promotion: While camera sensors are already in the 8K resolution range, the demand for lenses with a unique character is increasing. Many cinematographers don't want the clinical look of today's optics, as they want a more classic look.
The Xenon Full Frame Prime Lenses from Schneider-Kreuznach prove that you can't just rely on older or rehoused photo lenses, especially in full-frame format. The lenses are purpose-built for CINE applications and offer resolution to match the latest cameras but have a classic filmic look.
The biggest challenge in developing the Xenon Full Frame Primes was to maintain this unique visual character and consistent colours across all focal lengths (18mm, 25mm, 35mm, 35mm, 50mm, 75mm, 100mm). In addition, Schneider-Kreuznach wanted to meet the users' expectations of a true CINE lens. For this reason, they decided to design the lenses from scratch and not use existing optical and mechanical designs from stills photography.
The goal was to achieve a detailed image in the focus plane, but also to obtain a more classic image. The Xenon Full Frame Prime series differs significantly in its behavior from other optics in its class, with a look and feel that's loved by filmmakers worldwide.
Dale Campbell (http://www.stillmovingmedia.co.uk/)
Dale worked in the music industry for many years and began life behind the lens making music videos. Entirely self-taught, his work increased and he developed his own YouTube channel and found himself making more videos and less music. Focusing on the importance of controlling light, Dale has also developed a passion for time lapse videos.
"I've fallen in love with the skin tones that the Schneider-Kreuznach Xenons produce. The out of focus areas fall off beautifully, while our models where sharp but rendered gracefully."
Filmmaker Dale Campbell. Photo by Still Moving Media
Alan Stockdale (http://www.foundlight.co.uk/)
Award-winning Cinematographer Alan Stockdale has been at the helm of Foundlight Productions since 2004, and has delivered bespoke content on a global scale for a diverse range of clients and broadcasters. including Red Bull, BBC, eOne, Google, Smirnoff and Harpers Bazaar.
"When shooting with Xenon FFPs, the image I get from my full frame sensor cameras is stunning, a creamy soft cinematic look with pin sharp detail on the focus points, beautiful bokeh and virtually no focus breathing."
Alan Stockdale with his camera and prime lens on a gimbal. Photo by Mark Roe
Klaus Rodahl (https://vimeo.com/user12398227/about)
Klaus worked for years on compositing and colour grading, before becoming a full-time cinematographer in 2015. He enjoys outdoor projects with smaller crews and lighter set-ups, making it easy to change plans if need be. Klaus is based in Oslo, Norway.
"I have tested other similar priced modern lenses, and none of them have had the same amount of characteristic that I have with the Xenons."
Klaus Rodahl. Photo by Gundersen og Meg
The Schneider-Kreuznach Xenon Full Frame Prime lenses are manufactured with care, quality, and precision. Here's a glimpse into how they are made!
Schneider FF Prime Promo Video from Schneider Optics on Vimeo.
www.schneiderkreuznach.com
www.facebook.com/schneiderkreuznachcine
Experience it yourself and visit Schneider-Kreuznach at IBC show 2018, Hall 12 Booth D.50