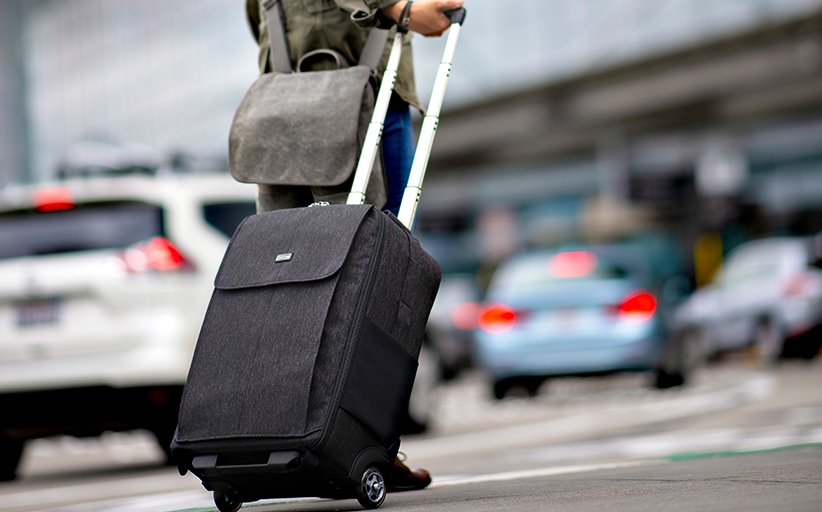 Snapperstuff launches new gear, including bags and other accessories.
SnapperStuff is due to be releasing a wealth of useful accessories for camera products this Christmas. See below tforsome of new products and their features
Airport Advantage XT – Graphite & Black
Think Tank Photo has released the Airport Advantage rolling Case camera bag designed to stay under airlines weight restrictions. The bag's customised interior holds the maximum amount of gear that will fit in overhead bins or under seats.
What fits:
– Gripped DSLR with lens attached, one standard size DSLR with lens attached, plus three to four additional lenses, and 15" laptop
– Or, two gripped DSLRs with lenses detached plus three to four lenses.
 – Or, two Mirrorless bodies with lots of lenses.
Pricing: £249.00
Urban Access Sling 8 & 10
The Urban Access Sling bag enables you to get to your gear quickly without taking the pack off. Innovative "Slings Both Ways" functionality allows you to sling the bag over your left or right shoulder.
By simply switching the shoulder strap to either side of the bag, you can adjust the load for greater comfort on long outings.
 Pricing :
– Urban Access Sling 8: £95.00
– Urban Access Sling 10: £105.00
Retrospective 4 V2 Shoulder Bag – Pinestone & Black
The Retrospective 4V2 is sized for Rangefinder and Mirrorless camera systems such as Leica, Sony and Fuji. The bag also fits compact DSLR bodies like the Canon 80D and Nikon D750.
Features, include  sound silencers, a padded shoulder strap, customisable dividers (with smartphone pocket) and metal hardware.
What Fits:
– Standard DSLR body
– Mirrorless System
– 24–70mm f2.8 detached
Pricing: £95.00
 Hydrophobia Eyepieces
There are 12 Think Tank Photo Eyepieces in the range, dedicated to Canon, Nikoncameras, Sony, Olympus & Fuji cameras.The eye pieces work in conjunction with the Think Tank Photo Hydrophobia™ protective rain covers for cameras and long lenses, ranging from 24mm to 600mm.The EP Hydrophobia eyepieces workin conjunction with the Hydrophobia rain cover to provide maximum protection for your camera bodyand lens, even in the harshest conditions. The Hydrophobia is water-tight with an improved fit, sealed, secure and ready for action.
All eyepieces below are priced at £20.00
EP-F Hydrophobia Eyepiece
EP-S Hydrophobia Eyepiece
EP-NZ Hydrophobia Eyepiece
Emergency Rain Cover LARGE
Protect your expensive super telephoto lensesfrom foul weather with aLargeEmergency Rain Cover from Think Tank Photo. This seam-sealed rain cover protects your camera and lens even in a heavy downpour, dust or snowstorm. A zippered bottom opens up for a tripod or monopod attachment, or for better access to the focus ring. Photographers can cinch up the cover for a tight fit, loosen like a tarp, or roll it up on the lens hood so it's atthereadyin any kind of weather. The Emergency Rain cover fits neatly in your kit and can deploy quicklywhen outdoor conditions change.Piña coladas sold separately
WHAT FITS:
– Gripped or ungripped camera bodies
– 150–600mm f 5.6–6.3
–  200–500mm f5.6
– 200–400mm f4
–  400mm f2.8
– 500mm f4
– 600mm f4
Pricing: £55.00
This range also includes –  Emergency Rain Cover in small (£30.00) and medium (£35.00)
Road Warrior Kit
Nothing's worse when your busy, and having to hunt around for all your little items. Keep all your cables, cards and small items neat and tidy with the Road Warrior Kit. Great if you are a film-maker always on the go.
Kit contains:
1 x Small travel pouch (T981)
1 x Cable Management 10 V2.0 (T241)
1 x Red Whips (T964)
1 x AA Battery Holder (T970)
Weight: 272g
Pricing: £56.00
Stock will arrive in early December