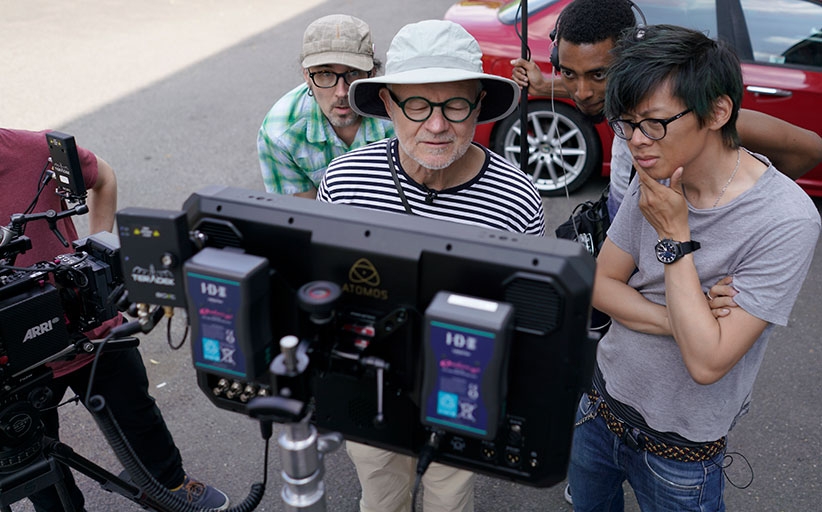 Sumo stars in YouTube funny!
Famous Hollywood DP Rodney Charters has used the new Atomos Sumo 19-inch monitor recorder to shoot YooTube Star Kai Wong in a video starring fashion model Maria Sergejva. The full details are:
'24' DP Rodney Charters ASC uses the new Atomos Sumo 19 monitor recorder to film Youtube star Kaiman Wong
Hollywood Director of Photography Rodney Charters ASC has been one of the first to use the new Atomos Sumo 19 production monitor and recorder. Charters, best known for his work on landmark series '24', teamed up Youtube star Kaiman Wong, to shoot a comedy episode for his hugely popular channel.
The duo teamed up in London and shot with fashion model Maria Sergejeva in a variety of situations over the course of two days. The video starts with Kai photographing Maria, but soon the roles are reversed and Kai dons a dress to model for Maria. The results will soon be seen on Kai's own YouTube channel.
The Atomos Sumo 19 was used to monitor each scene and Charters, who already uses Atomos recorders extensively on his productions, was enthusiastic about its capabilities.
Like many DPs Charters has to work with many different cameras. For this shoot he used his camera of choice, the ARRI Alexa, but is required to shoot with other brands and sometimes smaller cameras like the Panasonic GH5. The Sumo is compatible with all of these cameras and has the ability to record for immediate review on-set, or create video files that can be handed off to director and producers. The Sumo can handle single, dual and quad link SDI connections, as well as a single HDMI input. 
Charters was also able to utilise the Sumo's 1200nit high brightness screen to work outside in daylight. He used the Sumo's AtomHDR function to accurately gauge exposure on-set and have the knowledge that the images could be correctly graded in post production. Look up tables (LUTs) were also loaded to the Sumo's internal memory to allow for rapid preview of various creative 'looks' which can be achieved easily in post production.
The Sumo was subjected to the rigours of on-set use and Charters was impressed with the ergonomics, build quality and ease of use. The whole unit is designed for simplicity and is controlled via touchscreen.
The Sumo is the first of a new line of products from Atomos. CEO Jeromy Young explains "we specifically set out to meet the changing needs of cinematographers like Rodney Charters who require the flexibility to monitor, record and review many different types of cameras all in one package." The Sumo 19 is shipping now worldwide. "I'm delighted to be shipping out large quantities of the Sumo 19 on time. I can't see what our users produce with it," said Young.
 To find out more about Sumo visit https://www.atomos.com/sumo