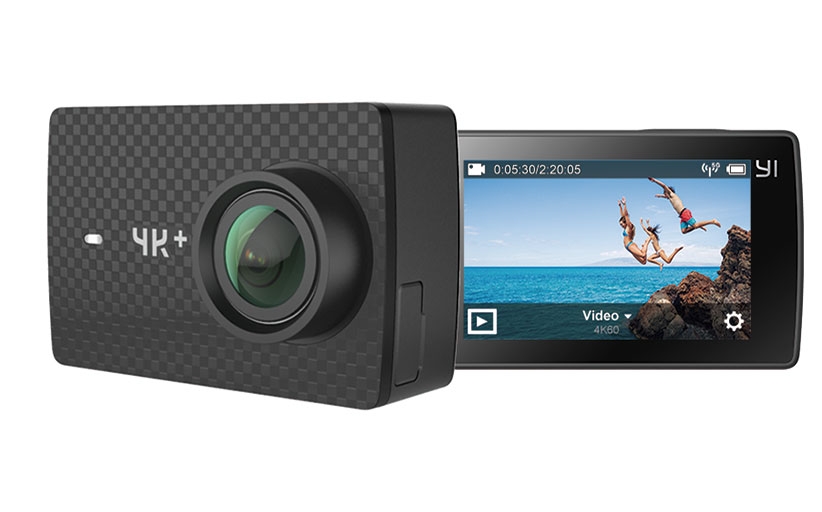 Super-speed YI action cam shoots 4K
Sponsored promotion: If you want incredible 4K video quality at 60fps, then the YI 4K+ looks like the kit you've been waiting for:
The YI 4K+ Action Camera – the world's first action camera to capture 4K videos at 60 frames per second, boasts video and image quality so good it's like you're right back out there. Plus the inclusion of Electronic Image Stablisation, makes YI 4K+ the perfect action camera for capturing your summer adventures.
YI Technology recently released its newest camera with 120mbps bitrate for high-quality video and Electronic Image Stabilization (EIS) support for 4K/30fps. Capture stunning 12 Megapixel photos from the 155° wide-angle f/2.8 high quality glass lens and with RAW image format, you can achieve the most advanced editing capabilities using third-party software.
The camera also offers Voice Control. Thanks to improved outdoor audio quality, you can now have hands-free control of your YI 4K+. Some voice commands include, 'YI Action Camera Take Photo,' 'YI Action Camera Start Recording' and 'YI Action Camera Stop Recording.' YI is also promising live streaming very soon.
And the YI 4K+ Action Camera is the first camera to include Ambarella H2 SOC processor. Using the newest Ambarella H2 system-on-chip, the YI 4K+ gives you phenomenal 4K/60fps video without consuming extensive power.
On the back of the YI 4K+ is a 2.2-inch Gorilla Glass touchscreen used to navigate through the menus, which provides you with a fast, easy-to-use interface to get right to your image settings. In fact, it's the most intuitive user interface ever seen on an action camera.
Class-leading USB Type-C lets you download at an incredibly fast 40MB/s and can charge your camera in under three hours when powered. Upgraded internal microphones allow for improved outdoor audio quality or connect an external microphone to the USB Type-C port for professional audio quality (converter sold separately).
With seamless connection through built-in BLE (Bluetooth Low Energy) and Wi-Fi, you can upload your videos and photos to social media instantly.
What makes the YI 4K+ such an ideal action camera is its compact size. The lightweight camera comfortably fits into your pocket, and with more than two hours of battery life, you'll never miss a chance to capture amazing moments on your adventures. YI 4K+ is available on Amazon UK. You are free to enjoy your adventures. Visit www.yitechnology.com