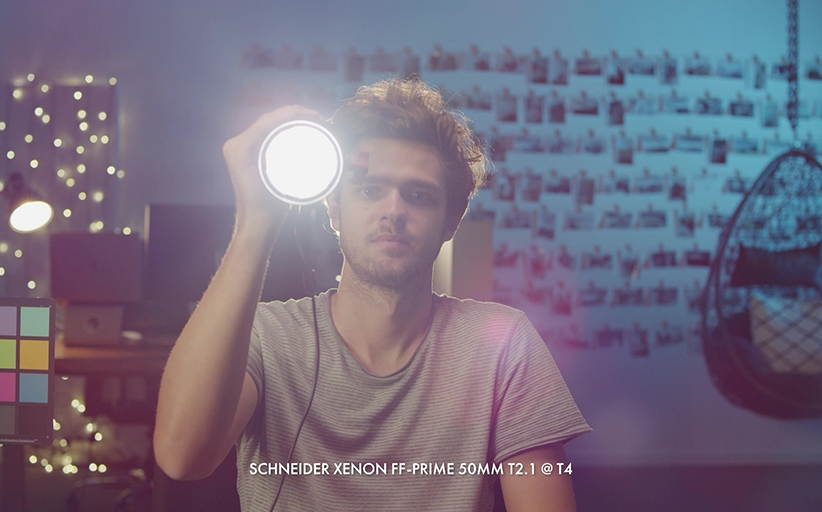 The Agony of Choice – Vintage/Modern Lens Shoot-out
We are Daniel Bichler and Marco Werner, two young filmmakers who joined together in 2011 to create unique films. With our new brand, FRAMED, we have laid the foundation for something new

Advertisement feature
Words and images by FRAMED
We have created a lens shoot-out that, unlike many other lens tests, does not only test new, modern lenses, but also considers old, vintage lenses.

What was our motivation?

The goal was to define a new look for our future projects, which is why we searched for a new set of lenses. This is how the lens shoot-out came about. We talked to a lot of friends from the film industry. Everyone has their own film look and favourites when it comes to lenses. Since we have been the proud owners of a Red Monstro for several years, we have paid special attention to full-frame lenses. We even went so far as wanting to adapt old Mamiya 645 Sekor C medium format lenses with a speed booster for our Red Monstro. Our friend, Billy Gropper from Billy's Lens Rent, happened to have these lenses in his lens collection, so we decided to test them as soon as possible. Since Billy was also able to provide us with Schneider Xenon FF-Primes, P+S Evolution 2X anamorphics, Arri Zeiss Standard Speeds and so on, we decided to start a proper lens shoot-out. Our WhatsApp group got bigger and bigger with more and more lenses – we ended up with nearly 70 lenses.
On 11 July 2019 the time had come. Everyone came to our office with their lens cases. Our office was completely full of lenses and, when ten filmmakers meet, you can well imagine the kind of nerd talk that arises!

The set-up
As a key light, we had a soft light from the top, plus a soft fill light from the side booth. The wall in the background was lit with an LED panel and blue foil. In addition, there were some practical lights to show the highlight roll-off and two fairy lights for bokeh testing. Of course, we were especially interested in the lens flares, which is why we divided this part into two flare tests. The first test was with an LED fresnel set to show stronger flares. For the second test, we lit a rim light from the rear set. Daniel also moved his head from side to side so we could represent the lens flares realistically. Then we panned the camera from left to right. Here, you could see the special flare properties of the respective lenses. Each lens has been tested wide open, at T2.8 and at T4. We compensated the exposure by adjusting the shutter speed.
Our personal reason for conducting the test was to define a new look for our production brand FRAMED. Well, did we find the perfect lens? Now we've tested a variety of lens types in the same set-up, it's fair to say you can achieve impressive results with any individual lens set.

The Schneider-Kreuznach Xenon Full Frame Prime lenses
We were especially surprised by the Schneider-Kreuznach Xenon Full Frame Prime lenses, as they had a relatively nice vintage look and were not that clean compared to other 'modern' manufacturers. We also became very friendly with some unique flares, which only showed up wide open. That means if you don't want to have them in a scene and want rather warm flares instead, then it is enough to close the aperture just a little, without affecting the exposure too much. That means you can decide between two different lens flares – a pretty cool feature! The lenses showed a slight amount of chromatic aberrations, but you cannot expect a lens with this unique character to be perfectly clean. That's how it is on most lenses that show character – otherwise everybody would shoot on them!
These lenses not only impressed us with their look, but also their great form factor and overall build quality. They are all the same size and nearly the same weight, which means they are perfect for gimbal work and fast lens changes. In addition, all focal lengths covered the Vista Vision sensor on our Red Monstro!
The test definitely helped us out, because we got to know which lenses are compatible our Red Monstro and which lenses we will use for our upcoming projects. After we launched the video on YouTube, a user nicely commented: "After watching this video very closely, I realised I need to focus on my story!" And we think he's right. Everything always depends on which story you want to tell and which light you set.
Watch the complete test
XENON LIVE EXPERIENCE at the IBC show 2019, 13 – 17 September, 12.E45.
Test the Xenon Full Frame Prime lenses for yourself and get insights into the fascinating possibilities of optics. Get your free ticket here.