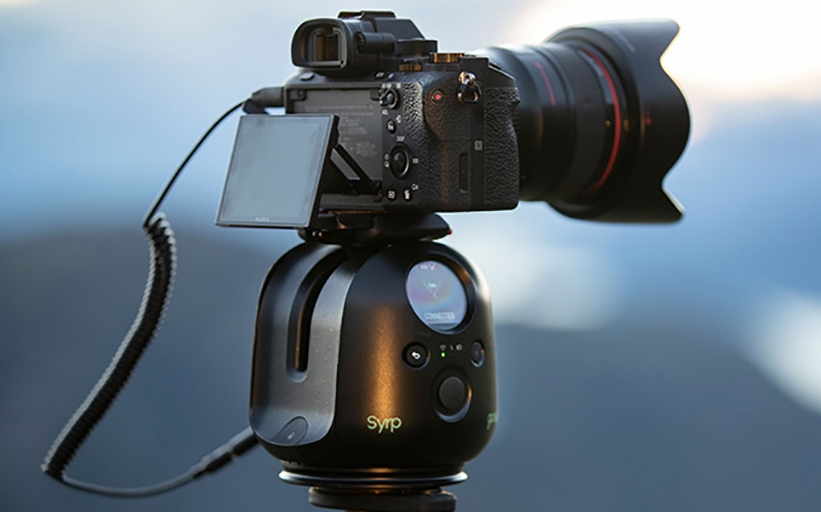 The Genie II Pan Tilt returns
Genie II Pan Tilt is back! The popular motion-control device that can be controlled via a smartphone is now back in stock after a global shortage.
Genie II Pan Tilt provides the filmmaker with a variety of options when filming time-lapse, video, key framing, camera control and live view. It can also be controlled from the Syrp Genie app. 
3-AXIS CONTROL (OPTIONAL)
Combining Genie II Pan Tilt with the Linear gives you the ultimate 3-Axis motion control tool.
FULL KEYFRAMED MOTION
Adjust the course and speed of your move with Genie II's keyframing feature. Each axis can be setup and controlled independently for complex video and time-lapse movement. A time-lapse preview can be accessed from the app.
LIVE MOVEMENT CONTROL 
Genie II offers live movement control on both Pan Tilt and Linear with easy-to-use joysticks. Be in control of your speed and change direction of 1, 2 and 3 axis shots at any time.
FULL WIRELESS CAMERA CONTROL LIVE VIEW
Control ISO, Aperture and Shutter Speed settings from the App. Whether it's during a time-lapse or for setting up your video shot, keep your camera's settings dialed in, perfect for the Slingshot and other filming situations.
MULTI-ROW PANORAMA 
Set up multi-row Panorama shots directly from the app using the Pan Tilt Drive and create high-resolution images.
LIGHTNING FAST QUICK RELEASE SYSTEM
Attach the Quick Release plate to your tripod head and snap directly into the Linear drive for a secure attachment. Genie II Pan Tilt has also been designed to click straight into the Linear drive making it stable, quick to set up and secure.
GENIE MINI INTEGRATION
The Genie Mini with the Linear Drive can be integrated, for a lower profile and more powerful 2 and 3 axis motion control setup providing a more cost-effective 3-Axis option.
BATTERY LIFE
The Genie II Pan Tilt lasts up to 12 hours in time lapse mode and eight hours in video mode, with a three-hour charge time. 
WEIGHT & DIMENSIONS
Genie II Pan Tilt: 1.4kg/ 3lbs
WxLxH: 141x141x215mm/ 5.6×5.6×8.5in  
PRICE: From £1,449.95. For more information visit the website.