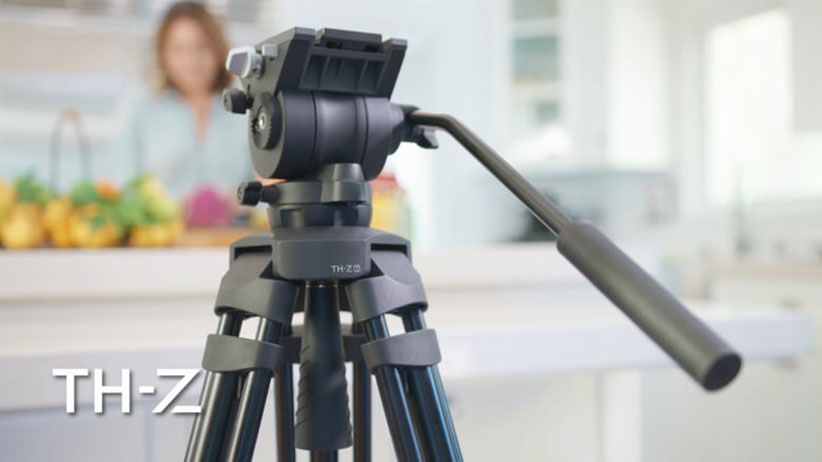 The New TH-Z Series now lighter in weight and with greater versatility.
The New TH-Z Series is the successor of the LIBEC ALLEX series, now lighter in weight and with greater versatility.
Similar to the ALX KIT, the TH-Z is fit for sliders thanks to its Dual Head design, however, this hybrid model is equipped with the industry standard TH-X sliding/quick release plate that is compatible with other brand tripod heads. The New TH-Z is the perfect tripod companion for videographers using HDSLR or handheld cameras.
Dual-head specification available for both 75mm ball diameter and flat base tripods. Mountable on sliders, skater dollies, and other equipment.
Snap On/Off Plate – Equipped with a One touch attach and release mechanism. Also, the sliding plate is compatible with Manfrotto and Sachtler heads, for speedy and easy setups in the field.
Rigidity – In spite of its lightweight of only 2.4kg/5.3lb, the TH-Z tripod has a high rigidity. The extendable brace provides good stability when mounting sliders.
A perfect slider shooting with a smooth and delicate controllability is achieved by the eight high-performance ball bearings applied with specific grease, which are installed to the slider platform. The ball bearings are positioned efficiently on the rail top and at an angle on the other side, sandwiching the rail, to prevent wobbling during operation. The tripod is light Total weight of only 1.1kg/2.4lb.
For more information, visit the website.