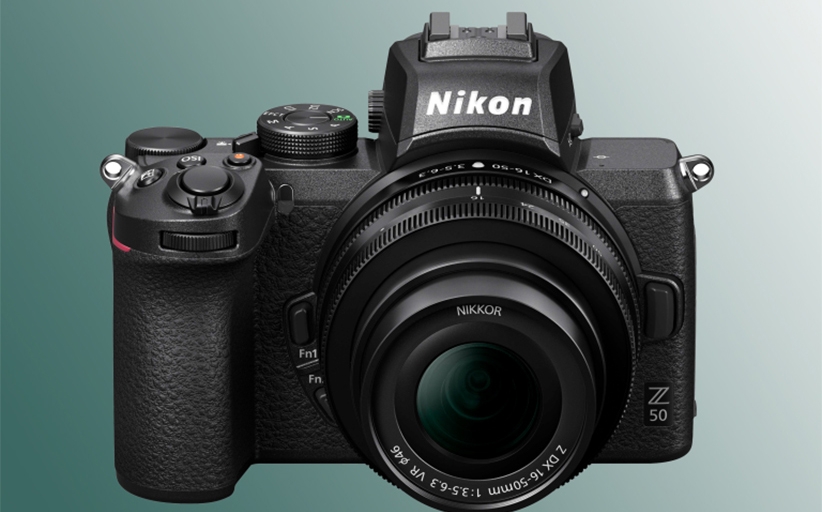 The Z 50 DX mirrorless camera and first Nikkor Z DX lenses join the Nikon Z family
New release from Nikon, the Nikon Z 50 is the first Z series DX-format mirrorless camera, and the first two zoom lenses; the NIKKOR Z DX 16-50mm f/3.5-6.3 VR and NIKKOR Z DX 50-250mm f/4.5-6.3 VR
Offering superb image quality, the all-new Nikon Z 50 captures 4K movies that are rich in detail, depth, and colour. Combining the Z 50 with the new NIKKOR Z DX lenses, the new DX mirrorless system will deliver stunning images, from wide-angle to telephoto.
Equipped with a large 20.9 MP DX-format sensor, the Z 50 brings the optical advantages of Nikon mirrorless into a strong, compact DX body. Features from the acclaimed Nikon Z 7 and Z 6 cameras include the wide Nikon Z Mount and the fast, wide Hybrid-AF (autofocus) system. The Z 50 also features a sharp electronic viewfinder, a tilting touchscreen, and the deep grip that makes Nikon mirrorless cameras comfortable to hold. Intelligent eye-detection AF makes the Z 50 great for shooting portraits, and up to 11 fps continuous shooting (with AF/AE) takes care of the action. The Z 50 is fully compatible with Nikon's FTZ Mount Adapter, which allows F-mount NIKKOR DSLR lenses to be used together with the camera.
Both Z Mount DX lenses are optimised for the superb light-gathering capability with the wide Nikon Z mount. These zoom lenses focus quickly, quietly, and steadily, making them as great for video. The NIKKOR Z DX 50–250mm f/4.5–6.3 VR is a compact telephoto zoom: this lens lets users move from framing unique portraits to capturing distant action with smooth, steady precision.
Robert Harmon, Senior Commercial Planning Manager, Nikon UK, says:
 "Whether your passion is photography or video, Nikon's new Z 50 mirrorless system camera offers an exciting blend of creativity and power. Aside from the new NIKKOR Z DX lenses, you get seamless compatibility with all Z mount lenses. And if you have F-mount lenses and accessories in your bag, you can use them too. It doesn't matter whether you're a Nikon DSLR owner or a first time Nikon user: the Nikon DX mirrorless system gives you plenty of room for growth."

 
The Nikon Z 50 and NIKKOR Z DX lenses will be available nationwide from 7th November 2019
Camera and lens kits will be available starting from £989 RRP
 Full list of RRPs
Nikon Z 50 body – £849
Nikon Z 50 & NIKKOR Z DX 16-50mm f/3.5-6.3 VR – £989
Nikon Z 50 & NIKKOR Z DX 50–250mm f/4.5–6.3 VR & NIKKOR Z DX 16-50mm f/3.5-6.3 VR – £1,199
Nikon Z 50 & FTZ mount adapter kit – £989
Nikon Z 50 & NIKKOR Z DX 16-50mm f/3.5-6.3 VR & FTZ mount adapter kit – £1,129
For more information about the products please visit europe-nikon.