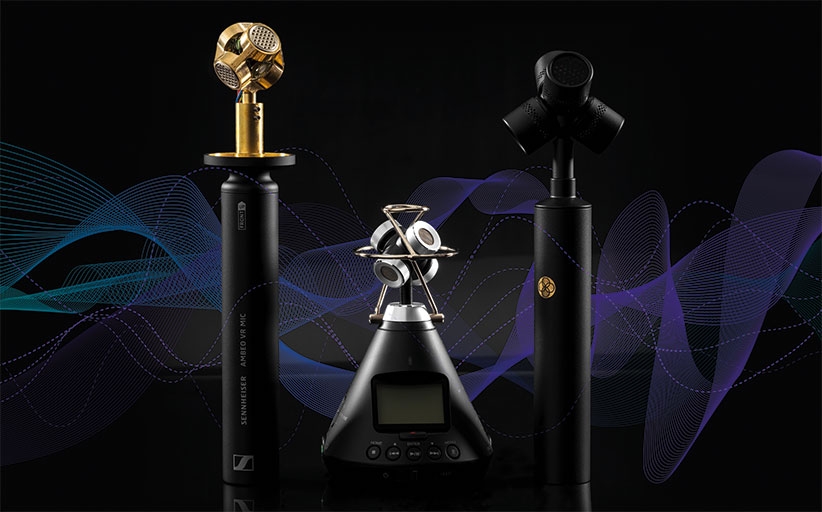 All Round Sound
Røde, Sennheiser and Zoom have all introduced dedicated VR mics that promise to deliver a three-dimensional result…
Words / Terry Hope
The world of VR is here, and there can be few of us these days who haven't donned a headset and experienced a virtual world, even if it's only for a few minutes or so at a trade show. Over the next few years this market is only going to grow, driven in part by the gaming industry, which can sense how lucrative this opportunity is going to be as experiences become ever more realistic. But filmmakers are also poised to move in, and already many are looking closely at the commercial opportunities this sector will present.
It's not just visuals that have to improve before VR truly goes mainstream: audio is also a crucial part of the mix if the end result is going to be believable, and this is a key issue that's focused the mind of key players in the sector. 
The issue is that sound coming from one direction is not how we hear things in real life – our ears can sense where noise is coming from. To complement VR visuals, you need audio to tally with the images you're seeing.
For filmmakers, sound is more than just an extra level of authenticity – it's a crucial tool that can be used to direct your viewer towards the action you want them to look at. And just as in real life, if someone talks from one direction and you turn to look , it's where the next part of the story might be found. So, audio is a compelling part of the jigsaw: it's really difficult not to acknowledge someone talking directly to you, even if you know for sure that it's a recording. Suspend disbelief during your VR experience and you become fully immersed in the story, perhaps investing even more than if you were viewing a conventional movie.
Immersive sound
Sennheiser launched its Ambeo VR mic back in 2016; in some ways, the product was ahead of the curve, and it's taken a while for the market to catch up. It carried a daunting price tag when first introduced, reflecting the fact that this was early adopter territory. Since then the price has become more affordable, while the mic has been joined by a set of binaural recording headphones, – these aren't intended to be on the same level performance-wise as the mic, but are equally capable of delivering immersive three-dimensional audio.
Immersive sound is what 3D audio is all about, and it differs from surround sound since it also offers height. Sennheiser expects this to be the future of audio technology, comparable with the evolution from mono to stereo.
Røde arrived in the ambisonic microphone market in 2018, launching its SoundField by Røde brand following its acquisition of that company (a trailblazer in the world of three-dimensional sound) two years previously. Similar in looks to the Sennheiser product, the price-point of sub-£1000/$1000 was eye-catching, and made this technology immediately more attractive for those that might have been sitting on the fence. With Sennheiser's product now around the £1400/$1295 mark, it's significantly cheaper.
The new kid on the block, and one that carries an impressive £330/$350 price tag, is the Zoom H3-VR, a futuristic looking piece of kit that's not just a microphone but a recorder, too. Launched at IBC last year, this product is intended to be a mobile solution for capturing VR audio on the fly. At this price point, it's ambisonic sound for the masses and suddenly there's no financial reason for not diving in.
We've gathered all three of these products together to take a closer look at what they have to offer, and the tantalising thing – as we'll see – is that it's not just VR productions that could benefit from their qualities. Indeed, we just might be seeing the first step in a huge reinvention of the audio market as we know it, and filmmakers at any level, of any genre, will take their eyes off this sector at their peril.
RØDE SoundField NT-SF1
£969/$999   www.rode.com
Arriving after the Sennheiser, Røde turned heads with its pricing policy, making the SoundField NT-SF1 available for a sub-£1000/$1000 price. It boasts four separate capsules to record from all directions.
Looking closer at the product, each TF-45C condenser capsule is machined to tolerances of less than 1 micron, to deliver a high-quality audio performance with exceptionally low noise. As with Sennheiser's Ambeo, the NT-SF1 records the entire spherical sound field, which means that at the postproduction stage all this information can be pulled together in whatever way the editor chooses.
What's impressive about the new VR audio horizon is that so much information is gathered, every mix has the opportunity to be different: you can alter the mic directivity, position and rotation, you can create a full 7.1.4 surround mix, or a fully head-tracked 360-soundscape for immersive video. 
Along with the new microphone, Røde has also created a new software interface to fine-tune the ambisonic recording. This means that in postproduction you'll be able to control which direction of the NT-SF1 to focus on, so you can choose the polar pattern you want the mic to simulate. 
The free-to-download Røde SoundField plugin also enables directional shotgun simulation. If, for example, you were to place one of these mics at the centre of a live musical performance, as you're editing the video you would be able to choose to focus the audio on a specific instrument or singer.
At IBC, Røde suggested it might be possible to mount the NT-SF1 in a conventional interview situation and effectively replace a full microphone set-up, with the ability to play around with the various elements to your heart's content. If that's the case, it makes the price point look even more reasonable. 
The SoundField plugin works with FCPX 10.4, which means filmmakers should be able to start working with the Røde NT-SF1 without the need for a huge learning curve. In addition to the microphone and case, the kit comes with a furry wind cover, a blimp-style windshield, a shock mount and an XLR breakout cable. 
Specifications
Set up: 4x cardioid, in Ambisonics A-format arrangement
Frequency response: 30 Hz to 20 kHz
Dimensions: 192.3×45.7×45.7 / 7.5×1.7×1.7ins        
Weight: 286g / 10.09oz
Pro Moviemaker Rating: 8/10
Pros: Excellent price point
Cons: As with any VR mic, much of the effectiveness is down to postproduction expertise
Sennheiser Ambeo VR Mic
£1400/$1295   en-uk.sennheiser.com
Though its functionality is cutting edge, the technology the Sennheiser mic is based on was developed by the British National Research Development Council in the 1970s. Ambisonics does not have outputs corresponding to speakers, but consists of a speaker-independent representation of the sound field, called B-format. This allows the orientation of the microphone to be virtually rotated in all directions and to position sound sources independent of speaker positions.
This technology relies on spherically capturing the sound arriving from all directions at a single point in space – the point where the microphone will be placed. For this reason, it's best to put the mic close to the VR camera position, since this is the point where the visuals will be based, and it creates a connection with the sound. Accordingly, you need to align the 'Front' marking on the Ambeo mic with the intended front of the camera you're using. 
Much of what the Sennheiser microphone offers can be established by simply studying its layout – a combination of four KE 14 capsules, set in a tetrahedral arrangement, the mic can pick up audio in a spherical manner. 
The capsules of the Sennheiser Ambeo mic deliver A-format: a raw, four-channel output that is then converted into a new set of four channels, the Ambisonics B-format. This is done by the specifically designed Sennheiser Ambeo A-B format converter plugin, available as a free download. 
In technical jargon, the B-format is a W, X, Y, Z representation of the sound field around the microphone, in which W is the sum of all four capsules, while X, Y and Z are three virtual bi-directional microphone patterns representing front/back, left/right and up/down. It might sound complicated, but in real terms what this means is that any direction from the microphone can be accessed by the listener during playback. 
The Sennheiser mic is also a highly attractive piece of kit, finished in brass and with a futuristic appearance. It's very self-contained, which makes it easy to use – it's down to the filmmaker to set it up where it will be most effective and then let it get on with the job. That you're dealing with four mics rather than one is reinforced by the fact you connect the mic to your recorder via a convoluted cable, which culminates in four separate XLR 3-pin plugs, but it all seems to work well enough.
Specifications
Set up: 4x cardioid, in Ambisonics A-format arrangement
Frequency response: 20 Hz to 20 kHz
Dimensions: 215 x 49/25mm / 8.5 x 1.9/1ins
Weight: 400g / 14.1ozs
Pro Moviemaker Rating: 7.5/10
Beautifully made and oozing quality, this is a mic that can do a fantastic job for anyone interested in capturing three-dimensional sound. This is still quite a small market, but it's one that's growing dramatically.
Pros: Works with any VR camera and it's an all-in-one solution that's easy to set up
Cons: The Ambeo needs its RF shield to operate, and without it you risk a hum on the audio track
VR and 360-degree workflow
Sennheiser and its partner Dear Reality have just showcased a full scene-based end-to-end workflow for VR and 360-degree video productions at the NAMM Show in Anaheim. Recording solutions on display centred on the Sennheiser Ambisonic mic, the Ambeo Smart headset for easy binaural content production, and Neumann's iconic KU 100 binaural head which resembles a human head and enables the sound to be captured from the position of the ears. Also in the mix is Dear's Spatial Connect mixing software, which enables engineers and creators to mix spatial audio for 360-degree videos in a VR environment.
Zoom H3-VR
£330/$350   www.zoom-na.com
The newest of the three VR mics in this round-up, the Zoom H3-VR is by far the most affordable product, and it combines a recorder for good measure. Once again there are four separate capsules in the same arrangement as the other two products here, and it's possible to record in ambisonics, stereo binaural, or standard stereo modes. 
It comes in at a remarkable price point for a device with this level of sophistication, but there has to be some cutting of cloth, of course, and while the build quality of all three devices is good, the Sennheiser and the Røde are on a different level to the Zoom. That said, there is an awful lot packed into the H3-VR, including a dedicated Ambisonic mic, a separate recorder, complete with Micro SD card slot, and a computer for encoding from Ambisonics A to Ambisonics B. All of the encoding and decoding is built in, making this an all-in-one solution for capturing full-sphere surround audio.
The H3-VR can capture high quality 360-degree VR audio at up to 24-bit/96kHz resolution, and it's also possible to record stereo binaural WAV files up to 24-bit/48kHz resolution, enhancing 2D productions with 3D audio. It's also possible to capture standard stereo files if your recordings are intended to be played from speakers instead of headphones. Finally, you can download the Zoom Ambisonics Player software to convert your Ambisonics records to 5.1 surround sound, for standard video purposes.
Positioning the H3-VR recorder is simple, thanks to its innovative Auto Mic Position and Level Detection technology. No matter which way the H3-VR is oriented, it calibrates itself so that you always receive a true 360-degree sound field with proper up/down/left/right balance and imaging. Another use for this device is in connection with 360-degree audio for live streaming and video conferencing. You can also record 360-degree audio directly to your computer or stereo to your iOS device, so this is a true all-rounder, of use to a far wider audience than just filmmakers.
Everything is controlled via a small backlit LED panel on the side of the device, and this is intuitive and easy to use. You need a pair of AA batteries to power it all, or power can be supplied via a USB connection. If you were to suspend it upside down over your central characters in a scene, it would give you a single mic source for an entire scene.
Specifications 
Set up: 4x matched unidirectional condensers
Sample rate: Ambisonics – 44.1kHz, 48 kHz or 96 kHz / Stereo – 44.1 kHz, 48 kHz or 96 kHz / Binural – 44.1 kHz or 48 kHz
Dimensions: 76x78x123mm /  3.0×3.1×4.8ins        
Weight: 120g / 4.2ozs
Pro Moviemaker Rating: 8/10
Pros: Does a huge amount and is a recorder as well
Cons: Build quality isn't on a par with its two rivals 
Self noise
One of the key aspects of microphone performance is self-noise, and wildlife 360-degree specialist filmmaker Eric Fassbender compared the performance of all three of the VR mics featured here, and considered the Røde SoundField NT-SF1 to be the clear winner.
"These results, paired with the fact that the NT-SF1 is cheaper than Sennheiser's Ambeo, makes it our personal weapon of choice for 360° nature sound recordings," he says. "It's not the quietest microphone out there – some 'regular' Sennheiser capsules are better, but only mono/stereo – but certainly it's the quietest, easiest-to-use, professional ambisonic microphone that I've come across.
"The self-noise on the Zoom H3 is definitely not as low as on the NT-SF1 or the Ambeo, but it's still a very good option for recording spatial audio, especially at its price point. It's almost constantly in our bag, unlike the NT-SF1, which we only take if we're likely to get to some really good recording locations."
The verdict
There's a huge amount going on in the world of audio right now, and these three devices are at the cutting edge. The Ambeo was a brave move by Sennheiser when it was first launched, and it ties in with the company's keen interest in 3D sound. It's beautifully put together and has the capacity to do a great job. The Røde SoundField NT-SF1 is a great product and, for its price, is bringing state-of-the-art technology to the masses. It's also backed up by an excellent software package. Meanwhile, the Zoom H3-VR is the surprise addition, a highly affordable mic that might just be the one to entice newcomers to the genre.
This feature originally appeared in the Spring 2019 edition of Pro Moviemaker.