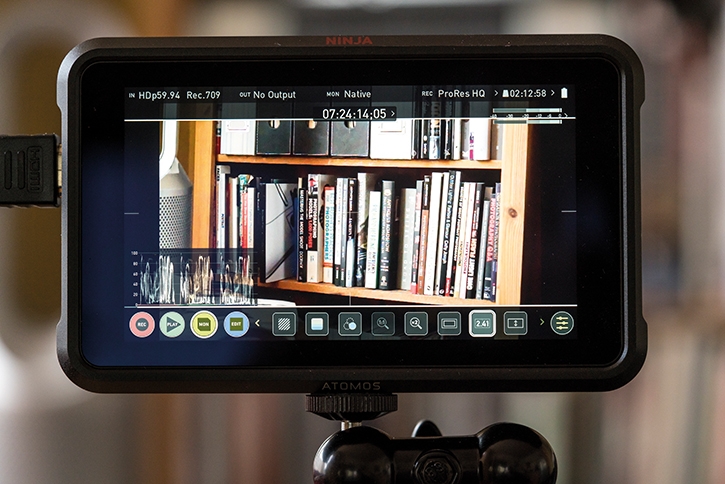 Atomos Ninja V
Mirrorless cameras may have revolutionised the lives of many  independent filmmakers with their small sizes, large sensors and affordability, but this shrunken form factor means the screens are small and often difficult to see. They often also lack pro-style monitoring tools, such as waveforms, there are sometimes time limits as to how long you can record for and the footage is sometimes heavily compressed to squeeze it onto SD cards.
Combined monitor and recorder units have been the saviour of many filmmakers because they solve a lot of these issues, but now the new Atomos Ninja V goes even further: it can record up to 4K 60p 10-bit HDR video direct from your camera's sensor over HDMI onto an SSD.
With a smaller form factor than older models, such as the Atomos Ninja Blade, the new Ninja V can take standard SSDs inside one of the supplied Atomos caddies, but these
do stick out a bit from the unit.
It's better to use one of the new AtomX SSD mini drives, which are much smaller – a 1TB version will record up to 150 minutes of 4K in edit-ready ProRes format without transcoding. Just download it to your computer and it's ready to go. If you also record to your
camera's card, you have an instant backup, too. These mini drives are available from Sony and Angelbird, but more manufacturers will be looking at them with interest.
If you shoot a mirrorless camera that has a clean HDMI output, there is often a huge improvement in the quality of the footage if you output to an external drive. The majority of cameras record 4:2:0 in 8-bit internally, but via HDMI can output 4:2:2 in 8- or 10-bit. That gives a lot more colour information and is a huge benefit if you are shooting Log footage. Anyone who has tried to grade 4:2:0 8-bit shot in Log on a mirrorless camera knows this can be painful as there just isn't enough colour information there. Those extra bits of info make a big difference, and make shooting Log on mirrorless cams a more sensible option.
The mirrorless wave shows no sign of abating, with new launches such as the Panasonic S1 series, Canon EOS R, Nikon Z 6 and Z 7, Fujifilm XT-3, Olympus OM-D E-M1X, and Blackmagic Pocket Cinema Camera 4K joining cameras such as the popular Sony A series and Panasonic GH range. The Ninja V is ideal for these – especially the Nikon as it will soon be able to record ProRes Raw direct from the camera. It's also a good size for smaller cine cameras like the Sony FS5 and Canon C100 Mark II, especially if being used on a gimbal. Without an SDI input, it can't be used to pull Raw from cameras like the Sony as you'll need the bigger Shogun Inferno range for that. But it works as a very capable monitor recorder for non-Raw use.
The Ninja V comes with the new AtomOS operating system, which is easy to get to grips with, especially if you have experience with other Atomos products. The five-inch touchscreen is responsive and it's easy to navigate through the settings, of which there are many. There are some obvious icons to help you get to the features you want.
One of the benefits of a pro monitor are the tools it offers. There are waveforms, false colour, vectorscope, focus peaking and instant zoom. It's also easy to use Atomos's own HDR feature and viewing LUTs. You can load up to eight LUTs via the SSD memory and can bake in the look, too.
You can also get rid of all the menu items apart from timecode and audio meters while shooting, so you can concentrate on the composition.
The unit itself feels solid and well built, and has lots of inputs and outputs. There is an audio input, a 3.5mm headphone jack and remote jack that lets you connect LANC in Canon and Sony formats, or an X-Rite i1Display Pro calibration unit. There are full-size HDMI input and output sockets, so you can link it up to another monitor if you wish to, in up to 4K.
To mount it to your camera or rig, the top and bottom of the units have the Arri 2-pin 3/8in accessory mounts, so you can use the right connector to stop the unit twisting. We used a SmallRig mini arm with no problems, but then also tried one with the Arri connector and it stopped the unit wanting to twist.
The screen itself is rated at 1000 nits, so might not be as bright as the 1500-nit screen on the larger Shogun Inferno but is still very bright. At 1920×1080 pixels, the screen shows finely detailed images and is a joy to use. It's night-and-day better than any standard camera screen.
The rear of the unit has a slot for a single Sony NP-F battery, and Atomos says a 5200mAh battery will give two hours of continuous 4K 60p monitoring recording. We didn't quite get that, but we were often turning the unit on and off and the battery wasn't new. You can also power via the mains with an included adapter.
When you record to the Ninja V, there are lots of different high-quality codecs, such as Apple ProRes and Avid DNxHD, to choose from. This is ideal for the newest cameras like the Canon EOS R, Nikon Z 6 and Fujifilm X-T3, which can output a 4:2:2 10-bit signal over HDMI. It's perfect for shooting Log, and you can see the difference. 
Some cameras, like the Sony a7R III, output at 4:2:2 in 8-bit, which is still an improvement over the internal 4:2:0 8-bit footage, and a boost for Log shooters, although the quality hike isn't anywhere near as high. 
The Ninja V also records audio via the HDMI input from the camera or through the 3.5mm input jack. While the majority of mirrorless cameras output two channels of audio over HDMI, the Ninja V can record up to eight channels of audio if you have the kit that can do this.
The audio can be monitored via the headphone jack, which is a bonus as some mirrorless cams don't have this and, in the case of some Fujifilm cameras, require an extra battery grip.
Ironically, it's sound that is a minor issue with the Ninja V and that's the noise from its cooling fan. In quiet rooms you can hear it, so you have to be more careful with audio recording. But that's the biggest bugbear on a bit of kit that's not only affordable but can give a real improvement in quality for mirrorless camera users, and has pro-level tools to help you get your recordings bang on.
Specifications
Screen: 5-inch touchscreen, 1920×1080, 3D LUT support, 2x, 1.5x, 1.33x, Panasonic 8:3 anamorphic desqueeze
Brightness: 1000 nits
Video formats:
Apple ProRes HQ, 422, LT AVID DNxHR HQX. HQ, SQ, LB. 4K DCI and UHD 24 / 25 / 30 / 50 / 60p, 2K and1080p 24 / 25 / 3 / 50 / 60 / 100 / 120p; 1080; 50/60i, 720p; 50 / 60p
Memory: 2.5-inch SSD/HDD
Audio: 12 channels 24-bit 98kHz
Connections:
Line/mic in, 3.5mm headphone out, HDMI in/out, remote, AtomX expansion port
Power: NP-F series battery or continuous with adapter
Dimension (WxHxD): 151×91.5x31mm/5.9×3.6×1.2in
Weight: 360g/0.79lb
Pro Moviemaker rating: 9/10
Feature-packed, small, and its potential for expandability means this is Atomos's best-ever monitor/recorder
+ Pros: Can actually improve the quality of your camera's footage
– Cons: Noisy fan, expansion modules not out yet
PRICE: £648/ $695 
For more information go to their website. 
Expand Your Ninja!
Atomos has bigger plans for the Ninja V thanks to the AtomXpand port. It will accept a whole range of Atomos expansion modules, and supports up to 4K 60p and 12-channels digital 24-bit 96KHz audio. The first modules to be released are the AtomX Ethernet/NDI, and the AtomX Sync. 
The £200/$199 AtomX Ethernet/NDI module delivers live video over IP networks, replacing traditional SDI cables. It has NDI input and output with encode, decode, control and sync, allowing Ninja V users to transmit, distribute or receive and monitor NDI. 
The £150/$149 AtomX Sync module brings professional, broadcast-standard wireless timecode, genlock and bluetooth control. These can be controlled via a traditional timecode hub or via an upcoming smartphone app.