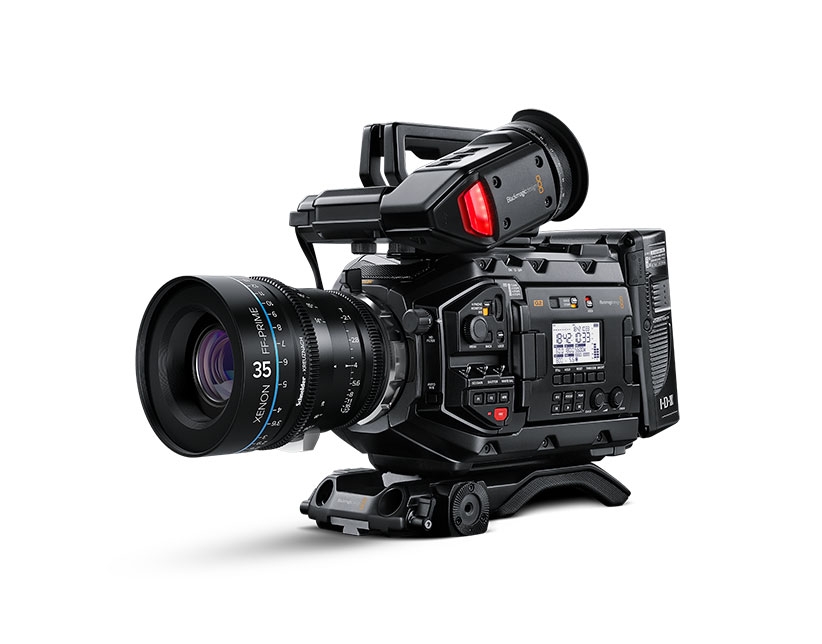 What Are The Features of The New URSA Mini Pro G2 Camera From Blackmagic?
Blackmagic Design have released the new URSA Mini Pro G2 Camera, which includes a 35mm 4.6K image sensor and more….
The Camera supports the new Blackmagic RAW update and provides the user the ability to to record 4.6K images at up to 120 frames per second, windowed 4K DCI at up 150 frames per second, and windowed 1080 HD at 300 frames per second, which makes the URSA Mini Pro 4.6K G2 ideal for capturing stylized fast action documentary work, nature photography, sports and more. The URSA Mini Pro 4.6K G2 can capture Blackmagic RAW images in both film and extended video modes, making it perfect for high end feature films, television shows, commercials, and indie films as well as broadcast news, studio and even live multi camera production. 
The URSA Mini Pro supports recording of up to 300 frames per second in HD, 150 frames per second in 4K DCI, and 120 frames per second at full frame 4.6K. It also supports project frame rates up to 60 fps and off-speed slow motion recording up to 120 fps in 4.6K, 150 fps in 4K DCI and 300 fps in HD. There's even a B4 broadcast lens mount for working with broadcast HD lenses. URSA Mini Pro 4.6K G2 also includes a standard 12 pin Hirose lens control connector.
A USB-C expansion port for direct recording to external disks or flash disks has been installed as well as built in dual C-Fast 2.0 recorders and dual SD/UHS-II card recorders allow unlimited duration recording in high quality. Blackmagic RAW settings such as 12:1 are important to allow customers to get the highest frame rates from the camera, and this means only Blackmagic RAW can allow high frame rates while retaining enough quality for professional results.
The URSA Mini Pro 4.6K G2 also uses Blackmagic Design Generation 4 Color Science for superior imaging that results in extremely accurate skin tones and gorgeous, lifelike colors that rival those of cameras costing tens of thousands of dollars more. Blackmagic RAW images are encoded using a custom non-linear 12-bit space designed to provide the maximum amount of color data and dynamic range.
The camera has a 4 inch foldout touchscreen LCD status display for quickly checking timecode, shutter and lens settings, battery, recording status, and audio levels. A full version of DaVinci Resolve is included upon purchase so you can edit your videos for no extra cost. DaVinci Resolve Studio works natively with Blackmagic RAW files from the camera, so customers can take them directly into post production without having to convert or change them.
Another useful feature of the URSA Mini Pro 4.6K G2 is that it has neutral density (ND) filters with IR compensation for quickly reducing the amount of light that enters the camera and built in high quality stereo microphones for recording sound.
Blackmagic claim that the URSA Mini Pro 4.6K G2 is "exciting because it gives customers second generation electronics and an even higher performance image sensor so they can shoot at extremely high frame rates for crystal clear slow motion images. URSA Mini Pro 4.6K G2 is powerful enough to be used on high end feature films and television shows, versatile enough to be used for broadcast news and live multi camera event production, and affordable enough for indie filmmakers and even students! It's like getting 3 cameras in one!"
You can purchase the URSA Mini Pro 4.6K G2 now for $5,995/£5,814 inc. VAT from the CVP website.