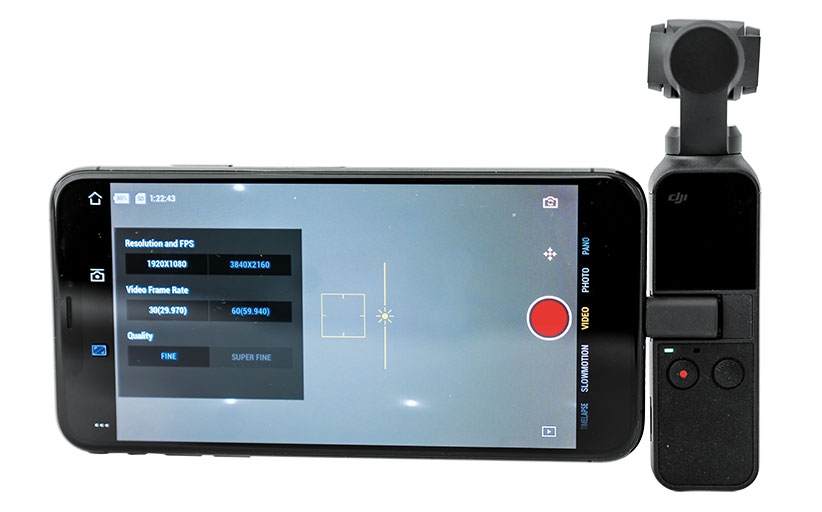 DJI Osmo Pocket
If you've spotted the tiny new DJI Osmo Pocket but dismissed it alongside GoPro-style action cameras as little more than a consumer toy of no use to serious professional work, then it might be time to take another look.
Of course, it's not a full-spec Steadicam or motorised gimbal that will allow you to fit cameras – from mirrorless wonders to cinema cams – and record movie-style smooth shots. 
It also has lots of consumer faff that a serious filmmaker would probably never need or want – like stitching together three rows of three stills for super panoramas, active face tracking ideal for vloggers shooting selfies or using the dedicated app to automatically edit together videos and stills, add music and apply  Instagram-style filters, before uploading to social media. That is real consumer stuff. Fun, though.
Instead, think of it as a ridiculously portable, motorised, three-axis gimbal camera. One that not only fits in your pocket, but also shoots super-steady 4K footage at 60fps and full HD at 120fps to a microSD card for you to edit later. There is a significant crop in 120fps HD, but no crop in 4K at 60fps.
I often shoot motor sport, so I frequently have a camera with a telephoto zoom mounted to my tripod. Or, if I want to shoot close-ups, a mirrorless camera with a wide lens on a motorised five-axis gimbal that's ideal for B roll. Of course, you can't carry both these set-ups and they take time to set up and balance. Fine for bigger crews or shooting scripted work, but for run-and-gun, documentary-style work, it's too slow to have both at the same time.
With the new tiny Osmo, it slips into the pocket and can be quickly whipped out for some quick-and-dirty footage that might not have the ultimate quality and controllability of a full-frame or Super35 camera, but is still detailed, bright and remarkably stable. The tiny sensor means it struggles in low light, but for half-decent light, the footage is very impressive, considering it's from a camera with a small sensor and lens.
There is even a Log-style D-Cinelike look that attempts to squeeze in more dynamic range and is designed to be ideal for tweaking in post. This is not yet available but will be in a free firmware update soon.
With the new GoPro Hero7 offering incredible image stabilisation and a more rugged build, it has its fans. But the motorised stability of the DJI compared to the digital image stabilisation of the GoPro, which crops the image, is in a different league. And the DJI offers a wide field of view rather than the extreme super-wide that gives the GoPro its unique look that not everyone wants.
The DJI has an internal battery that's charged via USB and provides around two hours of filming in 4K. You can charge it from your laptop, a mains-style USB adapter or even a phone-style battery power pack. The camera has a one-inch touchscreen that you use to change settings and see the image – it's very small but does give a useful approximation.
The DJI Osmo Pocket has its own dedicated DJI Mimo app, which means you can use your phone to see a bigger image, tap to focus and set face tracking and have more professional controls. The Osmo comes with a choice of two adapters (for iPhone and Android) that your phone plugs into. This makes it a bit unwieldy though, especially on big phones like an iPhone XS Max.
A better option is to splash out on the accessory Wi-Fi unit that plugs into the bottom of the DJI and links to your phone via Bluetooth. Of course, you then have to juggle two bits of kit, but it means you can control the camera remotely with ease.
Controlling the Osmo is simplicity itself, as it only has two buttons. One is the on/off button, which also allows you to toggle through settings. The other is the Rec On button or shutter release, if you are shooting stills.
The app lets you set frame rate, white-balance, exposure, ISO and shutter speed. If you disconnect the phone, the settings remain until you change them, but no control over aperture means no cinematic-style shallow depth-of-field. You get a wide-angle view with lots in focus. ND filters would help and are available, but we didn't get a chance to test them. 
You can also set anti-flicker, a histogram, change the focus move from single shot to continuous, have overexposure warnings and set a grid on the screen to aid composition.
To move the camera up or down, you just push it with your fingers into the desired position, or you can use the tiny touchscreen and move it from there – if your digits are small enough. It's basic but it works.
The DJI Osmo Pocket comes with a tiny microphone that works surprisingly well for its size, but of course is very limited in control. It just sets itself automatically, or you can set one of three audio levels, but is quite badly affected by wind noise. There is also no way of simply plugging in a better mic, but you can use DJI's USB-C connector that has an input for a 3.5mm mic jack. 
If you understand the limitations of what the DJI Osmo Pocket can do – and the huge benefit of having a tiny stabilised camera in your pocket at all times to catch footage other cameras might miss – then it's a great bit of kit. And, especially for the price, it makes a great addition to your armoury of gear. AD
Specifications
Sensor:
1/2.3in CMOS, 12 megapixel
Video formats:
4K Ultra HD: 3840×2160
24 / 25 / 30 / 48 / 50 / 60p.
FHD: 1920×1080 24 / 25 / 30 / 48 / 50 / 60 / 120p, MP4, MOV
Bit rate: 100 Mbps
ISO range: 100-3200
Aperture: f/2
Shutter speed: 8-1/8000secs
Memory card: MicroSD
Charging time:
73 minutes with a 10W charger
Operating time:
140 minutes in 1080p/30fps
Dimension (LxD): 121.9×36.9×28.6mm/4.8×1.5×1.1in
Weight: 116g/0.26lb
Pro Moviemaker rating: 9/10
It's an incredibly small camera that packs a real punch for filmmakers who want B roll gimbal shots 
+ Pros: Tiny size and image quality in good light
– Cons: No Wi-Fi built in, tiny screen, no tripod mount
PRICE: £329/ $349  
For more information and to buy one go to the website.