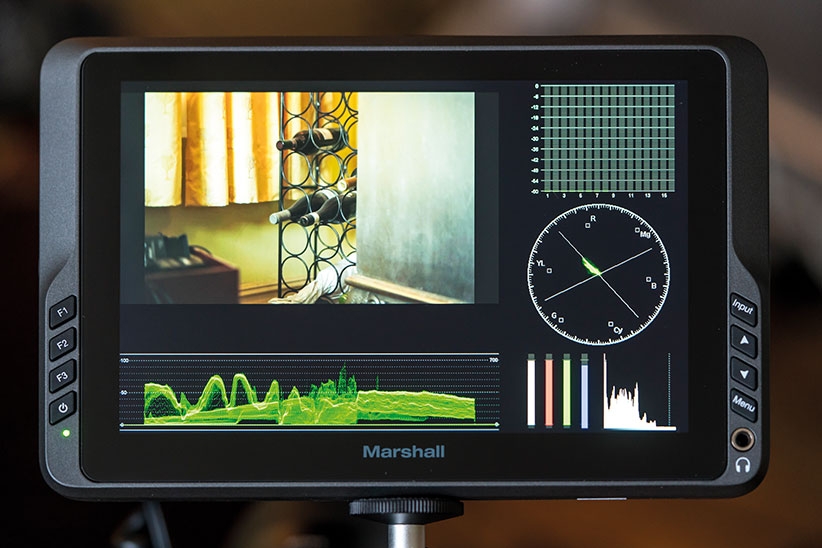 Marshall 7in Monitor
One of the biggest issues when using a DSLR or mirrorless camera is the screen. They are small, more often than not lack all the useful tools like waveforms, and they can be hard to see in bright sunlight. 
That's why external monitors are hugely popular, especially ones that can record, which often means you can squeeze a higher quality of footage on many cameras. But recorder monitors tend to be quite bulky and more expensive, certainly when factoring in the cost of SSD memory and batteries. Sometimes, a non-recording monitor is the best solution if you want to keep things light but don't want to compromise on the view you are getting. Five-inch monitors are good, but once you've seen your footage on a seven-inch monitor it's hard to go back. 
The Marshall V-LCD70W-SH LCD monitor is ideal for DSLR, mirrorless and smaller cinema cameras as it connects via HDMI and SDI, is compact and affordable. But it doesn't offer LUT support and is only 1080HD at 60p, so if you want to see your footage in 180fps you'll need a more capable model. You'll still be recording in 4K, but monitoring in HD.
The Marshall comes with a detachable sun hood that fastens to a small frame with Velcro. This frame clips onto the monitor yet still leaves room for the function buttons to be accessed, which is a nice touch. The hood does a fantastic job in bright light and makes a monitor like this worth the asking price alone if you regularly shoot outside.
There are three buttons on the left side of the monitor that can be customised for the most popular features like zebra or focus peaking, along with the on/off switch. Four buttons on the right let you select input options and navigate the menu.
To connect to your camera you can use both the full-size HDMI and SDI connectors, so it's ideal for DSLR/ mirrorless cameras that tend to be HDMI only, or bigger camcorders that have SDI outputs.
There is also a pass-through so the signal can be outputted via HDMI or SDI to another monitor, ideal for a director or client to view during the shoot. There's a headphone jack, so if you are using a mirrorless camera that doesn't have one it's great for keeping track of your audio.
The LCD panel has a resolution of 1920×1200 pixels and has an adjustable LED backlight. At 450 nits it's not the brightest screen on the market, certainly compared to some more pricey units that put out 1000 nits, but it's still very good, and the picture is sharp, detailed and easy to see.
Not only can you see your images much better, you can ensure your footage is exposed and composed to your liking. There are waveforms and vectorscopes, false colour, peaking, audio meters, histogram – basically every sort of helpful tool you could think of.
One small issue is that the monitor runs on 12V DC via the plug-in mains adapter. If you want to run it on batteries – and of course that's how it makes the most sense for use on top of your camera on location – then you can use a standard D-Tap to 12V DC powering cable, which is ideal if you are using a camcorder with a compatible battery. For use on a mirrorless or DSLR you need to buy an additional adapter plate, which will allow you to fit lots of different types of batteries from Canon LP-E6 or equivalents up to monster V-mounts. 
"You can attach the unit to your camera's hotshoe"
The unit has a standard 1/4in–20 mounting hole on each of the four sides so you can attach it to your camera's hotshoe with a basic ball head, or ideally on a rig as the weight of the monitor and battery can put some stress on a fragile hotshoe.
Specifications
Screen: 7in diagonal LCD, 1920x1200pixels
Aspect ratio: 16:10
Backlight: LED
Brightness: 450 nits 
Formats: Up to 1080 60p
Colour temperature: 5500, 6500, 7500, 9300K, user
Viewing tools: False colour, peaking, aspect marker, exposure, histogram, level meter, waveform, time code, display flip
Interface: 3G HD SDI, HDMI with pass-though
Power: 12v DC
Dimensions (WxHxD): 124x195x28mm/4.9×7.7×1.11in
Weight: 0.5kg/1.2lb
 PRO MOVIEMAKER RATING: 8/10
An external monitor is a must, but for a moviemaker using a mirrorless or DSLR camera the Marshall is a good buy
+Pros: Easy to use, bright screen and affordable
– Cons: Doesn't record, no LUT support