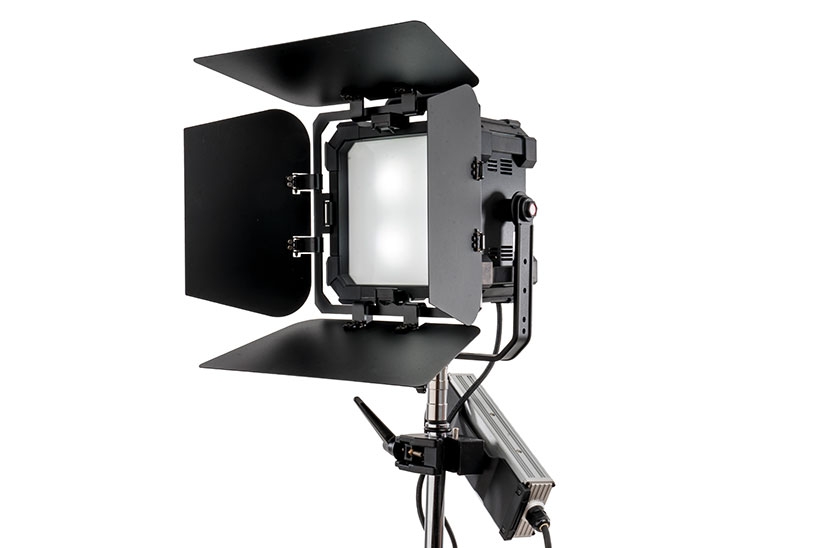 Fiilex Matrix II
LED fixtures that can do more than just put out white or tungsten-coloured light are the new big thing, with lots of manufacturers producing their own versions. Fiilex hasn't been left behind. Its new Matrix II RGBW, as the name suggests, allows full control of the colour of light from red, green and blue LEDs, plus regular white LEDs that can be fine-tuned in terms of intensity and colour temperature. 
Manufacturers of lighting gels must be having a hard time right now, because these RGBW lights can not only dial in different colour temperature versions of white, but any other colour under the rainbow. What makes the Fiilex a bit different is that instead of being an LED soft light panel, it uses soft-source LEDs that are grouped together for a far more punchy look. Of course, you can soften them with diffusers. Or, by clipping on Fiilex's optional fresnel lens, turn the light into a far more focused source which is roughly triple the brightness in the centre.
 "What makes the Fiilex a bit different is… it uses soft-source LEDs"
Fiilex lights use the firm's Dense Matrix LEDs in multi-wavelength colour groups, where many manufacturers have single chips in the array representing a hue range. Fiilex has designed its array with multiple custom chips covering a specific hue. Each chip outputs a specific portion of the hue wavelength and when combined, they produce a broader and deeper range of hue than most other fixtures can produce. This gives a very controlled and even light that has its own distinct look to it. 
With a maximum output roughly equivalent to a 1000W tungsten head, the Fiilex has its four Dense Matrix LED clusters set into a reflecting chamber and enclosed by a layer of diffusion for a bit of softness. Optional extras include a set of barn doors and a speed ring to allow use of softboxes from Chimera.
Not only that, but the units are water-resistant and come in a high-quality aluminium body for ruggedness and longevity, with top-quality cables and connectors proving it's truly a professional bit of kit that's built to last. And a USB port means future firmware upgrades can be easily uploaded. Fiilex is already working on SFX such as flashing lights and flickering fire.
The beauty of the Fiilex is that it can be used with a diffuser up close for a soft light, yet with the Fresnel it's much punchier – ideal for classic Hollywood-style lighting patterns. It's not as good as a dedicated focusing fresnel unit, but it gives an approximation of the look that's actually easier to work with.
The Matrix II is as powerful as a 1000W hot light, when used as a white light source. There are two modes: one for white light and one for RGB. In white light mode, a button on the rear allows you to adjust colour temperature, while another adjusts the green/magenta balance to get the output just right. A third knob adjusts intensity which can go down incredibly low.
Change to RGB mode and you can set the colour of the light and its saturation. And of course intensity can also be adjusted. It's easy to use and quick to set up and understand.
It's details like this that set the Fiilex apart. It's well-built, robust and has a separate ballast unit with a clamp to fasten it to a lighting stand. Or it can be run direct from 48V XLR power. There is wired or wireless DMX remote control, too. All the bells and whistles, in fact, in a package that's not bulky and is relatively affordable.
 Forget lighting gels – get all the colours of the rainbow with the Fiilex's Matrix II RGBW.
Specifications
LED type: 4x 75W DiCon Dense Matrix RGB
Beam angle: 99° (31° with optional fresnel)
Colour range: 2800-10,000K
Hue control: ±0.25 magenta/green
Maximum power draw: 340W
Remote Control: DMX, wired or wireless 
Dimensions (WxHxD): 171x311x418mm/6.6×12.2×16.5in
Weight: 4.4kg/9.7lb with yoke; 2.6kg/5.7lb power adapter 
Included accessories: Fully fitted travel case, zip pouch, ballast, stand clamp, power leads
PRO MOVIEMAKER RATING: 9/10
You can set any colour light you want easily in a well-built and powerful unit
+ Pros: Great light output and easy to use
–  Cons: LCD panel can be a bit hard to read
PRICE: £2995/$2995