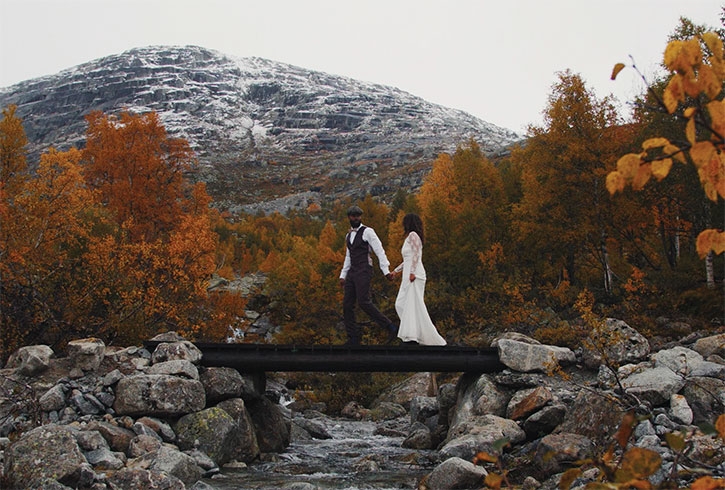 Selling The Dream
Hugo van Dijke and Yaël Ovadia are collectively The Dreamers, a Netherlands-based outfit with a decidedly cinematic approach to wedding filmmaking that's helping to change the market.
Words: Terry Hope
We probably all have our own preconceptions of what a typical wedding video might be like, and it's not likely to be complimentary. Almost certainly overlong, predictable, and featuring all the speeches. A dull watch for everyone but the primary characters, and quite possibly a little on the boring side even for them. A one-watch wonder.
If that's your impression then you've clearly not come across a production filmed by The Dreamers. This Dutch-based team comprising husband and wife Hugo van Dijke and Yaël Ovadia doesn't do straightforward wedding day documentaries; rather they treat each assignment as a one-off and embrace the differences and surprises that each brings in its wake. With a cinematic approach, the result has the feel of a mini feature film and it's highly watchable, entertaining, inclusive and, ultimately, way closer in feel to the true spirit of the occasion. Much of the originality of approach can be put down to the fact that Hugo and Yaël came into this area of the business almost by accident and, without being hamstrung by the usual clichés, they intuitively developed an approach that felt natural. 
"Both Yaël and I were journalism students, with a minor in Storytelling and a major in Media Productions," says Hugo. "We strongly felt the need to gain some filmmaking experience outside of school, and we thought we'd do this by starting up a small company. People knew we were messing around with film and a family member asked if Yaël wanted to film their wedding. She said 'sure, why not?' and duly took on the job, without looking at any wedding films or doing a lot of prep. 
"She worked 18 hours that day and, when she called me afterwards, I was expecting to hear how horrible it had all been. But instead she was full of energy and was telling me how much fun she'd had. After we'd edited the film together and sent it over to the couple, they called us up in tears. This was a level of gratefulness we'd never experienced before: everything commercial we'd done was always just 'alright, thanks'. We then knew that this might be something special for us and, six years on, here we are."
"A wedding film is no longer just a simple record of a wedding"
The Big Day
The style The Dreamers offers sells itself, and most bookings arrive via word of mouth, work being viewed on social media and through Google searches. Recommendations also come from wedding planners. 
"One thing that really helps is to have a connection with the couple," says Hugo. "If they like us, and we like them, it makes things so much easier. To have a client's trust means we can be creative to the max, without them questioning our methods or intentions. After all, a couple is going to be spending more time with us on the wedding day than with their own parents.
"We're so used to shooting weddings now that we really don't need to plan any more. All that we try to do beforehand is to make sure we have enough time at each location or event – we don't want to be stressing because there's only 15 minutes allowed for the preparations or the couple shoot. We always say that we like to maximise a minimal influence: that's to say we give the couple advice where we can, but we try never to interfere."
Perhaps no more than 5% of the footage shot on the wedding day is anticipated, and this is almost always B-roll that will consist of such things as setting up a time or star lapse. Otherwise input might consist of suggesting to a bride where the best light might be, so that they get dressed in front of a beautiful large window as opposed to in the bathroom, and it helps to add a more cinematic feel. Much of what The Dreamers is looking for is emotional impact, that can't be staged: a look a mother gives her daughter, a tear from dad, nervous looks before the ceremony. It's footage that it's not possible to plan for or fake and if it's missed then it's gone forever, and that's serious pressure.
Almost always, Hugo and Yaël find themselves working alongside a separate photographer, but they see this as a positive thing. "We tend to have the same creative eye," says Hugo. "We look at light in the same way. Framing can differ, but that's also something you can use to your advantage. You can learn from each other, use each other's creativity. You're a team for a day, helping each other to get the best results possible. We love meeting and working with different photographers."
Keeping it Real
Hugo and Yaël have continued to ignore wedding films by other operators, instead believing that it's more interesting to watch mainstream films and TV series and note the cinematic techniques used. 
"Being storytellers ourselves, that's where we feel we'll learn the most," says Hugo. "How are they moving the camera, and how does it help the story? How does music help? How do they achieve dramatic lighting? With weddings being mostly run-and-gun and unscripted you'll never fully incorporate those techniques. But it helps to strive to do the best you can."
The couple always work together, perhaps just splitting up for a period should the bride and groom be in different locations. It's an approach that delivers twice the footage, multiple angles and the feel created by the use of alternative lenses, and it ensures that as little of the action of the day as possible is missed. It also means that one can focus on the more creative shots while the other ensures that the 'safe' shots are in the bag. Knowing each other so well is an added bonus, since it can take just a single look to communicate that something, such as the shedding of an emotional tear, is happening that needs to be captured. 
It's difficult to anticipate which weddings might yield the most rewarding footage, since every ceremony is different and has its own cast of players, and external influences at work. 
"In terms of how we plan to cover a wedding we always have something in mind," says Hugo, "but you can't always anticipate the things that might happen on the day. We've had destination weddings at the most beautiful locations being a disappointment, but we've also had 'simple' weddings here in the Netherlands that have given us some of the best films we've ever produced. 
"That's what keeps a wedding interesting for us: even though all the events tend to be the same, such as the preparation, ceremony and party, the way people experience these days is always different. They can be happy, melancholic, emotional, ecstatic – and sometimes a mix of all of these things. We're the kind of people that go with the flow. When a group is fun, we have fun, and that makes for very rewarding days."
"They intuitively developed an approach that felt natural"

 
Image: The arrival of Blackmagic's Pocket Cinema Camera 4K allowed The Dreamers to achieve a long-held ambition, to film an elopement, even in changeable light and weather.
Camera Choice
As with so many filmmakers, Hugo and Yaël made their first move into the medium working with a Canon 5D Mark II, a camera not even specifically designed with moving footage in mind. Naturally, it was a compromise and the pair never warmed to the colours it produced, but it got them started and alive to the idea of motion. Then they came across the Blackmagic Cinema Camera and it was an immediate connect, although it wasn't the easiest camera to use at a wedding.
"I couldn't find a single wedding film shot with this model," says Hugo. "This was quite understandable since it needed an external battery, external audio, separate neutral density filters and so on. Plus, it was quite heavy with a bit of a strange form factor, and it was a hard sell to get Yaël to sign off on us buying two. But when she finally did, the quality of our work improved immensely. It instantly became so much more cinematic, and we finally could start learning how to grade footage, something it was impossible to do with 8-bit footage from the 5D Mark II.
"We've used every Blackmagic camera since: the original Pocket, the Micro and now the Ursa Mini and Ursa Mini Pro. The Pro is what we shoot most of our weddings on. It's a bit cumbersome but the image quality makes it all worth it. I love being able to take stills straight from the footage that are good enough to print, and I'm very happy with the colours straight out of camera and the flexibility it gives us in post. Meanwhile, most of what we shoot is done with a single lens, the Sigma 18-35mm f/1.8. It's crazy sharp and offers enough range to cover every eventuality."
With kit being kept to a minimum it also helps the immediacy of a shoot for the approach to be likewise simplified. Yaël shoots with her camera on a monopod, which allows her to wait for something to happen, whether this might be a smile, a laugh, a look or a tear. That can take minutes, and it's uncomfortable to have a camera resting on a shoulder for that amount of time. Meanwhile, Hugo always works handheld, pressing the camera against his chest or shoulder to increase stability. He positively loves the look this creates, one he considers is more real than fully stabilised footage, and it frees him up to walk around and to look for situations.
Finishing off the kit list is a CAME-TV Boltzen 55w Fresnel LED light, packed for times when creative effects might be called for during the reception, while audio is captured through the internal mics of the Ursas. "It's good enough for our needs," says Hugo, "which could be scratch audio or a laugh here and there. All other audio is captured externally with Tascam DR-10Ls or DR-70Ds."
Image: It's not all about the wedding itself; informal moments on the day are just as important.
Size and weight of gear can be an issue, particularly if the job is a destination wedding, and a lot of thought has to go into the necessary compromise between essential kit and what's practical to take. One of Hugo and Yaël's regrets was that it had not been possible until now to film an elopement – essentially a scaled-down wedding where it's just the couple and the photographer/cinematographer travelling to an epic, often remote location – owing to the weight of the Ursa, but the arrival of the brand new Blackmagic Design Pocket Cinema Camera 4K has really changed everything.
"We've found the image quality this camera is capable of is right up there with the Ursa Mini," says Hugo. "It's a perfect B-camera and could easily be used as a main camera. It also has improved low-light capabilities, really useful since some of the lighting situations we encounter are pretty horrible, while the small form factor makes travelling so much easier. So we're now able to work with shotgun mics since the added height doesn't really matter."
Asked by Blackmagic to make a film that would demonstrate the capabilities of the new model The Dreamers finally achieved their ambition and covered an elopement in Norway, which featured an eight-hour walk up a mountain in highly changeable weather. Two cameras and a ton of batteries were packed into a rucksack and there was still room for other essentials. 
"The camera handled the changing weather and lighting conditions so well," reports Hugo. "We literally had sun the first minute, with snow the next. At one point, I needed to help the bride put on her jacket and I put down my camera in a snowstorm. When I returned, it was completely covered in snow. I was sure it was a goner, but it carried on working with no problems.
"I think I was the most impressed when grading the footage in Resolve. We shot everything DCI RAW 4:1, and there was just so much information and depth to the footage. I loved the colours even with minimal grading."
Looking at the response they're getting, The Dreamers are convinced that the age of the more polished and professional wedding video has arrived. "Video is becoming increasingly important," says Hugo, "and most people now know that the traditional wedding film is no longer viable. A wedding film is no longer just a simple record of a wedding – it's a film that documents the love between two people, their friends and family. And I think  that's beautiful." 
For more information visit their website.