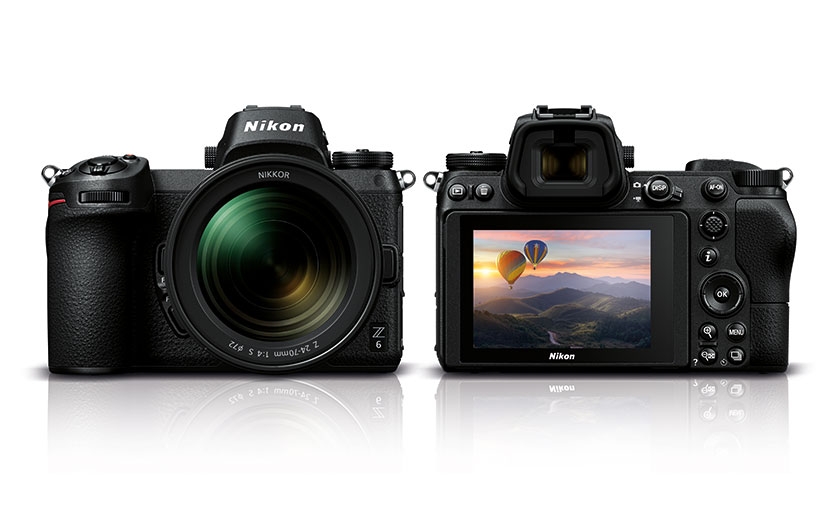 Six Appeal
Nikon's Z 6 isn't just the company's entry-level mirrorless camera – it's a real hybrid with plenty to please filmmakers
Words / Kingsley Singleton
Nikon's big push into mirrorless kicked off in autumn, when it announced the full-frame Z 6 and Z 7 and several lenses. The Z 7 was available pretty much at launch, but while it offered decent video features, it's the recently released Z 6 that should make videographers sit up and take notice. 
The Z 6 is simply a more capable video camera all round and can be seen as a true hybrid model – equally adept at stills and movies. 
While the Z 7 sports a high-resolution 45.7-megapixel chip with no optical low-pass filter and is aimed at ultimate stills quality, the Z 6 has a 24.5-megapixel chip with a low-pass filter to cut moiré. The resolution is still respectable and gives beautifully sharp stills, but most importantly it allows a full read of the sensor, so there isn't any cropping or pixel binning to compromise quality. While the range of formats is the same as on the Z 7, and not dissimilar to what you'd get on most mirrorless cameras (4K 30p at the top end), the quality of the footage is better and you don't miss out on field of view. 
You can record 8-bit footage internally, but connect to an external device like an Atomos drive and you'll get 10-bit 4:2:2 N-Log for improved dynamic range and control in grading. Even without Log, the flat picture mode gives easily editable footage with a decent lift in dynamic range. But that's not all: Nikon has revealed an upcoming firmware update will allow support for the ProRes Raw codec via HDMI output as well as N-Log, though you will need an Atomos Ninja V to output that. 
On top of that, Nikon announced a 'filmmakers kit' for the Z 6. Along with the body, you get a 24-70mm f/4 S lens, FTZ lens adapter, Atomos Ninja V 4K HDR recording monitor, Rode VideoMic Pro+, MOZA Air 2 three-axis handheld gimbal stabiliser, an extra battery and HDMI cable. It all points to a very serious commitment to making the Z 6 a compelling choice for videographers, – and hybrid shooters even more so. 
(Above) The Z 6 offers face-tracking AF and will soon have eye AF via a firmware update. There's also adjustable tracking speed and touch AF
"the Z 6 is simply a more capable video camera all round than the Z 7. A true hybrid model"
The Z 6 also has decent slow-motion options, though the highest 120p frame rate is limited to 1080p resolution. Still, you have some control, either shooting regular 120p footage, or letting the camera export to a 4x or 5x slow-motion file. For time-lapse, there's the option to create a full HD movie in-camera, but if you want 4K, it's an intervalometer and software job. Not so bad, as it's all part of the editing process, anyway. For comparison, the Z 7 does a 4K timelapse in-camera, but this doesn't outweigh the Z 6's obvious advantages for video. 
Video AF is pretty good and the options like face tracking work well enough to allow panning and tracking shots, so you can keep the subject in focus through a range of movements. The aforementioned update will also add eye-tracking AF, which should be a very welcome addition for close up or wide aperture work. AF tracking speed can be adjusted and the Z 6's screen offers touch AF to pull from one subject to another. This works fine, though of course you need a light touch to avoid moving the camera.
There's also focus peaking in manual focus and there are some good options to tweak the colour and intensity of the peak depending how you like to work. Focus pulling via the Z series lenses is a bit of a chore because the ring is digital and, therefore, less precise. 
In-camera stabilisation is a big addition for Nikon and the five-axis system here works very well. It's a bit jerky if you're walking the camera, but it's better than shooting without – though no match for a proper gimbal or stabilised support. Other video-friendly options on the Z 6 include timecoding and highlight zebras, though I could only get the latter when focus peaking was off. 
Handling wise, the Z 6 is about as good as a hybrid camera can get. It's identical in form to the Z 7, which is to say it fits very comfortably in the hand thanks to a large grip and rear thumb pad. There's no difference in button layout and nothing sits awkwardly under your thumb as they do on some other mirrorless bodies. Layout is intuitive and very close to Nikon DSLRs, so it's perfect as a crossover camera. The movie-rec button and switch to movie mode sit right under the forefinger and thumb, which is perfect.
The way buttons are arranged, mostly on the right side of the back panel, means it's possible to operate one-handed, too. There's also a mini joystick for AF point selection, which is close enough to the AF-ON button for an easy transition.
Like the Z 7, there's an 'i' button that brings up a quick menu and this is customisable, so you can set it to primarily control video functions if you want. While it's not so great for focus pulling, the advantage of the digital ring on the Z lenses is that it can be set to control aperture or exposure compensation for smooth adjustment. Many of the buttons can also be customised, including the two paddle-like function buttons near the lens mount. 
(Above) The rear LCD is excellent, with the only downside being that it doesn't swivel
As on the Z 7, the electronic viewfinder is excellent for composition. It's big, bright, clear and the best I've used to date. It's as close to an optical viewfinder as I've used and it doesn't drop its frame rate much in low light either. The only downside is that it stutters when shooting stills at a high frame rate, which can make it difficult to follow the subject. This is a downside if you're intending to shoot that way, but not much of a problem if you're more video-centric. It's only Sony's A9 that offers a completely uninterrupted view in such situations – and that's not the camera the Z 6 is up against. 
I also found the EVF a little slow to switch on when brought up to the eye, but I'm impatient like that. It obviously wouldn't be a problem when filming running off the screen or an external monitor. The Z 6's rear LCD is excellent and the only drawback is that it doesn't swivel.
One of the oft-quoted downsides of the Z series cameras is their single XQD card slot and limited battery life. It's true these could be problematic, but with the incoming firmware update allowing use of CFexpress cards and the camera running well off a power adapter, it's not a problem for extended shooting periods, such as when you do time-lapses. 
Neither are deal breakers in my opinion. 
(Above) The Z 6's tracking AF does a good job in video mode, keeping moving subjects in focus through a range of movements
The verdict
Pitted squarely against Sony's much-admired A7 III as a hybrid shooter's dream camera, the Z 6 offers plenty to impress. And particularly so if you are an existing Nikon DSLR user – the FTZ adapter that can be bought alone or as part of a kit will unlock all the lenses you've got. 
The camera is a much better offering for video than the pricier Z 7 and, as a hybrid camera, 24.5 megapixels is plenty of resolution for almost any client. 
On top of that, there's a decent 12fps frame rate –  though it does lack features like autoexposure at that top whack. The EVF is superb – not perfect, but the best I've used, and generally the camera handles really well. Price wise, it's more attractive than its big brother for early adopters and well pitted against its Sony and Canon rivals. 
How it rates
| | | |
| --- | --- | --- |
| Features | 9/10   | Pretty much all you'll need from image stabilisation to 10-bit Log and (soon) Raw, apart from 4K 60p  |
| Performance | 9/10 | Nice, clean footage at most ISO settings, AF is also great for video |
| Handling | 9/10 | Gives a great hold, intuitive layout and lots of customisation if required |
| Value for money | 8/10 | Compares pretty well to other mirrorless cameras in its class |
| OVERALL RATING | 9/10 | If you want a mirrorless hybrid body for stills and video, it's hard to look past the Z 6, as it does so many things well  |
Pros: Excellent video and stills options, build and handling 
Cons: 4K 30p maximum, 120fps slow motion limited to 1080p, no in-camera 4K time-lapse
Specifications
Price: Z 6 body £2099/$1996; Z 6 with 24-70mm f/4 kit £2699/$2,596; Z 6 with FTZ adapter £2199 / $2,246; 
Z 6 with 24-70mm and FTZ adapter £2799/$2,846
Sensor: 24.5-megapixel BSI full-frame CMOS sensor, 35.9×23.9mm, 6048x4024px
Image stabiliser: Five-axis sensor shift
ISO range: 100-51,200 (expandable to ISO 50-204,800 equivalent)
Shutter speeds: 30secs-1/8000sec
LCD: 3.2in touchscreen 2.1m dot tilting, 100% frame coverage 
Viewfinder: 3.7m-dot EVF
Autofocus: 273 phase detect points in single AF covering 90% of image area – usable in single-point, pinpoint, dynamic area, wide area, auto area
Recording format: 4K UHD 3840×2190 30 / 25 / 24p. 1920×1080: 120 / 100 / 60 / 50 / 30 / 25 / 24p
Connectivity: Wi-Fi, Bluetooth, HDMI-C, USB-C
Storage: 1 x XQD CFexpress slot
Dimensions (WxHxD): 134×100.5×67.5mm/ 5.3x4x2.7in
Weight: 585g/1.29lb body only
This feature originally appeared in the Spring 2019 edition of Pro Moviemaker.