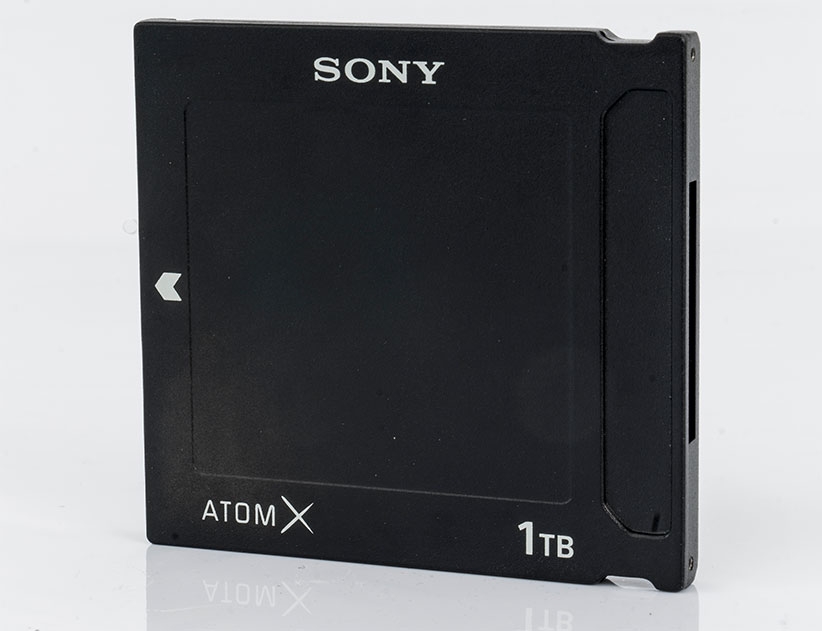 Sony Atomx SSD Mini 1TB
Professional filmmakers will know all about the advantages of solid state SSD drives over hard disc HDD drives, which roughly translate into greater speed and better resilience – the latter of which is crucial if you're travelling on location and want the greatest possible safeguard against loss of data.
They're also physically smaller than their HDD cousins, which is useful if you're on location and only have a restricted amount of space to pack kit. The only drawback is cost: if you're on a budget, SSDs will cost you considerably more. However, these days the price differential is coming down and the choice is not such a painful one to make.
This new AtomX SSDmini from Sony offers one further and potentially crucial advantage: it's not just small, it's ultra-compact – some 20% shorter than conventional SSDs – and this allows it to fit neatly in the Atomos design with no overhang. In fact, it's been designed specifically to partner the latest Atomos Ninja V recorder and it's fully certified to support 10-bit ProRes Raw HQ at 4K 50/60p or ProRes HQ/DNxHR at 4Kp60/2K 240p with this monitor. 
Crucially, however, the AtomX will also fit most of the rest of the Atomos range, with just a few that require optional adapters to make them long enough, such as the Sumo 19, Sumo 19M and Shogun Studio. I used my 1TB card in my Atomos Shogun Inferno and it was a perfect fit and looked completely at home. 
This is a super-fast device, capable of sequential write speeds of up to 500 MB/s and sequential read speeds of up to 550 MB/s. The high write speed enables it to capture high-quality 4K footage in any of Atomos' codecs without dropping frames, while the read speed makes for fast offloading and smooth playback with no dropped frames. Once you've finished recording, you simply take the SSD out the back of your Atomos monitor and insert it into your workstation – there's no offloading required.
Of course, speed isn't the only consideration where memory is involved and, as previously mentioned, SSDs are reassuringly robust due to their lack of moving parts. However, Sony suggests the AtomX range goes even further and, although I didn't put it to the test, it's said to provide up to 1500 G/0.5 ms of shock resistance, backed up by a three-year warranty. 
While I was using the 1TB version, there are also 500GB and 2TB alternatives, so something to suit most requirements and budgets. Overall, I was hugely impressed with the package, which ticked every box. The Sony AtomX has clearly been designed from scratch with the Atomos monitors in mind and, once you've clicked it firmly into place, it does its job with no fuss and minimum user input required. If you like neat and simple solutions, then this compact yet powerful  SSD is definitely for you.
Specifications
Connections: 1 x SATA (SATA III)
Interface: SATA III (6 Gbps)
Maximum read speed:
550 MB/sec
Maximum write speed:
500 MB/s
Dimensions (WxHxD):
7.8×75.7x80mm/0.3×2.9×3.2in
Weight: 88g/3.1ozs
Pro Moviemaker Rating: 9/10
A well thought-through product that's specifically designed to partner with the latest Atomos recording monitors
+ Pros: If you've got an Atomos monitor, this is the perfect match
– Cons: It's not a cheap solution, but you're paying for quality
PRICE: £343/ $379
For more information visit the website.