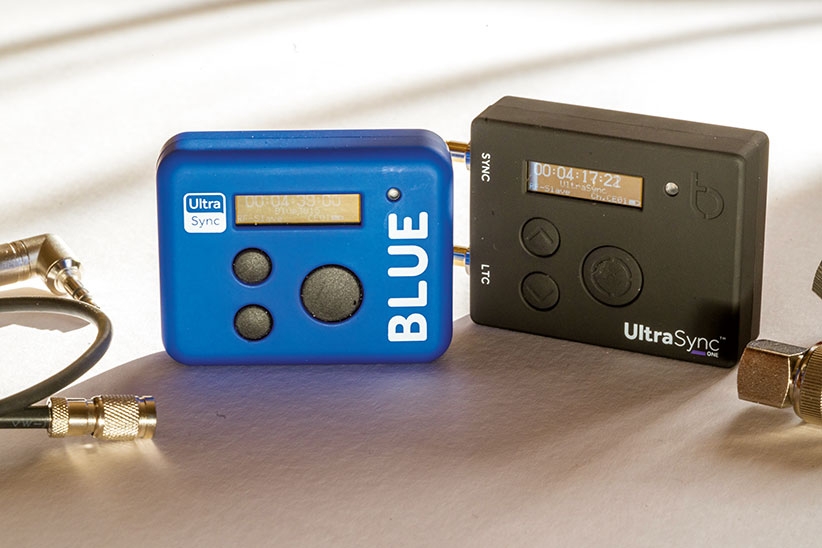 Timecode Systems Ultra Sync Blue
If you are shooting multi-camera films, or recording audio separately to get away from the poor audio on your mirrorless or DSLR, making footage and sound sync together is vital. Years ago, independent filmmakers used software like PluralEyes, and now Apple's Final Cut Pro X and Adobe's Premiere Pro do a decent job.
But for critical work, or big projects with lots of cameras and recorders, there is no more accurate way than using timecode to make sure everything lines up perfectly.
It may seem like a minefield if you are new to timecode, but Timecode Systems has come to the rescue with a range of lightweight, affordable and simple products. The smallest and most portable product is the new all-wireless UltraSync Blue, designed for cameras and audio devices that have Bluetooth and have adopted Timecode Systems' own timing protocol. At the moment, this isn't many products apart from mobile phones, but more products, such as the Zoom H3-VR and F8n recorders, will be compatible soon.
Right now, best use of the UltraSync Blue is via an iPhone; it works perfectly with the free Mavis professional camera app or Apogee MetaRecorder app. We tried it with the Mavis app which also offers professional-level tools for using your phone as a video camera, like focus peaking and waveform monitors. 
Pair the UltraSync Blue with the Mavis and it unlocks the timecode bundle free. This allows timecode metadata to be embedded directly into media files generated from video shot or audio recorded in the app.
What would be really useful would be cameras with Bluetooth and timecode built in, such as the Panasonic GH5, being able to seamlessly communicate with the UltraSync Blue so its timecode would be embedded in the recording device's audio. It's believed this will come soon to various cameras.
Until then, to get it to use the timecode of a separate camera, it has to be used with other Timecode Systems kit such as the more advanced and expensive UltraSync One which also has Genlock and World Time.
Take a feed from your camera to the £288/$299 UltraSync One via the included cable, then this wirelessly talks and synchronises with the UltraSync Blue on your recording device. Syncing to cinema cameras that have timecode In/Out via SDI is easy as you just plug the cable in. But most DSLR or mirrorless cameras, plus lower-end cinema cameras like the Canon C100 or Sony FS5, don't have this.
But using an UltraSync One you can send timecode to these cameras via a 3.5mm audio cable, then timecode is recorded to one of the camera's audio tracks. The output needs to be converted in post so you can use the timecode for sync, though.
The tiny UltraSync Blue can sync up to four devices as long as they are within Bluetooth range. Setting it up is easy as long as you have good eyes as the screen is tiny. Once your device is paired, all you need to do in future is open the app and the timecode from the UltraSync Blue magically appears on your app. It's very simple.
When you take the footage into your editing program – video and audio – the timecode is embedded. So making your footage sync is as easy.
And if camera makers start to include the Timecode Systems Bluetooth protocol into their kit, then it will make the UltraSync Blue a revolutionary product that's small, affordable and very easy to use.
Specifications
Screen: 128×32 pixels OLED
Run time: 20 hours
Charging time: 3.5 hours
External Power: USB-C
Timecode output: Bluetooth only
Frame rates:
23.98. 24/25/29.97/30
Dimensions (WxHxD): 55x43x17mm/2.16×1.69×0.70in
Weight: 36g/0.079lb
Pro Moviemaker rating: 8/10 
An affordable solution if you are making the step into the world of multi-camera shoots
+ Pros: Bluetooth connection so no wires, small and portable 
– Cons: Need other Timecode products to make it truly useable
PRICE: £150/ $179   
For more information visit their website.