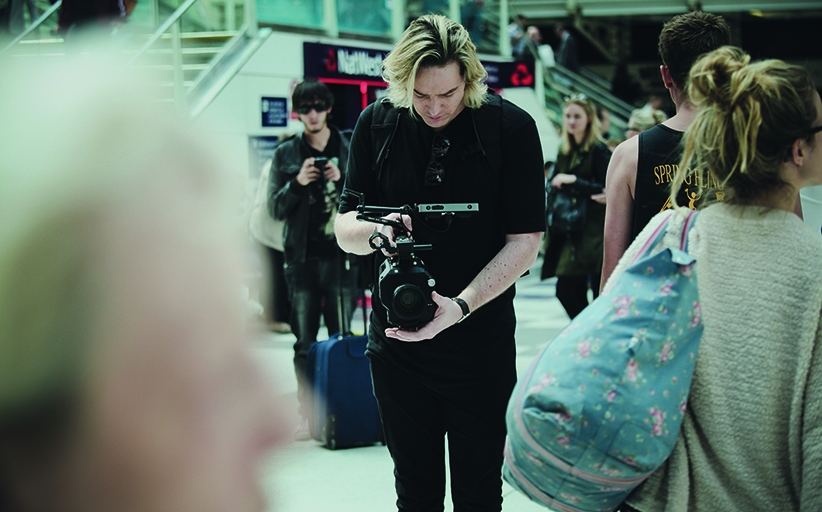 Interview: Dean Sherwood
Filmmaker Dean Sherwood takes a break from his jet-setting lifestyle to give us a backstage glimpse at touring with a platinum-selling band.
Words: Zena Toscani
First-class flights, glitzy hotels and all-access passes are the stuff of dreams for many one-man-band filmmakers but the fortunate reality for Dean Sherwood, the videographer on a worldwide tour with the hugely popular band, The Vamps. When you come across a solitary filmmaker as successful as Dean, it's hard to know where to begin – to put his success into perspective, at the time of press Dean has 127k followers on Twitter (that's more than Vincent Laforet and Philip Bloom), manages a YouTube channel with over one million subscribers and has another 152k fans on Instagram.
A familiar filmmaking backstory, Dean started out working in stills before being swayed over to the cinematic dark side, but interestingly it was his camera that won him his first video shoot. "Around seven years ago I was working for UK rock/pop outfit Feeder," he says. "Whilst on their UK tour, Grant (lead singer) noticed I had a Canon EOs 5D Mark II – as he knew a bit about cameras and knew of its revolutionary HD video mode he suggested I shoot some video for them too." While Dean had only dabbled with video before this point he knew his way around shutter speed and had gotten himself a copy of Sony Vegas Pro to edit on. "I was devoting my spare time to learning video so I guess this was the start of my one-man-band journey." The week following Grant's suggestion, Dean shot a 'day in the life' style promo for the band, who loved it. "I've no idea why!" he says. "I rewatched it a few weeks ago – it's horrible. I think I tried every camera move possible and then invented some too," he explains. Admitting that he'd also overlooked crucial things like audio, Dean doesn't regret the experience, "Without those experiences you don't learn. Without failure, you don't move forwards." Wise words aside, Dean was learning whilst getting paid so knew that he had to learn a lot in a short space of time.
Learning on the job
Completely self-taught, Dean found himself hooked on YouTube tutorials at the start of his filmmaking journey. "I haven't even once attended a seminar," he says. "Whether that's a good or a bad thing I don't know. I do know that getting your hands dirty, getting out of your comfort zone and analysing what you do helps massively though."
Dean also got involved in shoots with his friend, David Spearing, who was working as the day-to-day videographer for McFly. "It helped that I was already working with the band as their tour photographer," he says. However, this added an extra element of pressure as Dean was determined to produce good work so as not to let the band, or a friend, down. Aside from David's work with McFly which Dean had witnessed first hand, he was also following the work of Alfredo Flores, Justin Bieber's filmmaker on the road, and decided that this was the direction he wanted to take his career in.
"I was quite naïve at this point," he says. "I just presumed I'd have to produce/direct/film and edit, so I just learnt how to do it all. I became a one-man band because I thought that was the only way." More recently Dean's stepped into directing a little more which he's really enjoyed, citing directing three DVDs for The Vamps as the highlight of his career so far. "Directing is something I would like to go into more in the future, whether that be documentary or music videos, I enjoy both immensely. It's my life," he explains. That being said, he credits his success to a love of the entire filmmaking process, but quickly corrects himself. "No that's not right," he says. "There's a long road to success, I'm just on the road I hope," he explains.
That road seems to have been a high-speed highway from the outset though as it only took a year for video to completely take over from photography as Dean's main source of income. "It's crazy when I look back at just how quickly that happened," he admits.
To read the rest of this interview pick up the Summer 2016 issue of Pro Moviemaker. Find it bagged with Professional Photo on the UK newsstand and separately in Barnes and Noble in the US.