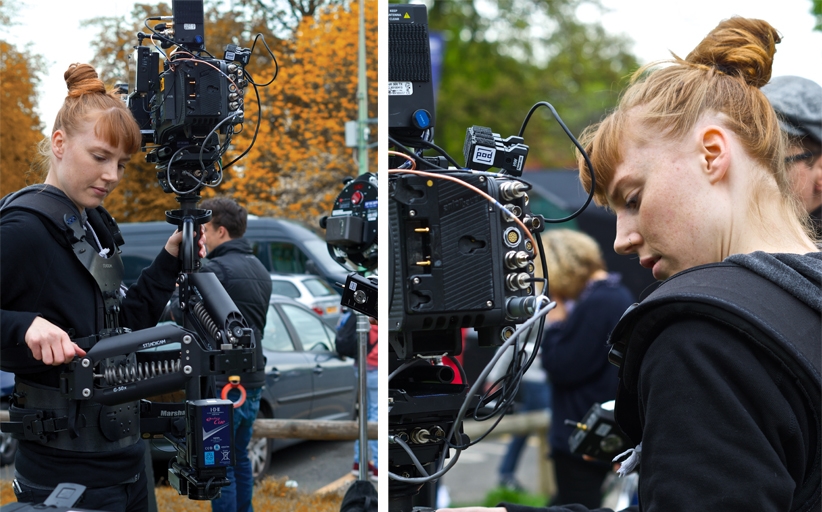 Interview: Ilana Garrard Steadicam Operator
Ilana Garrard is one of a select group of specialists that offer a dedicated Steadicam service to a diverse selection of clients queuing up to offer her work. 
We asked her to outline a typical day
Terry Hope: Why did you move into Steadicam specialisation? 

Ilana Garrard: I have always been interested in documentaries like Samsara and Baraka, shot by Ron Fricke. I love the way that you can create something truly cinematic whilst shooting real people and events. This triggered me to buy a small Steadicam and I realised how much I loved the art of using it. Since then I've bought four, each bigger than the last.
TH: What training was required?

IG: When I started I just taught myself. I read the Steadicam book, watched anything I could find on YouTube and just practised all the time. I later took a Steadicam workshop, which ironed out my creases. It takes a huge amount of practise and time; I still learn new things every time I put the rig on.
TH: What gear do you have?

IG: I bought a full Steadicam sled with an arm and vest, wireless follow focus and wireless video. I then had to buy batteries, plates and cables, which is the most annoying cost because it's not even a fun bit of kit and it's just really expensive! It's all the small things that add up and cost you a lot.
TH: What is a typical day like?

IG: When I arrive on set, I try to find out what I will be doing for the day. I like to have a talk with the director and DOP at the start so that I can prepare myself for the task ahead. Once the camera is ready for me, I balance the rig and off I go! I love being challenged throughout the day and having an input into how that shot will look. Once a take is finished, I make sure to take a rest or just put the rig down for a minute if I'm feeling tired, so that I can sustain myself for the whole day.
TH: Are there peaks and troughs of action in the day?

IG: It really varies. Sometimes I come on set and the DOP and director like what they see so much that they just want to stay on the Steadicam all day. At other times they are very definite in what they want, so I could end up doing just one shot in the morning and one in the afternoon. There's generally a lot of waiting around, as so many people are involved.
TH: Is operating a Steadicam exhausting?

IG: It really depends on the camera's build. If it's a fully built ARRI ALEXA with a heavy lens, I have to make sure to rest the rig before shooting the next take. If it's a lighter set-up, I can go for long periods of time without feeling I need to take it off.
It's a bit of a misconception that a Steadicam operator needs to be a beefy body-builder type. Since working and training as a Steadicam op and meeting lots of other operators, I've found that it doesn't matter what your body mass is or the muscle you have. It's all about how you wear the rig. The key points are having a vest that's fitted correctly and operating with the sled close to your body. The closer it is, the less weight you feel.
TH: What's a typical day rate?

IG: Day rate varies depending on the length and type of project you're working on, the kit you supply and what you charge for it. Generally speaking, however, a Steadicam operator with their kit will get around £1000 per day. This tends to go down when you're working on a long-term project like a drama or feature, but can also go up, depending on the kit you have.
TH: Is there plenty of work around?

IG: Yes, there is enough work right now. I think Steadicam operating is still very relevant in dramas and features, but its use in the commercials and music video world could go down with all the new technology emerging, especially cameras such as the ALEXA Mini. To offset this, Steadicam use in dramas and features is currently growing in popularity.
More information
www.podhire.com