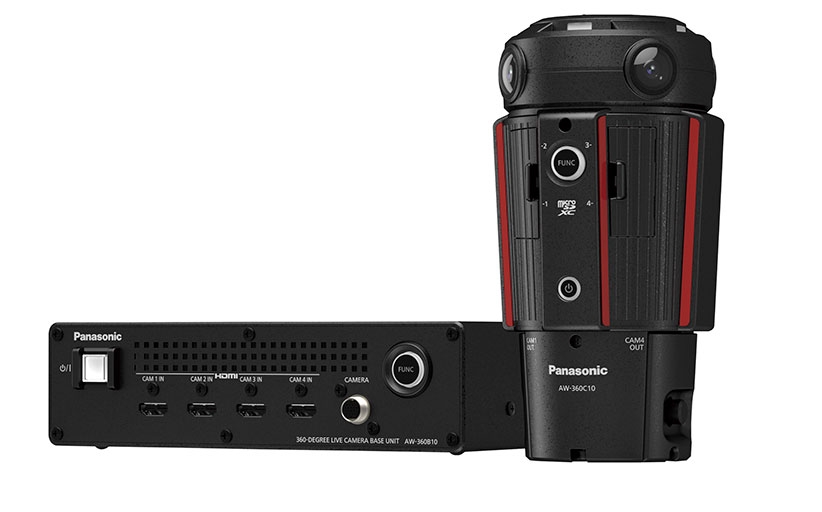 4K 360-degree Panasonic camera nears production
Panasonic has announced more details of its prototype 4K 360-degree camera as well as a new live production centre, incorporating switcher, remote camera controller and audio mixer functions, at the NAB show in Las Vegas. The official statement reads:
Panasonic boosts live production systems line-up at NAB 
Panasonic has used NAB 2017 to introduce more details of the prototype 360 degree camera, first showcased at IBC, which the company says will be available from August this year.
Comprising a camera head and base unit, the system uses four cameras to produce 360-degree video in uncompressed 4K with a 2:1 image format ratio (equi-rectangular video). Thanks to its real-time, live active stitching feature and super low latency, it achieves excellent picture reproduction equivalent to post-stitched content and is aimed at use in the live broadcast of sports, concerts and other stadium events.
The 4K (3840×1920) image provides an immersive experience for the viewer. As well as automatically controlling the exposure and white balance, the camera uses high-precision 'real-time active stitching' to automatically change the stitching position to ensure the most accurate and natural image. 
The company has also announced details of a new addition to its outdoor remote camera range. The Full HD, AW-HR140 is equipped with a 1/2.86-type 3MOS broadcast high-sensitivity sensor and is scheduled to go on sale in June 2017.   
The camera retains broadcast image quality with a level of robustness not previously seen in broadcast camera systems. Resistant to water, dust, wind and severe salt damage, the camera is equipped with a wiper as standard and has the industry's first pan-tilt vibration compensation function D.I.S.S. (Dynamic Image Stabilising System). This allows for  installation in tough, outdoor environments without the need for a housing. 
Meanwhile, further details have been released on the AU-XPD3 expressP2 drive with  ThunderboltTM 3 interface, which is scheduled to be launched in June 2017. 
Designed to maximise the data transfer performance of expressP2 cards for 4K video recording, the AU-XPD3 drive operates at approximately four times the speed of USB3.0. At ten Gbps, three hours of content recorded in AVC-Intra4K422 (4K/24p) onto a 512-GB expressP2 card can be offloaded in about seven minutes. 
        
Panasonic also strengthened its switcher line-up at the Las Vegas event, with the introduction of the AV-HLC100 live production centre. It combines a 1 ME switcher, remote camera controller and audio mixer functions while offering IP and traditional video inputs and outputs. 
The live production centre facilitates one-person operation, particularly useful for remote camera shooting to streaming workflows. It works directly with Panasonic PTZ and systems cameras, discovering and deploying them automatically using IP or via SDI. 
The switcher will launch in the US in Autumn, with availability in Europe likely in early 2018. 
Finally, Panasonic announced that it has been awarded European distribution rights to the ARCAM by AR+. 
The exclusive agreement, which excludes France, will see the robotic camera system paired with Panasonic studio cameras, with the company aiming the bundled offering at news and sports studios, as well as concerts and entertainment shows and stop motion specialists.