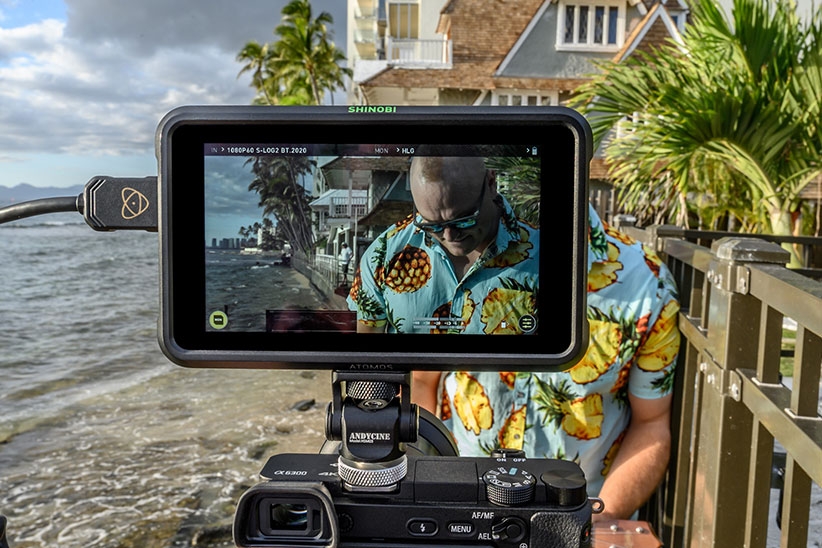 Atomos Launches new Shinobi Monitor
 Atomos have released an affordable and lightweight Shinobi 5" HDR Photo & Video Monitor.
The Shinobi monitor features a 10-bit HDR or SDR display with AR coating and Anti-fingerprint technology. The 4K monitor with a HDMI set up weighs 200g. The Shinobi is mainly designed for monitoring purposes and requires very low power in standby or monitoring modes, which provides a battery time of up to 12 hours.
Shinobi includes monitoring tools for focus, framing & exposure, including Focus Peaking, 4:1 / 2:1 / 1:1 Zoom, Zebra, False Color, Frame Guides, SMPTE Safe Area, Waveform, RGB parade, vectorscope, a new multi-view 'Analysis' view and a flexible 3D and 1D LUT. With the new Analysis feature you can now simultaneously see what you are shooting, view a waveform, histogram and vectorscope, ensuring control of your image. You can switch between different waveform, histogram and vector scope options.
The monitor would be very useful for Vloggers, creatives and photographers. The center mount battery provides balance easy and manoeuvrability. The Shinobi is compatible with cameras, smartphones and HDMI-ready devices.  The Shinobi monitor can be calibrated using X-Rite's i1DisplayPro for ongoing accurate HDR and Rec709 monitoring. This ensures accurate monitoring for reliable results.
Find out more on the website.
Price: £309/$399