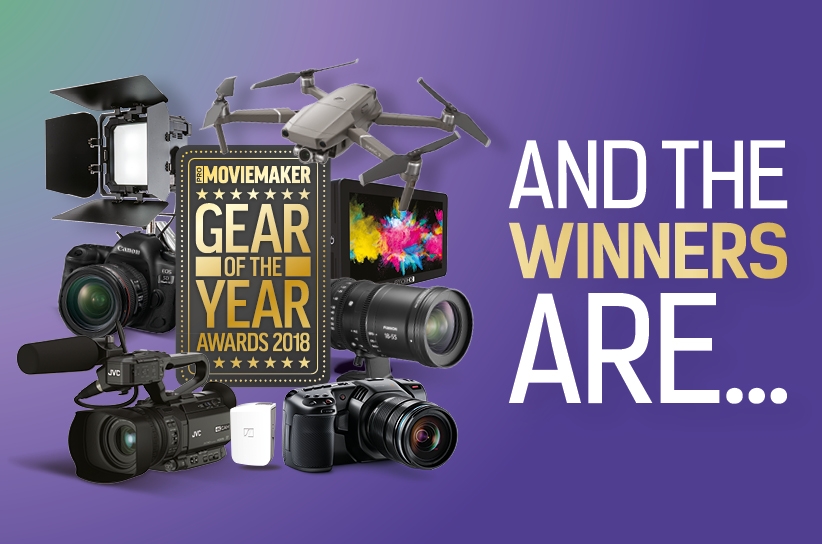 Gear of the Year Winners Revealed!
Gear of the Year Winners Revealed!
Readers of Pro Moviemaker magazine have voted in their thousands to honour the stunning products and services that deserve special recognition for excellence – and now it's time to reveal the results of our Gear of the Year Awards winners 2018.
From cameras and lenses to drones, grip, software and more, just getting a place on the shortlist was a real achievement. To come out on top speaks volumes for the quality, innovation and value of any product- especially as it's voted for by working filmmakers whose reputations rely on the right kit.
There were some clear winners from brands who continue to produce excellent products, but also a few surprises and the arrival of a few new players.
It may come as no surprise that the camera categories saw two wins each for Canon and Sony. The Canon EOS C300 Mark II once again was voted top camera in the Rental category and the EOS 5D Mark IV reprising its success from 2017 in the DSLR category.
And Sony's Sony FS5 II took the title in the Cinema Camera class, with the A7 III scooping the Mirrorless class.
It's also probably no surprise that market-leading brands like DJI won two classes for its drones and gimbal, Manfrotto two for its excellent bags and monopod, and Sennheiser was also victorious twice in audio categories.
But there were also honours for Zeiss, Schneider, JVC, Rotolight, Rode, Audio-Technica and Vocas, among lots of others.
And our two special awards were won by Blackmagic and Fujifilm. Our Innovation of the year goes to the BlackMagic Pocket Cinema Camera 4K, camera that has proved so popular it's sold out pretty much as soon as it hit the shelves. And our Launch of the year once again comes from Fujifilm which launched its own flagship mirrorless camera with a special focus on the professional filmmaker, the X-H1. And with it came the MK cinema lenses re-engineered specifically for the X-mount of the X-H1.
Here is the full list of winners. And watch out for the Spring 2019 issue of Pro Moviemaker magazine, out on February 28, where you can read all about what made the winners so special and why.
The Winners:
DSLR
Canon EOS 5D Mark IV
Mirrorless
Sony A7 III
Camcorder
JVC HM 180
Cinema Camera
Sony FS5 II
Camera for Rental
Canon C300 Mark II
Zoom Lens
Sigma 18-35mm T2
Prime Lens
Zeiss CP.3 XD 50mm T2.1
Lens Accessory
Schneider True-Streak Filter
Drone
DJI Mavic Pro 2
Bags and Cases: Roller/Hardcase
Peli 1615 Air case
Bags and Cases: Backpack/Holdall
Manfrotto ProLight Cinematic Backpack Expand
Monitors
SmallHD Focus OLED
Lighting: Light Panels
Litepanels Gemini
Lighting: Fresnel
Fiilex Matrix II
Lighting: Innovation
Rotolight Anova Pro 2
Memory Cards
SanDisk Extreme Pro 128GB 300Mb/s SDXC II
External Hard Drive
LaCie Rugged RAID Pro 4TB
Editing Software
Adobe Premiere Pro CC
Tripod System
Sachtler Flowtech 75 MS
Monopod
Manfrotto XPro 4 Section Video Monopod
Slider
Kenro Double Distance Slider
Rig
Vocas Spider System
Stabiliser Gimbal
DJI Ronin-S
Wireless Mics
Sennheiser EW 100 ENG G4 Combo Set
Audio Recorder/ Adaptors
Olympus LS-P4
Mobile Accessory
Sennheiser Memory Mic
Innovation of the Year
BlackMagic Pocket Cinema Camera 4K
Launch of the Year
Fujifilm X-H1 and MKX Lenses
Microphone XLR
Audio Technica AT8035
Microphone DSLR
Røde VideoMic Pro+