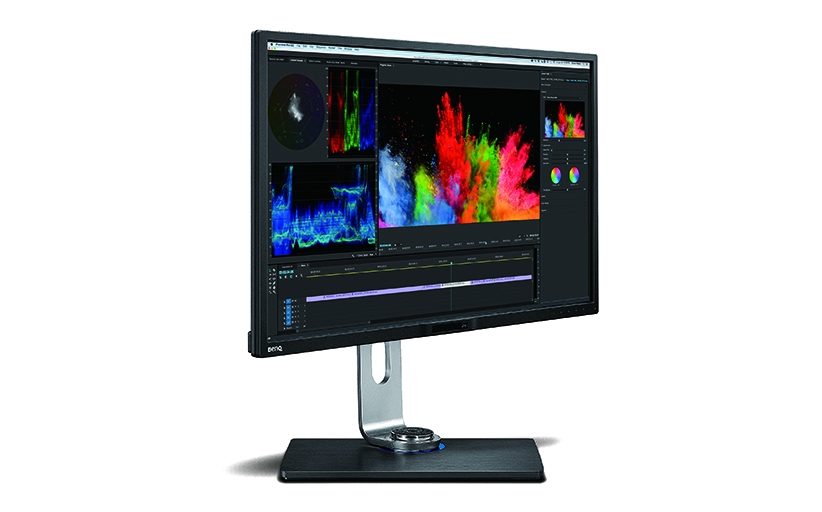 BenQ makes 4K look good
Sponsored promotion: So you've got the 4K camera, what next? To make your 4K workflow dreams a reality you'll not only need to think carefully about memory capacity but also how you view and edit your UHD footage. Fortunately, our friends over at BenQ have launched a new 32in 4K video-editing monitor to do just that. Read on to find out if the PV3200PT monitor is the affordable 4K solution that you've been waiting for…
Designed specifically for the video market, the BenQ PV3200PT 32in 4K UHD monitor uses advanced technologies to ensure accuracy, quality and brightness uniformity for users in need of a professional but affordable monitoring solution.
Resolution is taken care of in the form of a thirty two-inch 4K (3840×2160) UHD screen with 100% Rec. 709 and sRGB colour space. The PV3200PT also achieves an average Delta E value of 2 below in both sRGB and Rec. 709 colour spaces to give you the truest and most representative view of the original image, while the 14-bit 3D Look Up Table improves RGB colour blending accuracy for highly reliable colour and grey tone reproduction.
The PV3200PT also comes complete with BenQ's Palette Master Elements software for hardware calibration with a compatible device. This allows you to fine-tune and maintain the colour performance of the monitor, keeping images as consistent as possible.
BenQ has also catered for a wide variety of video editors with a built-in SD card reader plus three USB ports and an ergonomic design that offers height, tilt, pivot, stroke and swivel adjustments for your perfect set-up. Meanwhile, the OSD Controller puts a world of control at your fingertips, with three preset buttons offering quick access to customised display settings such as Rec. 709, EBU or SMPTE-C for an even more efficient workflow.
With four times the resolution of HD and over a billion accurately displayed colours for just £1,099 and a five-year warranty as standard, what more convincing do you need?
Click here to buy now.