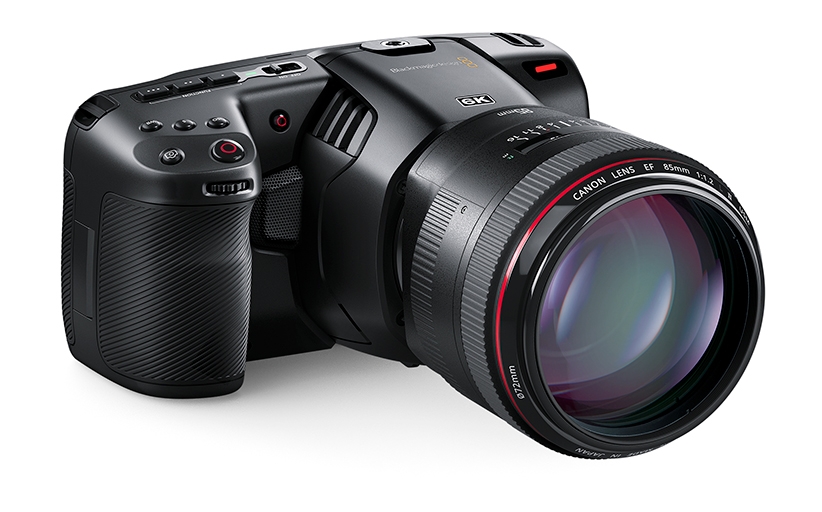 Blackmagic Design announces four new products including the Pocket Cinema Camera 6K
Other announcements include a DaVinci Resolve update, the UltraStudio 4K Mini and a performance measurement tool
Blackmagic's new handheld digital film camera comes equipped with a Super 35 size 6K HDR sensor, 13 stops of dynamic range and dual native ISO up to 25,600. The Pocket Cinema Camera 6K also features an EF lens mount, offering users a wide range of choice when it comes to lenses, with compatible options from Canon, Zeiss, Sigma and Schneider.
The elegant design of the Blackmagic Pocket Cinema Camera packs many-high end digital film features into a small, handheld design. Made from lightweight carbon fibre polycarbonate composite, the camera features a multifunction handgrip with all controls for recording, ISO, WB and shutter angle right at the user's fingertips.
The new 6K model will shoot up to 50 fps at 6144 x 3456 16:9 or 60 fps at 6144 x 2560 2.4:1 and 60 fps at 5744 x 3024 17:9. For higher frame rates, users can window the sensor and shoot up to 120 fps at 2.8K 2868 x 1512 17:9. The camera can even shoot in true anamorphic 6:5 using anamorphic lenses in 3.7K 60 fps at 3728 x 3104.
The Blackmagic Pocket Cinema Camera records using standard open file formats, recording in industry standard 10-bit Apple ProRes files in all formats up to 4K or 12-bit Blackmagic RAW in all formats up to 6K. The camera features built in CFast and SD UHS-II card recorders, and a USB-C expansion port for recording direct to an external media disk. Users can use regular SD cards for HD, or higher performance UHS-II and CFast cards for native 4K or 6K when using Blackmagic RAW. This offers the ability to capture over an hour of full resolution 6K images on a single 256GB SD UHS-II card.
Additional features include:
Compatible with MFT or EF lenses
Standard open file formats compatible with popular software
Built in 5″ touchscreen allows accurate focus when shooting 6K
Blackmagic OS as used in URSA Mini and URSA Broadcast cameras
Includes Blackmagic Generation 4 Color Science
Features full size HDMI for monitoring with status overlay
Professional mini XLR input with 48 volt phantom power
3D LUTs can be applied for both monitoring and recording
USB-C port allows recording directly to an external disk
Built in timecode generator for syncing multi-camera shoots
Supports still frame capture up to 21.2 megapixel
Supports remote camera control via Bluetooth
Powers via 12V DC input and can recharge via USB-C
Includes full DaVinci Resolve Studio for post production
The Blackmagic Pocket Cinema Camera 6K is available now from Blackmagic Design resellers worldwide for $2,495.
Blackmagic's DaVinci Resolve 16.1 public beta is available for download now. The update promises major improvements to the new 'cut' page, designed to speed up editing time.
Another key feature is the new Smart Indicator, which estimates where the user wants to add an edit or transition, then allows it to be applied without placing in and out points on the exact locations of the clips.
Additional features include:
New updates allow editors to improve the sorting of media
New cut clip tool allows instant cutting of clips in the timeline
New button changes on DaVinci Resolve Editor Keyboard
Boring Detector shows areas of the timeline that lack interest
New Sync Bin organizes and displays sync media for easy shot selection
Close up edit mode now includes face recognition to better frame shots
New sync window allows manual syncing of clips, or audio-based sync
Multiple other improvements in editing, colour, Fusion and Fairlight audio page
Blackmagic's new UltraStudio 4K Mini is a new capture and playback solution for Thunderbolt 3 computers with 12G-SDI, HDMI, analogue video and audio connections. The device lets users build solutions for editing, colour grading, live broadcast graphics, archiving from traditional broadcast decks and live internet streaming.
UltraStudio is designed to work with video editing software such as DaVinci Resolve, Avid Media Composer, Adobe Premier Pro, Final Cut Pro and more, on Mac, Windows and Linux.
Additional features include:
Thunderbolt 3 interface for 40 Gb/s capture and playback.
3 models available with both portable and rack mount options.
12G-SDI, HDMI 2.0, YUV/NTSC/PAL video and balanced audio.
Supports 45W trickle charging to connected computer
Supports all SD, 720p, 1080i, 1080p, 2160p and 4K DCI formats
Front panel with LCD, mic input, headphone and SD Card slot
The Blackmagic UltraStudio 4K Mini is available now from Blackmagic Design resellers worldwide for $995.
Blackmagic's final announcement is that of a new Blackmagic RAW Speed Test, a performance measurement tool for Mac OS X. The tool tests a computer's CPU and GPU speeds using a full resolution Blackmagic RAW image.
The tool promises realistic and accurate results, with results presented in an easy to read format.
The Blackmagic RAW Speed Test is available now as a free download from the Blackmagic Design website.
For further information on any of the products listed, please visit Blackmagic Design's website.