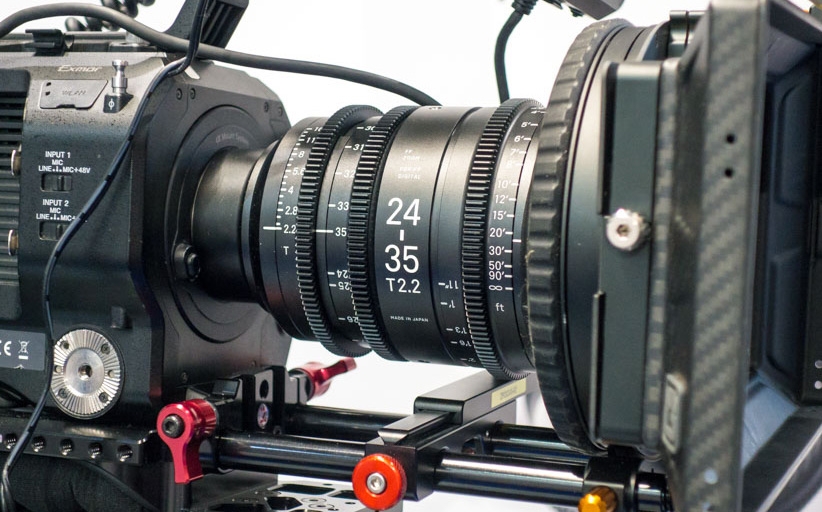 BVE's dazzling dozen!
The BVE Show at London's Excel exhibition centre saw the UK filmmaking industry come together to meet, learn, network and check out lots of top-quality gear from virtually all of the major manufacturers. And of course, Pro Moviemaker magazine was there meeting readers and distributing the latest issue of the magazine a few days before it hits the news shelves.
We had a good look round the show, and amid lots of super-expensive TV and broadcast equipment was also lots of new kit of interest to the smaller, independent filmmaker. Here are the top 12 things that grabbed our attention at the show this week – in no particular order:
Fujifilm's new cinema lenses in Sony E mount
There's been lots of hype about these brand new optics and this was the first publish showing of them – the E-mount MK 18-55 and 50-135mm T/2.0 lenses. They're small, compact and pulled a big crowd right through the three days of the show!
---
Gitzo's carbon fibre boom poles
It may seem pretty difficult to get excited by boom poles for mics, but Gitzo's brand new carbon fibre offerings are a bit special! It was the world first look at these new carbon fibre beauties that are light and dampen down vibration really well. Prices and spec haven't been announced yet!
---
Mr Libec shows off his new HFMP!
We test the new Libec Hands Free Mono Pod in this month's magazine, and love it. The BVE show was the UK public's first chance to get hands-on with the new freeststanding monopod. And there to show it off was Libec's Sales Manager Koichi Yamaguchi, the grandson of the original founder of the company 62 years ago!
---
Panasonic's UX180 camcorder
Panasonic had two new cameras that were crowd favourites – the GH5 and also the UX180 camcorder. This is the professional version of the HC-X1 Panasonic we test in this month's issue with the same basic, and very impressive, spec. But with the addition of things like live streaming via SDI output and a better warranty.
---
XEEN's fast and wide full frame prime lens
Samyang's XEEN range of full frame prime lenses grows once more with the 20mm T/1.9 optic shown to the public for the first time at BVE. With it being the same size and price as its other prime siblings, they all work well together as a set so there's no fiddling about when changing rigs.
---
Sigma's stunning lens range!
They might be giants in the stills photography world, but Sigma looks set to take on the best of the moving-image world too, with its range of impressively fast prime and zoom cine lenses. The Japanese optics firm had a full range on show, but the biggest interest was for the zooms like this 24-35mm T/2.2 fitted to a fully rigged-up Sony FS7.
---
Doctor Tenba will see you now sir!
A doctor's bag-style opening was the big news on the stunning Tenba cinema bag range, giving easy access to your kit. With lots of sizes for all types of camera, and styles from shoulder back to backpack to wheelie case that's airline-friendly, the Tenba range looked good and well designed.
---
Schneider's Tilt lens primes
German lens maker Schneider-Kreuznach showed its full range of cine prime lenses but the real show-stopper was the first of the new range that features a tilt facility. Visitors were wowed at how the focusing plane could be changed by simply tilting the lens on the camera body. We can't wait to test one properly!
---
Zeiss goes light!
The quality of Zeiss lenses is legendary, and now filmmakers who are looking for Zeiss quality in a lighter package have a new lens to lust after. It's the 21-100mm T/2.9 Lightweight Zoom that visitors were getting their hands on. As well as Zeiss huge range of lenses for lots of different cameras.
---
It's a kind of Magic!
SLR Magic showed a whole range of prime lenses including a set of anamorphic optics for true cinematic widescreen applications. The firm also had PL primes, lenses for full-frame Sony E mount and Micro Four Thirds. All at prices many other manufacturers can't come close to.
---
Canon's work of art!
As well as the whole range of cinema cameras like the C300 Mark II and C700 and lots of lenses, Canon gave you something to have a go filming with an artist painting a mural with an EOS C as it centre piece. 
---
The ultimate camera dolly?
It might look like the best ever remote-controlled toy, but Mantis 360 remote dolly system is a whole system of motorised dollies for serious camera work. This one can go at 35mph off-road and there are studio versions and lots of accessories like GPS modules so they can follow a pre-set course. Looks like fun to rent for a one-off job for sure!