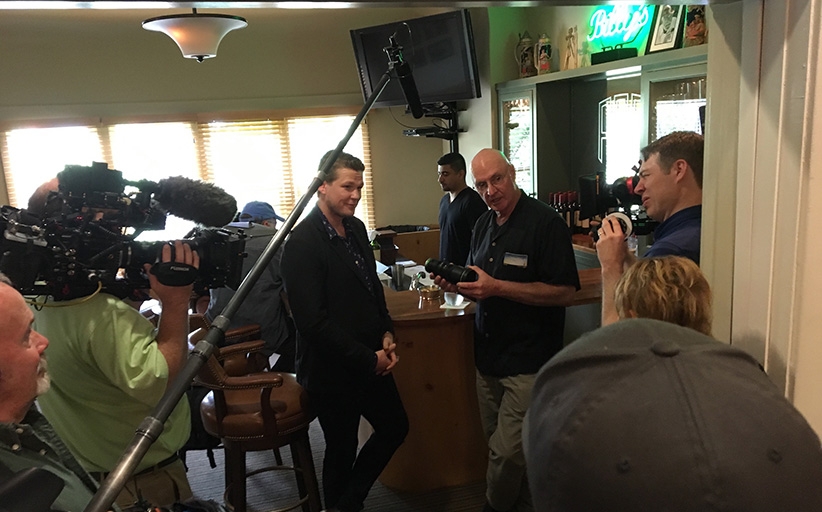 Fujinon's new MK Lens Line-Up Gets a Hollywood Launch
Los Angeles-based cinematographer Jay Holben attended the Hollywood launch of Fujifilm's ground breaking new MK lens family and he sent Pro Moviemaker back this exclusive report from the event.
On a sunny morning in Los Angeles a small crowd of cinematographers and press gathered at the American Society of Cinematographers clubhouse in the heart of Hollywood for the unveiling of the new Fujifilm MK Fujinon lens family.
This exclusive event gave the 40-or-so attendees a golden opportunity to get hands-on with the two new MK optics being announced, the 18-55mm T2.9 and 50-135mm T2.9. With a price point below $4,000 (USD), these lenses are aimed at the low budget and documentary filmmaking market. At present they are exclusively Sony E-mount (FS-700, FS7, FS5), which, according to Fuji's research, occupy 57% of all interchangeable lens video-enabled cameras sold on the market today. Incidentally the breakdown also showed that 32% are Canon EF while 9% are micro 4/3. A mere 2% are PL.
Probably the most surprising aspects of the new lenses are their size and weight. Both are identically sized at just 206.3mm long (8.1 inches) and weigh only 1kg (2.2lbs). Their light weight is partially due to their diminutive size but also to the fact that they feature a composite poly-carbonate body as opposed to metal alloy.
One of those who had the chance to use a pre-production lens was Matt Duclos of Duclos Lenses, and he offered his neutral, third-party insight following several weeks of testing. "I'm very pleased with the optical performance," he revealed. "To be completely upfront, I wasn't sure about the plastic body at first, but the more I had it and the more I played with it, I was ok with it. It isn't a trade-off for any other aspect. Actually, the plastic body gives you more versatility and you don't lose any performance in the optics."
Duclos noted that they measured 200 line pairs on their lens projector at the centre of the lens at both 18 and 55mm – "a phenomenal resolution that is beyond 4K."
Fuji also invited a handful of cinematographers to come see the lens for the first time and be dropped into the spotlight to offer other attendees their initial professional reactions. One of these was Eric Longden, who got his start in cinematography shooting skate videos as a kid. This encouraged him to shoot action sports, which ultimately led into commercial photography for clients such as Axe, Beats by Dre, GQ Magazine, Toyota, Walt Disney and many more.
"With my shooting style I need to move quick," Longden explained to me. "I've got the camera and the lens and that's it. I don't use a lot of accessories: if I have to get low or climb on a car, I need the smallest, lightest rig possible. I really like how small and compact these lenses are. They have the cinema-style housing, which is great for me and the two focal lengths are perfect and cover my whole range."
The MK 18-55mm T2.9 is shipping now with a price point of $3,799 (USD). The MK 50-135mm T2.9 will start shipping in July of 2017, and its price has not yet been announced but is rumoured to be at a similar level.
Jay Holben was a cinematographer for more than a decade working in features, documentary, commercials and television. He is a faculty instructor for the Global Cinematography Institute and the co-chair of the ASC Technology Lens Subcommittee. He is currently an independent producer living in Los Angeles.