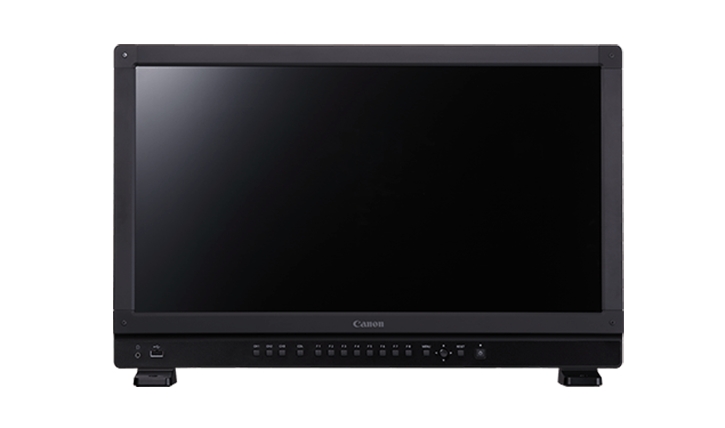 Canon Announces Free Updates For 4K Displays, Improving Efficiency for Video Production Workflows
Canon Europe today announces a free firmware update for six models of professional 4K reference display; the DP-V1710, DP-V1711, DP-V2410, DP-V2411, DP-V2420 and DP-V2421.
These new displays will be available in early June 2019, the firmware updates will support a number of feature upgrades including streamlined workflow efficiencies for 4K / HDR (High Dynamic Range) production. 
With the practical implementation of 4K and 8K broadcasts gaining traction, Canon's firmware addresses the global demand for efficiency in 4K HDR production workflows. As video production environments are moving forward with the adoption of 4K and 8K equipment, alongside conventional 2K equipment, different video signals – such as resolution, luminance and colour gamut – are increasingly handled at the same time. The firmware update enables the DP-V1711, DP-V2411 and DP-V2421 to view these differing video signals, including 4K (6G/12G-SDI) and 2K (3G/HD-SDI), split into two or four screens on a single display, alongside the display of an audio level meter for each video. Following the update, all six displays will offer expanded multi-screen-display functions, including the ability to simultaneously display a waveform monitor and vectorscope. This will improve operational efficiency, which contributes to a reduction in the amount of equipment needed.
Expanded HDR Monitoring Assist Functions
With the proliferation of HDR, conventional SDR (standard dynamic range) and HDR video production is increasingly performed simultaneously. Via the new updates, three of the monitors – the DP-V1711, DP-V2411 and DP-V2421 – will display a waveform monitor for input signals, alongside a waveform monitor for post-conversion signals, allowing accurate assessment of image quality while comparing the waveforms of HDR and SDR signals. This leads to improved efficiency throughout the whole workflow.
HDR production also requires the analysis of the latest HDR standards. The firmware update provides improved visual and monitoring of HDR images. The newly added HDR histogram function means the user can easily check the mapping of the luminance, ultimately helping to control exposure correctly.
The new firmware also allows the automatic switching of image settings based on recognition signals, such as the newly defined Video Payload ID codes, Perceptual Quantization (PQ) and Hybrid Log-Gamma (HLG) – as well as SDR. This is ideal for environments where there is a mixture of different input signals such as HDR and SDR, whilst enabling the signal to be monitored with the right settings.
Multiple displays can be synchronised via LAN at shooting locations or at broadcast studios, making the batch application of changes to parameters, such as image settings and channel settings, possible. The updates enable various functions to strengthen HDR production including warnings and error log displays that contribute to reducing mistakes during workflow management.
For more information about Canon Europe's range of 4K displays, please visit:
www.canon-europe.com/video-cameras/4k-displays