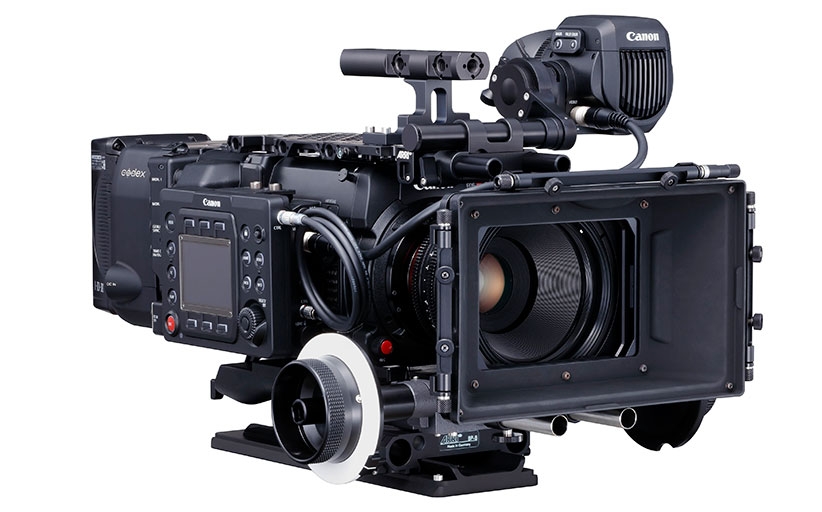 Canon goes full frame with C700 FF
Canon has unveiled a flagship full frame Cinema EOS camera, the C700 FF. It has a new full frame 38.1 mm x 20.1mm CMOS sensor and is capable of recording up to 5.9K. The EOS C700 FF also supports multi-format recording, shooting with EF, PL and anamorphic lenses. When using EF lenses, the C700 FF supports Canon's Dual Pixel CMOS AF, which is ideal for full frame format shooting.
Canon claims the sensor priduces unprecedented low noise, natural skin tones, shallow depth-of-field, and a broad ranging tonality that exceeds 15-stops of dynamic range. The newly designed sensor also allows the user to explore different sensor modes including full frame, Super 35mm and Super 16mm, whilst recording in a wide range of versatile recording formats including ProRes, XF-AVC (internally to CFast cards) and Canon's uncompressed Cinema RAW.
Using the dedicated CODEX CDX-36150, the EOS C700 FF can record 5.9k 12/10-bit RAW, with 4K and 2K RAW 12-bit options available, as well as shooting ProRes 4K. For high frame rate shooting, the EOS C700 FF can shoot up to 60fps (5.9K), 72fps (4K crop) and at up to 168fps (2K crop). Using the 5.9K oversampling processing, the camera is also able to deliver a higher quality 4K and 2K image with reduced moiré and noise.
The C700 FF is available in both EF lock & PL mount, compatible with Canon's extensive range of EF series and Cinema lenses. Thanks to the vertical 20.1 mm sensor size, the C700 FF also enables users to shoot with anamorphic lenses. Utilising the Canon EF lens system, users can benefit from the full sensor size whilst shooting, as well as Canon's innovative Dual Pixel CMOS AF which ensures focusing by locking onto and tracking a moving subject; critical in higher resolution recordings.
The EOS C700 FF is also compatible with existing Canon EOS C700 accessories including the EVF-V70 viewfinder, the MO-4E/ MO-4P B4 mount adapter and the OU-700 remote operation unit. It is set to cost £31,250/ $33,000 when it's released in June. 
Written by Matt Snow