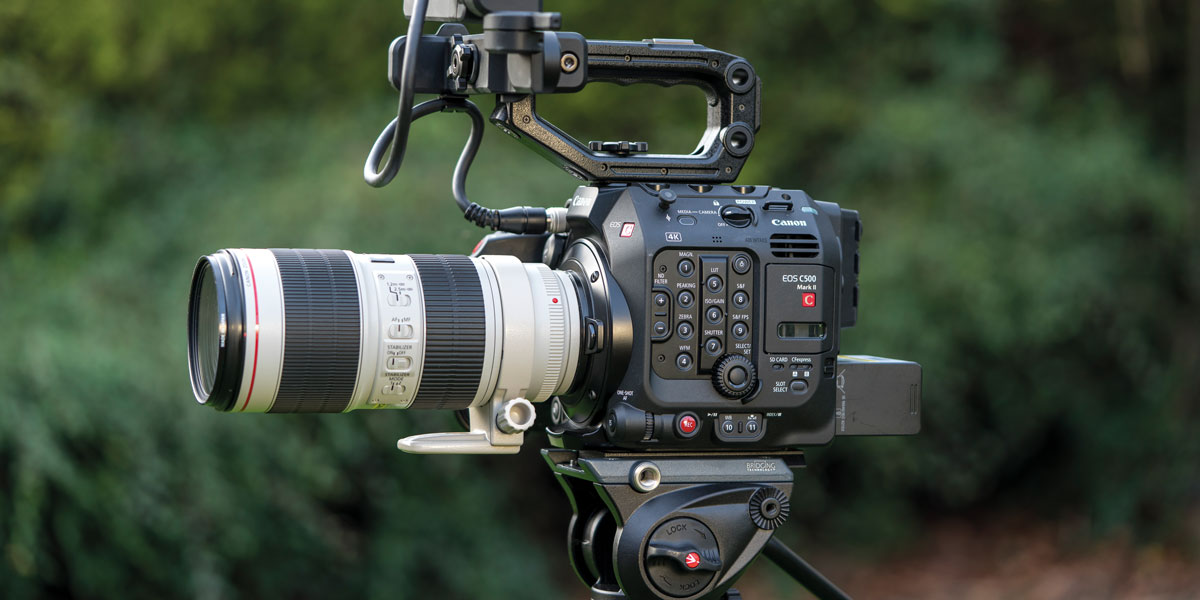 Canon passes the test of time
Posted on Mar 30, 2023 by Samara Husbands
The proven C500 Mark II is now the brand's full-frame flagship – and more affordable following a price cut
Words and photos Adam Duckworth
Camera technology moves at an incredible pace, with new models hitting the market all the time, usually boasting all the latest innovations and a significant increase in price. Yet there's one camera so advanced that even now – three years after launch – it has spec exceeding pretty much everything else on the market. Best of all, its price has just been cut massively to £10,543/$10,999 body only.
That's the Canon EOS C500 Mark II. We first tried it out in prototype form in 2020 and fell in love with pretty much everything – apart from the steep price of £16,999/$15,999. Back then, we said that if you could stretch to it, it's a camera the majority of filmmakers could harness for most paid jobs and get better results than ever. Much of that is thanks to the convergence of all the latest tech packed into one body.
We stand by that conclusion. But now that it's more affordable, it's become an incredible buy for independent filmmakers.
It still has fantastic low-light performance and shallow depth-of-field you can only get with a full-frame sensor, high-tech AF that really works, in-body image stabilisation and manageable Raw files you can record without an external unit – all in the body of a multi-purpose cinema camera. 
The C500 Mark II is a hybrid of Canon tech borrowed from the firm's cine cam range at both the affordable and super-exotic ends of the market. It blends it all into a camera that's not a jack-of-all- trades, but a master of them.
It has the same 5.9K full-frame sensor as the C700 FF, which cost a whopping £31,490/$33,000 and recorded in 16-bit Raw, though was intended for multi-crew use. The C500 Mark II is designed for a single operator and uses 12-bit Canon Raw Light, recording to a pair of CFexpress cards. It also offers 4K 4:2:2 10-bit XF-AVC, making it broadcast-ready with a richly detailed codec.
The C500 Mark II is a do-all machine – you can strip it down for gimbal or drone use, but also build it into a broadcast or cinematography rig with extension units.
By bolting on the side grip, it makes it easy to handhold as well as providing more control buttons. Fasten the top handle and screen bracket and you have a perfectly serviceable camcorder. 
At the rear is a port where you can plug in one of the accessories, such as the EVF. This tiltable, 1.77m dot OLED viewfinder is solid, bright and has an adjustable dioptre wheel.
In its place you can mount two different units. The slimline Extension Unit 1 EU-V1 offers Ethernet, an RS-422 socket and genlock/sync out options. The larger Extension Unit 2 EU-V2 has a V-Mount plate for bigger batteries, two XLR ports, a 12-pin lens terminal and 24v DC out to power other peripherals, turning the camera into a broadcast- and streaming-ready production unit.
Even the standard 12G-SDI interface offers four times the speed of 3G-SDI, enabling 4K 50/60p output with a single cable, while HDMI output allows 4K 50/60p.
The standard EF mount can be unbolted in seconds and replaced with an EF Cinema Lock mount, which is ideal for cine primes with a follow focus rig attached, or a PL mount which supports the Cooke/i system to communicate lens data to the camera. 
But stick to Canon EF lenses and its Dual Pixel CMOS technology uses on-sensor AF sites that cover 80% of the frame and track moving subjects well.
You can touch the screen and set a focus point, and the camera will track the subject. Or by touching a different point on the screen, the camera will rack focus. 
The EOS C500 Mark II supports five-axis IBIS with a fixed sensor and advanced digital system. When a suitable lens is attached, focal length data is received and the IS system matched to the lens, which is then cleverly countered automatically in post. There is a slight crop of the image, though. 
However, the IBIS only works on XF-AVC and not when shooting Raw, because it's a digital system rather than a stabilised sensor.
With a tall body that echoes the rest of the Canon Cinema range that sits below it, the C500 Mark II is a well-sorted machine offering built-in ND filters from two to ten stops, professional audio controls and a battery that works for a long time. 
All the functions can be accessed via a new on-screen display with all the complexities of a professional machine. You can change settings via a large thumb wheel on the left of the camera body or the joystick on the monitor – and it's possible to alter certain controls through customisable buttons. 
There are waveforms, zebras and false colour warnings. For HDR shooting, it records in PQ/HLG, and to maximise dynamic range for grading afterwards, you can select Canon Log 2 and 3. 
For high-frame-rate recording, there is 50/60p in the full 5.9K with Cinema Raw Light, which goes up to 120fps in 2K or HD – but there's a crop and it's manual focus only. 
The heart of the camera is that 5.9K sensor, and thanks to the Digic DV7 processor, you can record 5.9K Cinema Raw Light 12-bit or DCI 4K XF-AVC 10-bit 4:2:2.
Using the camera in 4K XF-AVC, the sensor oversamples from the 5.9K signal, suppressing moiré and reducing noise for extremely high quality. It's a time-proven codec that manages to create all the same characteristics of other famed Canon cinema cameras and produces simply incredible footage. 
The verdict
Canon's EOS C500 Mark II is an incredibly impressive camera that might not be brand new, but still uses the latest technology, has a modular style and that impressive 5.9K full-frame 35mm sensor. It records 12-bit Cinema Raw Light or 4K 10-bit 4:2:2 XF-AVC to memory cards, boasts autofocus you can trust and in-body image stabilisation. It's an all-time classic. 
It's not perfect though, as the menus could be simplified, the IBIS doesn't work when shooting Raw and fastest frame rates are limited to 120fps with a sizeable crop.
Unless you only shoot action sports, none of this is likely to be a deal-breaker.
Now it's more affordable than ever, the C500 Mark II is good enough to shoot everything from corporate videos to films for the big streaming services. 
For more information head to canon.co.uk.
Origninally publshed in the March/April 2023 issue of Pro Moviemaker.