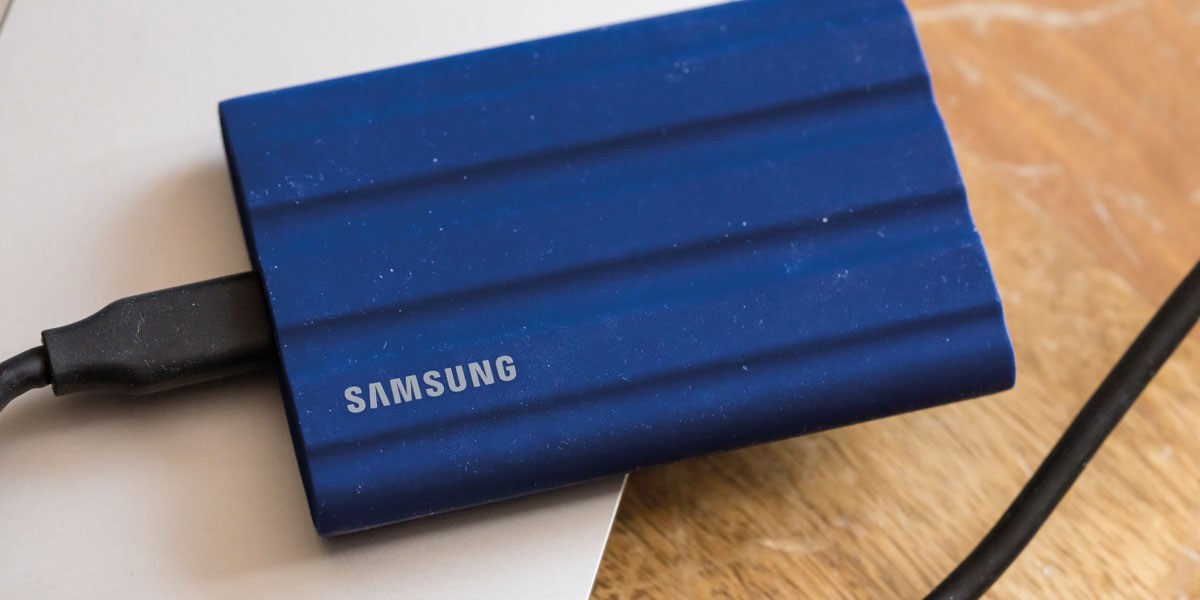 Samsung's Shield of dreams, the Portable SSD T7 Shield
Posted on Mar 30, 2023 by Samara Husbands
When your goal is working on bigger assignments, you need a portable drive that won't let you down, like the rugged Samsung Portable SSD T7 Shield
Advertisement feature
It has taken a very short time for the career of British filmmaker Billy McGarry to take off. He started shooting short corporate videos for estate agents and restaurants, before moving on to promotional films for major international clients. Now, he's doing what many commercial filmmakers dream of – narrative drama shorts and feature films. 
During that time, he's had to constantly upgrade cameras, lenses and grips to keep up with the more demanding clients and longer days on-set in adverse weather conditions. McGarry admits one of the best upgrades he has made was going from mechanical hard drives to SSDs. That makes the Samsung Portable SSD T7 Shield his perfect storage solution, thanks to its compact size, fast speed and resistance to the elements in tough environments.
"A few years ago, I saw a Samsung portable SSD being used by a colleague on location to transfer data after a shoot. I could scarcely believe how fast it was compared to my HDD drives," says McGarry. "I did some investigating and very soon discovered the benefits of a SSD – no moving parts to go wrong and increased resistance against failure – I just knew I had to make the jump.
"I've recently been using the new Samsung Portable SSD T7 Shield – and to say I'm impressed is an understatement." It has proved invaluable, as McGarry is now working as a cinematographer and editor on a full-length film called The Miner's Son for a leading production company. 
"This is the third film I've had the pleasure of working on for this company. For anyone that doesn't know about the film industry, it's pretty heavy going when shooting for small production companies. Shoots are fast-paced under tight deadlines and in some pretty tough conditions." 
This is where the Samsung Portable SSD T7 Shield comes into its own. Its rugged aluminium body is good for heat dissipation – despite transferring so much data from full-frame cameras shooting in up to 8K. Its body has a rubber cover to provide drop protection up to 3m/9.8ft and it is water and dust resistant; rated to IP65.
"In some scenes, we were in a working pit in Wales in -4°C, then other times at the seaside with all the salt air; later a scrap yard in the scorching summer of 2022 in 29°C," explains McGarry.
"I like to keep hard drives on me all the time on-set, so the gear needs to stand up to whatever I throw at it. One of the things I love is its durability, I dropped it a few times and it easily withstood the knocks.
"When running around transferring footage with lots of people moving on-set, accidents do happen. I was filming something back in 2021, when I dropped a mechanical hard drive and it broke; we had to have the data recovered, which took time and was expensive.
"So, when I dropped the Samsung Portable SSD T7 Shield for the first time, I have to admit my heart skipped a beat. But it held up with no problems. It's really durable, manages well in hot and cold weather – an issue with HDD mechanical drives – plus it is superfast!"
When out filming, McGarry uses a state-of-the-art laptop with the latest Thunderbolt connections. Thanks to respective read and write speeds of up to 1050MB/s and 1000MB/s, the Samsung Portable SSD T7 Shield is almost ten times faster than many external HDDs, and Thunderbolt helps to achieve these incredible speeds.
"It used to take an hour – transferring a lot of footage is done in a matter of a few minutes now," gushes McGarry. "It still impresses me to see just how rapid it is."
The portable drive comes plug-and-play ready for a Mac, but also with drivers for Mac and Windows, as well as software for setting a name and password to give you additional data security. It's even compatible with Android smartphones. Included Samsung Magician software also monitors its health and allows you to change settings.
Available in black at 4TB or black, blue and beige from 1TB to 2TB, the Samsung Portable SSD T7 Shield weighs 98g and is 88mm long and 13mm thick. It's the perfect companion to any ambitious filmmaker, no matter what stage of their career.
More information samsung.com/uk.
Originally published in the March/April 2023 issue of Pro Moviemaker.