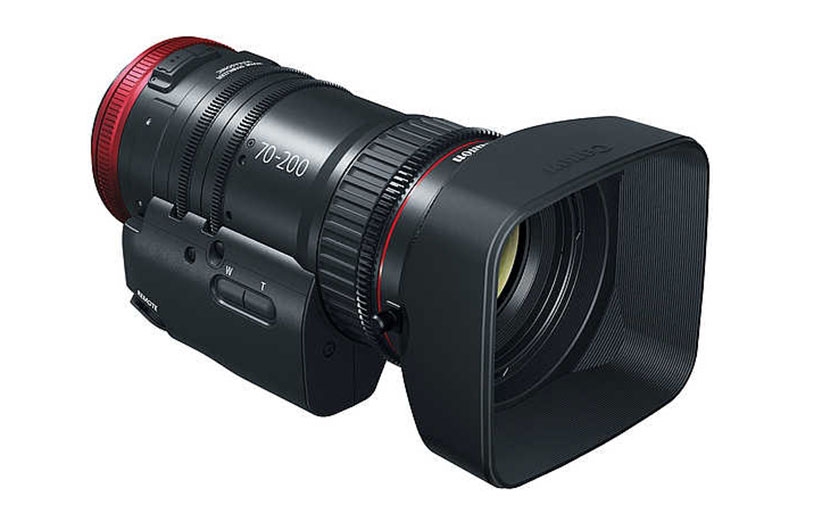 Canon's new 70-200 cine zoom
Canon has revealed a new Compact-Servo 70-200mm Telephoto Zoom Lens. It's the second in the new range of Canon cine lenses, to go alongside the similarly sized and specced 18-80mm lens. It's for Super35-sized sensors and will be priced at £6,099, not including the servo grip, in the UK later this year. Canon's information says: 
Canon Adds Versatility to Family of High-Quality, Affordable Compact-Servo Lenses with New 70-200mm Telephoto Zoom Lens
New Lens Features 4K Optical Performance, Servo Drive Unit, Image Stabilization, Autofocus and Auto Iris Functions*, Ideal for ENG, Documentary, and Budding Filmmakers
Canon is proud to announce today the new COMPACT-SERVO 70-200mm Telephoto Zoom Lens (model name CN-E 70-200mm T4.4 L IS KAS S), a compact and lightweight 4K lens constructed for users that demand versatility and portability. A bridge between traditional Canon EF lenses and CN-E cinema lenses, the COMPACT-SERVO 70-200mm can be ideal for filmmakers and documentary shooters who want the control and quality of cinema optics with the lightweight, compact design and features of Canon's EF lenses.
The second in a new class of Canon lenses, the COMPACT-SERVO 70-200mm Telephoto Zoom Lens is a cinema-style lens that includes a servo drive unit as a standard feature. Additionally, the lens incorporates Image Stabilization, Autofocus, and Auto Iris functionality*, three extremely useful features not commonly found in cinema lenses, but are popular in EF lenses. The lens also provides high image quality that supports 4K image productions and was designed to be utilized in a variety of shooting styles including, hand-held, shoulder mounted, and tripod mounted.
The new COMPACT-SERVO 70-200mm Telephoto Zoom Lens is a 4K lens and features autofocus and optical image stabilization (with compatible camera models*), resulting in high-resolution imagery, with the ability to assist filmmakers in capturing the shot they envisioned. Compatible with EF-mount Super 35mm large-format cameras, the lens maintains brightness across the entire focal range at T4.4 (equal to f/4.0). The lens is also compatible with both the Canon EF 1.4x III (expanded focal range of 98-280mm) and EF 2x III (expanded focal range of 140mm-400mm) external extenders, expanding the focal range of the lens for additional versatility when the shooting situation calls for it.
For added convenience, cinematographers can control many of the features of the lens in a variety of ways through the EF-mount communication, including Dual Pixel CMOS AF, push auto iris, record start and stop and remote lens control via the camera with an optional remote control, compensation for chromatic aberration** and peripheral illumination, metadata acquisition, and selection of T-number display**.
The COMPACT-SERVO 70-200mm Telephoto Zoom Lens features a nine-blade iris aperture diaphragm to help give footage a truly artistic and beautiful look and feel, providing the much desired "bokeh" effect in the out-of-focus areas.
The lens comes equipped with a Servo Drive Unit, which provides seamless switching between servo and manual modes, allowing videographers motorized control of focus, zoom, and iris settings. The Servo Drive Unit is compatible with broadcast style industry-standard lens controllers including Canon's ZSD-300D zoom demand and FPD-400D focus demand. Like the Canon COMPACT-SERVO 18-80mm Zoom Lens, the ZSG-C10 accessory grip will be compatible with the new COMPACT-SERVO 70-200mm Telephoto Zoom lens, further enhancing ease-of-use for ENG and "run-and-gun" style shooters. The grip connects to the lens through a 20-pin cable, allowing a variety of lens functions to be controlled from the grip, including zooming via a rocker switch, one-shot AF and the starting and stopping of a recording. When the lens and grip are being used with the EOS C100 Mark II, EOS C300 Mark II and EOS C700 Cinema Cameras, users will also have the ability to control the zoom and iris from the camera's grip unit.
The Canon COMPACT-SERVO 70-200mm Zoom Lens is scheduled to be available later in 2017***. In addition, the ZSG-C10 accessory grip is currently available for an estimated retail price of $499. For more information please visit usa.canon.com/compactservo
† Based on weekly patent counts issued by United States Patent and Trademark Office.
* Image Stabilization, Autofocus, and Auto Iris functions are enabled with the following compatible camera models only: Canon's Cinema EOS C100 Mark II, EOS C300 Mark II and EOS C700.  To enable these features, these camera models will require a firmware update that is scheduled to be released in the second half of 2017.
** These features will not be available on the EOS C100 Mark II camera.
*** Availability, prices and specifications are subject to change without notice. Actual prices are set by individual dealers and may vary.
Canon Compact- Servo CN-E 70-200mm T4.4L IS Lens with ZSG-C10 Accessory Grip — SLANT FR