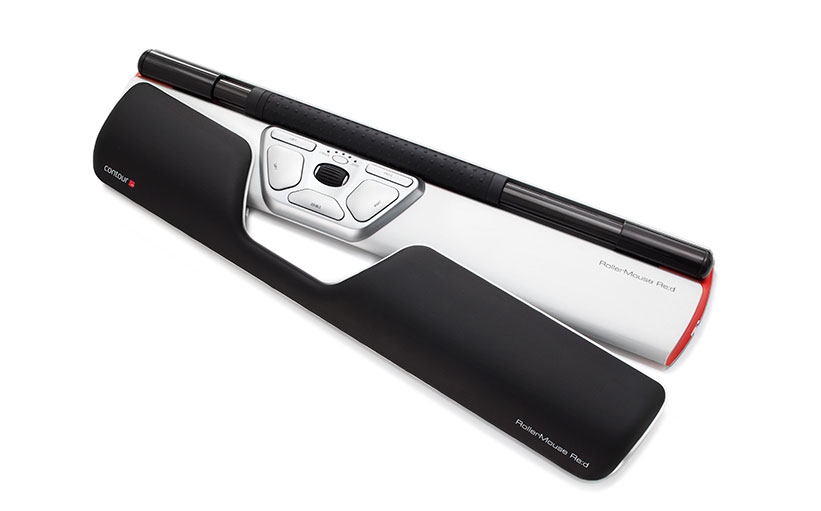 Contour's mighty mouse!
Sponsored promotion: Contour's revolutionary RollerMouse is not just a fantastic tool packed with functionality for film editors but it's also been ergonomically designed to offer protection from conditions such as RSI.
Every so often a product comes along that delivers on a number of different fronts, making it not just a great piece of kit to use but with extra benefits included as part of the deal. Contour's phenomenally successful RollerMouse falls very much into this category, offering a wide range of killer features that are designed to make video editing more intuitive and easy to manage while at the same time offering crucial protection from some of the range of serious health issues that can affect those who are working at a computer for long periods at a time.
The secret to the RollerMouse's success lies in its clever design. It's set up so that it requires no reaching to the side, which speeds up workflow and helps keep focus on the screen activity. Controls are also positioned close to the keyboard, meaning that it's easy to reach for keyboard shortcuts. Meanwhile the side to side motion of the roller bar means that the RollerMouse suits timeline based editing, and it's also great for skimming video and audio clips.
Additional buttons and a scroll wheel brings added functionality, while the use of an optional drivers' program means that functions can be changed to suit repetitive actions, for example a double-click might be altered to CTRL by many users. Adjustable cursor speeds mean that the RM can be easily adapted to suit different types of work, high cursor speeds ensuring that this product is equally at home when working with twin or triple monitor workstations. A further benefit is the fact that, while the RM is large than a traditional mouse, its working footprint is more efficient, so no space is required on either side of the keyboard.
Working Smarter
The key benefit of the RollerMouse is that fact that, while it's one of the most effective and time saving tools around for those involved in NLE (Non Linear Editing), it's also been designed very much with the health of the operator in mind, something that's crucial given the amount of time many film editors might spend working with a keyboard in an average day. If you were to succumb to one of the many repetitive strain injuries that those in this line of work are prone to then it could seriously damage your career and your long-term health, but the RollerMouse is set up to give you the very best chance of avoiding that risk.
The design of the RM is the key to its effectiveness. Centrally placed, and in front of your keyboard, the RollerMouse is easy to reach, requires no awkward gripping and reduces the need for wearing and wasteful arm movements. As well as encouraging a light touch, the RM also invites load-sharing between both hands, and can alleviate the RSI inflammation and pain that is often associated with problems such as Carpal Tunnel Syndrome, Tendonitis, De Quervains and many more common conditions.
Even if you don't have any pre-existing pain, the RollerMouse is a device that can help keep wear and strain injuries at bay. As you become familiar with the controls of the RM you'll no longer need to reach, stretch, or twist to control the cursor on your computer. RollerMouse encourages you position your arms in a naturally relaxed position, in front of your body, rather than out to the side, removing strain to shoulders, arms and elbows.
With the option of integrated or extended wrist rests, you can set up the RollerMouse to so that it perfectly suits your individual needs. It's the perfect solution, for those who want a great tool to work with but who also have an eye on their long-term health. More information: www.contour-design.com
For USA try before you buy enquiries, click HERE. And for UK try before you buy, click HERE.
For a UK reseller click through to JIGSAW.