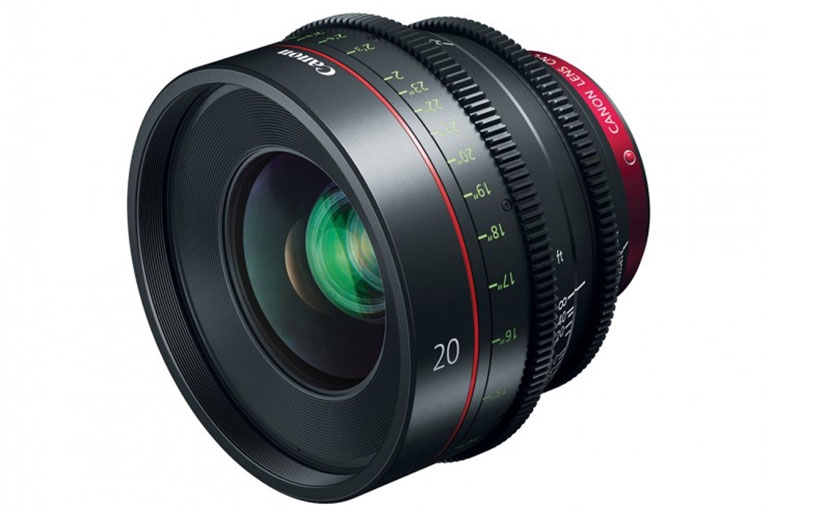 Fast wide-angle revealed by Canon
Canon has unveiled the CN-E20mm T1.5 L F, a wide-angle lens perfect for high-quality cinematic productions in 4K as part of its cine prime lens range. The CN-E20mm T1.5 L F boasts a large diameter aspheric lens and low dispersion glass, to cut spherical aberration.
With a bright T No of 1.5, the CN-E20mm T1.5 L F captures stunning 4K footage in low light, perfect for nature documentaries. To enhance creative shooting, the CN-E20mm T1.5 L F's bright T No and 11-blade iris produces natural blur effects, enabling a three-dimensional bokeh effect with a deeper depth of field. Equipped with reduced focus breathing, the CN-E20mm T1.5 L F delivers pin-sharp focusing for stable shooting.  
Compatible with the newly launched EOS C700 FF, as well as the EOS-1D C and other full frame cameras, the CN-E20mm T1.5 L F enables users to capture premium-quality footage with confidence. The CN-E20mm T1.5 L F has an image circle that covers full frame 35mm, to expand shooting opportunities. The built-in rubber ring at the mount connector guarantees a drip-proof structure, durable enough for any production which involves challenging shooting environments.
The CN-E20mm T1.5 L F is consistent with the rest of the Canon EF Cinema lens range, offering Canon fans familiarity with the gear position, front diameter, total length and rotation angle. New phosphorescent front barrel indicators provide greater visibility in low light conditions, while the focus ring displays numbers on both the left and right side of the lens, to allow the operator to check the distance indicator from either side. Creating just the right amount of resistance when focusing, the CN-E20mm T1.5 L F has a professional grade, 300° focus rotation angle. By harmonising the exposure and white balance of natural lighting, the CN-E20mm T1.5 L F ensures quality footage from every shot. The lens information displayed on the viewfinder, allows users to easily pinpoint footage, streamlining the editing and post production process.
Canon has also expanded its industry-leading range of 4K reference monitors with the launch of two 12G-SDI capable models (DP-V2421 and DP-V1711) and an extensive firmware update to enhance HDR monitoring features, streamline workflows and improve collaboration with third party manufacturers. Additionally, a chargeable firmware upgrade will be provided to increase luminance of 17-inch displays DP-V1711 and DP-V1710.
The DP-V2421 is a 24-inch 4K HDR reference display which achieves 1,200 cd/m2 high luminance and the deep black suitable for versatile applications in 4K HDR production. The DP-V1711 is a 17-inch 4K professional display for studio monitoring or outside broadcast (OB) vans. Both the DP-V2421 and DP-V1711 have extensive HDR functions, which are perfectly suited for HDR production. Both monitors feature four 12G-SDI inputs, which can deliver 4K 50P transmission through a single cable. Condensing four SDI cables down to one reduces installation complexity and resource, as well as saving valuable studio space.