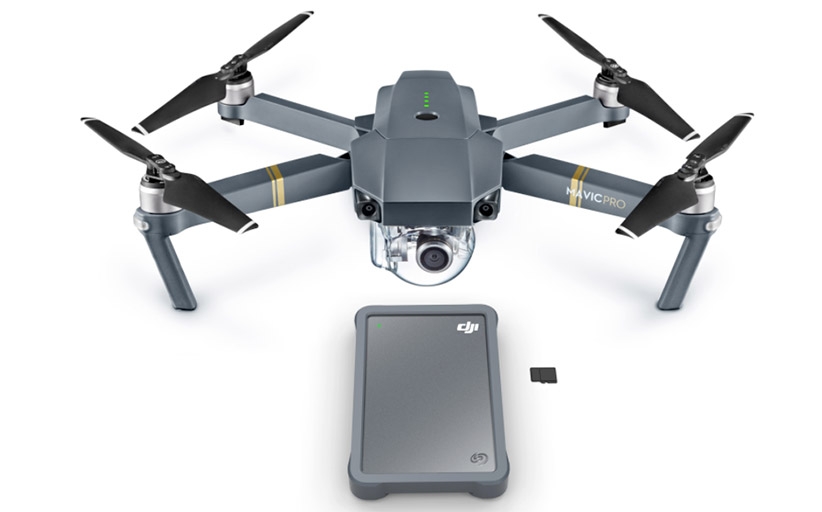 Fly Drive with DJI and Seagate!
Drone giant DJI has teamed up with hard drive maker Seagate to create the Fly Drive, a  portable hard drive complete with a MicroSD slot to allow drone users to download footage on location.
There's a built-in USB-C cable which supports both USB 3.1 and Thunderbolt 3, and the Fly Drive is available in sizes up to 2TB. US price is $120. To find out more, go to Seagate website. The official information says:
Drones are creating more content than ever before, and with the announcement of the Seagate DJI Fly Drive, managing that surge of data is about to get easier. The first data solution to come from Seagate and DJI's strategic partnership, Fly Drive will allow drone pilots to efficiently back up their photo and video content on location, thanks to its large storage capacity, integrated MicroSD card slot, quick transfer speeds and durable build. It also comes with a complimentary two-month subscription to Adobe® Premiere® Pro CC, part of Adobe Creative Cloud®—placing the keys to creativity in the hands of drone enthusiasts everywhere. Fly Drive features:
Capacity: Up to 2TB
With this kind of space, Fly Drive can store over 60 hours of 4K 30fps video footage. On a drone like the DJI Mavic Pro, that's more than 250 flights* worth of content.
MicroSD Card Slot
Managing multiple SD cards, readers and cables in the field is a pain. Thanks to an integrated hub that's UHS-II-rated, you'll be more effective in the field by being able to quickly drag and drop 4K files from your MicroSD card to Fly Drive or your computer.
Protective Bumper
The drive's integrated, protective bumper helps provide shock resistance against inevitables in the field, like being jostled around or dropped while packing and traveling. Safely tucked inside of the bumper is its USB-C cable, ideal for on-the-spot file transfers.
USB 3.1 Interface
Compatible with both Mac and Windows, Fly Drive's USB 3.1 Type-C interface allows for fast file transfers with the latest generation Thunderbolt™ 3 and USB 3.1 computers.
Adobe Premiere Pro CC
Fly Drive features two months of complimentary access to Adobe Premiere Pro CC, the industry's leading video editing software—a US $19.99 per month value based on the annual subscription price—so that users can immediately get to editing**.
Equipped with a drone, laptop, Fly Drive, and Adobe Premiere Pro CC, creatives will have everything they need to capture, edit, and share awesome videos. The Seagate DJI Fly Drive will be available this summer for an MSRP of $119.99, but curious minds can see it this week at the NAB Show in Las Vegas, where drone enthusiasts will show first hand how it's improving their workflow in the field. Stop by Seagate booth SL4527 and DJI booth C2807 to check it out.
For more information, visit www.seagate.com. Seagate and DJI are committed to uncovering new innovations for drone pilots and their data, so keep your eyes on the horizon for what's in store.