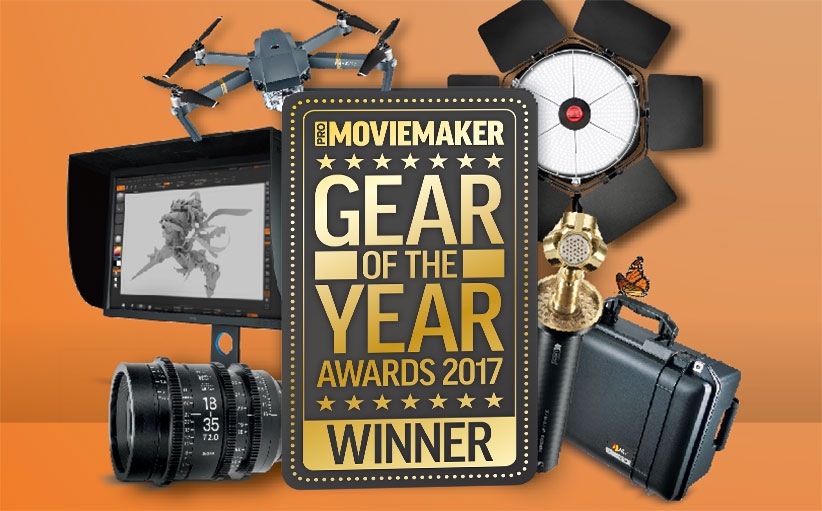 Gear of the Year revealed!
Readers of Pro Moviemaker have voted in their thousands to award the best kit you can buy with our first Gear of the Year Awards. The best kit in lots of different categories – from cinema cameras and lenses to mics, tripods, bags and more – can now be revealed.
From the latest high-tech innovations to tried-and-tested workhorse equipment, the award winners are a total mix but all share one thing in common – they have been voted for by real filmmakers. The sort of people who need their equipment to deliver the goods every time without fail and who have the experience to back up their votes.
So here we present all the winners in the first Pro Moviemaker Gear of the Year Awards 2017.
Cameras
SLR: Canon EOS 5D Mark IV
Mirrorless: Panasonic GH5
Actioncam/VR/Speciality: YI 4k Actioncam
Camcorder: JVC GY-HM200E
Cinema camera: Red Raven
Camera for rental: Canon C300 Mark II
Lenses
Zoom lens: Sigma 18-35mm T2.0
Prime lens: Schneider-Kreuznach Xenon 50mm Cine-Tilt T2.9
Support
Tripod System: Manfrotto 546GB Twin MS
Monopod: Libec HFMP
Slider: Pro Media Gear VS24 PMG-DUO 24in Video Slider
Rig: Shape Composite Rig
Stabiliser/Gimbal: Glidecam XR-Pro
Accessories
Drone: DJI Mavic Pro
Bags and cases: Peli 1535 Air
Backpack/Holdall: Manfrotto Pro Light Camera Backpack Bumblebee-230
Monitor/Recorder: BlackMagic Video Assist 4K
Field Monitor: Small HD Focus
Computer Monitor: Benq SW320
Light panel: Rosco Silk 210
Fresnel light: Litepanels Sola 6+ Daylight Fresnel
Lighting innovation: Rotolight Anova Pro
Memory card: SanDisk Extreme Pro 300MB/s SDXC 128GB
External hard drive: G-Technology G-Raid with Thunderbolt 3
Editing Software: Adobe Premier Pro CC
Sound
Audio Recorder: Olympus LS-P2
Microphone: Rode VideoMic Pro
Special awards
Innovation of the Year: Sennheiser Ambeo VR mic
Launch of the Year: Fujifilm Fujinon MK lenses