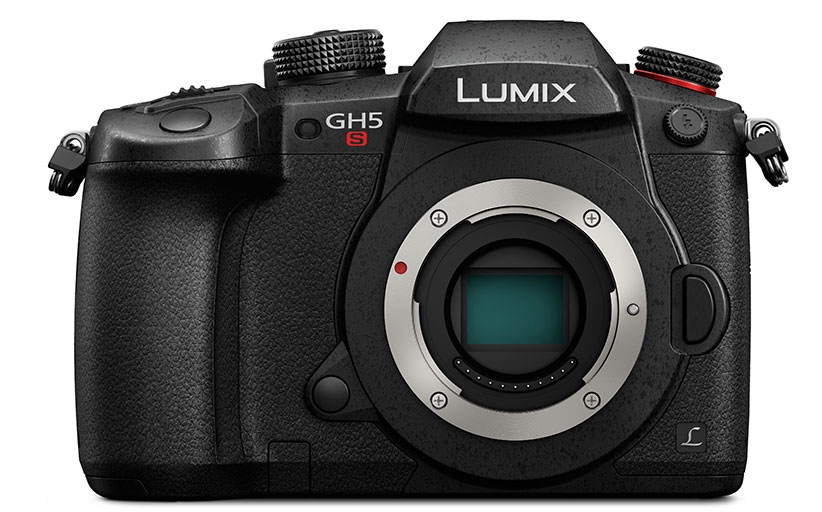 Panasonic launches video-focused GH5S
Panasonic has revealed a video-focused version of the GH5 mirrorless camera called the GH5S with a newly-developed 10.2-megapixel high-sensitivity Live MOS sensor, Timecode IN/OUT for multi camera shoots and internal 4:2:2 10-bit recording at 400-Mbps All-Intra in 4K 30p/25p/24p. V-Log comes pre-installed on the camera, the ISO goes up to 51,200 and there is Dual Native ISO technology as used in the Varicam and EVA-1 cinema cameras.
Based on the popular GH5 micro four-thirds camera, there is expanded video recording capability and enhanced image quality, say Panasonic. It's designed for professional filmmakers,  with Panasonic's highest-ever sensitivity and video image quality. 
In order to make the GH5S tough enough to withstand even heavy field use, it is composed of a magnesium alloy full die-cast front/rear frame and is not only splashproof and dustproof but also freezeproof down to -10 degrees. The GH5S is equipped with a dual SD memory card slot, compatible with the high-speed, high-capacity UHS-II and Video Speed Class 60. Users can flexibly choose the recording method from Relay Recording, Backup Recording or Allocation Recording. The HDMI Type A terminal is provided.
The new 10.2-megapixel Digital Live MOS Sensor and Venus Engine reproduce the darkest areas of the image with increased clarity thanks to the maximum ISO 51200. When shooting in dark environments, videographers can now focus on capturing the perfect shot without worrying about background noise thanks to the newly applied Dual Native ISO Technology.
The LUMIX GH5S is compatible with Timecode IN/OUT which is easy to set using the flash sync terminal and bundled coaxial cable for a BNC terminal. The camera can be used as a Timecode generator for other GH5S models and professional camcorders and the functionality makes multi-camera productions pain-free by instantly synchronizing recordings to other cameras or audio devices.
Both videographers and photographers can now enjoy the same diagonal field of view across all aspect ratios with the True "Multi-Aspect Ratio" function. The newly developed multi-aspect sensor provides sufficient margin to get the same angle of view in 4:3, 17:9, 16:9 and 3:2 aspect ratios.
This feature means you can easily switch between different aspect ratios making the process easier while producing and editing in post-production. The GH5S now also provides the photographer with  14-bit RAW recording, providing greater flexibility within professional RAW development workflows.
The LUMIX GH5 was the world's first mirrorless camera to achieve 4K 60p / 50p video recording and the new LUMIX GH5S again establishes a milestone by realising the world's first 4K 60p / 50p video recording in Cinema 4K (4096×2160). The GH5S is capable of internal 4:2:2 10-bit recording for even stronger colour reproduction, while V-Log comes pre-installed on the camera.
There is no time limit for both Full-HD and 4K video recording and the LUMIX GH5S complies with 4K HDR video with Hybrid Log Gamma (HLG) mode in Photo Style. A low-bit-rate recording mode 4K HEVC for HLG is available, which enables playback on AV equipment compatible with the HEVC compression format, such as Panasonic 4K HDR TVs.
The LUMIX GH5S also records 4:2:2 10-bit 400-Mbps All-Intra in 4K 30p/25p/24p and C4K 24p and 200-Mbps All-Intra in Full-HD. The VFR lets users record overcranked / undercranked video in C4K/4K (60 fps, maximum 2.5x slower in 24p) and FHD (240 fps5, maximum 10x slower).
DFD (Depth From Defocus) technology and ultra-high-speed digital signal processing achieve fast auto focusing of approximately 0.07 sec6 and 12 (AFS) 7 / 8 (AFC) fps in 12-bit RAW and 11 (AFS) / 7 (AFC) fps in 14-bit RAW high-speed burst shooting. The 4K PHOTO mode enables 60 fps high-speed capture in approximately 8-megapixel equivalent resolution.
The GH5S has a large LVF (Live View Finder) with a stunningly high magnification ratio of approximately 1.52x/0.76x (35mm camera equivalent) providing smooth display at 120 fps. A high-precision, high-speed OLED display features 3,680K-dot resolution and 100% field of view. In addition to dual dials, an omni-directional joystick enables more intuitive and flexible operation. 
The model includes Bluetooth and Wi-Fi® connectivity to offer a more flexible shooting experience and instant image sharing with easy operation. Compatibility with Bluetooth 4.2 (called BLE: Bluetooth Low Energy) enables constant connection with a smartphone/tablet with minimum power consumption. For Wi-Fi, 5 GHz (IEEE802.11ac)9 can be selected in addition to the conventional 2.4 GHz (IEEE 802.11b/g/n) for an even more secure and stable connection.
Panasonic will be partnering with VICE UK in 2018 on the development of a new creative platform to support the next generation of young UK filmmakers through the lens of the Lumix GH5 and the new Lumix GH5S. Further details of the partnership will be announced early 2018.
The Panasonic LUMIX GH5S will be available from end of January 2018 and will retail for £2199 / €2549.99 (body only).