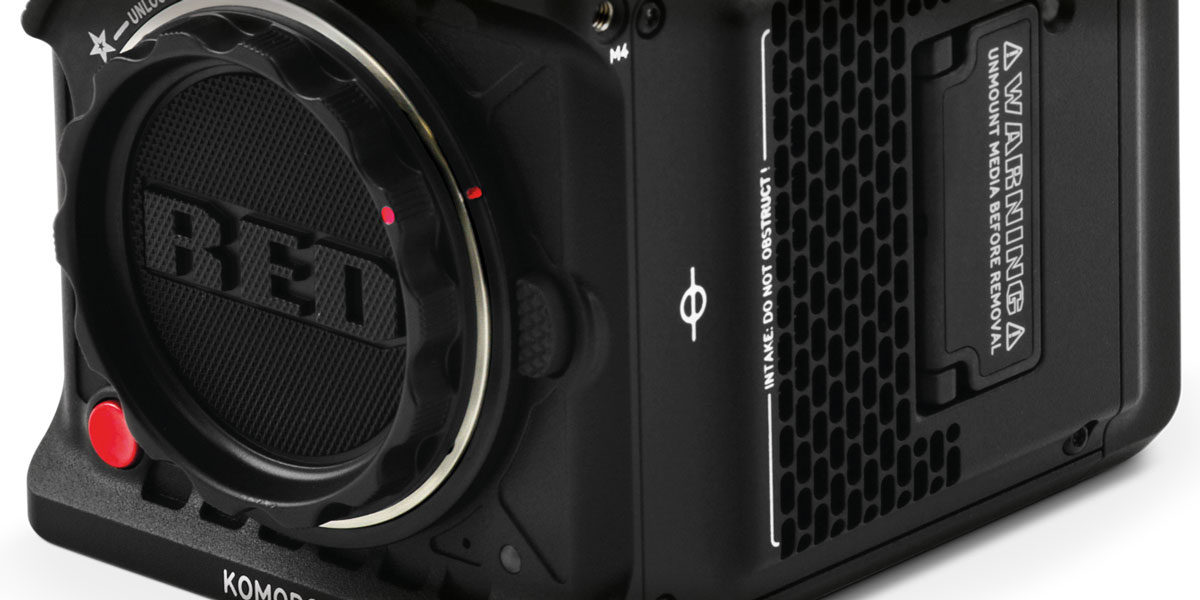 Komodo has the X factor
Posted on Jul 6, 2023 by Samara Husbands
The 6K Red Komodo gets an upgrade, with an all-new sensor giving increased dynamic range, plus lots of faster frame rates – all in a bigger body with more connections built in
The original 6K Komodo continues at £6120/$5995, alongside the new Komodo-X, which gets a significant price hike to £10,140/$9995.
However, it's not as simple as just a sensor change and a price increase; the Komodo-X also gains a micro V-Lock connection to allow for attachment of pro batteries without additional connections. The original Komodo has slots for two BP-9 batteries – use of V-Lock requires extra accessories. Furthermore, the Komodo-X is compatible with the upcoming Red Pro I/O Module, which provides auxiliary power and hooks up to full-size V-Lock and Gold Mount batteries. 
The X model also has an integrated six-pin DC-in port, and is compatible with Red's seven-inch LCD monitor, the DSMC3, which attaches directly and takes power, data and video signal to and from the camera. This monitor doesn't fit onto the original Komodo.
Both cameras have a single 12G-SDI output but there's now a USB-C port as well as a five-pin LEMO input for external audio. Wi-Fi camera control is possible through the interchangeable antenna that fits onto the SMA connection. Genlock, timecode in, GPIO and CTRL RS-232 are also available via the nine-pin Ext port.
Wired control is possible with the Komodo Adapter via USB-C or Gigabit Ethernet, which also allows camera control and a live video preview feed.
The X's Super 35 Global Shutter CMOS sensor is the same 19.9-megapixel resolution and 27.03×14.26mm size as the Komodo, but features completely new sensor architecture, with an updated pixel design to improve detail and colour in the shadows. Red claims over 16.5 stops of dynamic range. Colour is controlled through Red's IPP2 image-processing pipeline and the camera supports 33x33x33 3D LUTs.
The biggest benefit for many will be the higher frame rates, as the Komodo-X can record 6K in 17:9 at 80fps, 4K up to 120fps and 240fps in 2K 17:9. The original camera maxed out at 6K/40p 17:9 in Redcode HQ, MQ and L, 4K/60p and 2K/120p. The new camera has the same Redcode settings, plus an ELQ format.
A key reason the Komodo-X can record higher frame rates is that it uses CFexpress Type B cards instead of CFast 2.0 like the original Komodo.
The new camera can record in 6K 17:9 (6144×3240), 2:1, 2.4:1, 16:9 and 1:1; and in anamorphic, 2x, 1.8x, 1.6x, 1.5x, 1.3x and 1.25x formats. In 4K it goes to 60p in ProRes 4:4:4:4 XQ, 80p in ProRes 4:4:4:4 and 120p in 4:4:2 HQ, 4:4:2 LT and 4:4:2.
While the Komodo has a standard Canon RF mount, the X's lens mount is an upgraded locking system. It can support legacy Canon EF lenses with full electronic communication via an adapter. The camera also accepts Red's new RF-to-PL mount, allowing use of PL mount lenses, which grant the benefit of allowing NDs and other filters. Furthermore, the RF-to-PL with Electronic ND Filter Adapter Pack uses the same electronic ND control as the company's flagship V-Raptor XL.
That pack includes a clear filter and an electronic ND with a 2-7 stop range. It features precise control, with 1/4, 1/3 or full-stop increments. The thickness of these filters are carefully paired with the camera to ensure no back-focus shifts when switching between the two. ND can then be controlled via the integrated buttons on the electronic filter, the on-board LCD, the DSMC3 seven-inch LCD, Red Control or any other Red-compatible remote control system. The adapter supports Cooke/i lens communication and record triggering, and also includes both a set of Komodo Side Ribs and Adapter Support brackets.
The camera comes in black only. A limited-edition white version was offered at launch – but this sold out instantly.
Red has also released a significant firmware update for the original Komodo, adding the ability to record in ELQ R3D, a boost in AF performance, accelerometer and gyro data for R3D, timecode and support for Prograde media cards.
Originally published in the July/August issue of Pro Moviemaker.